Divide and throw
Solid waste segregation at source is set to become mandatory in Sector V with companies generating 100-plus kilos per day having to manage on their own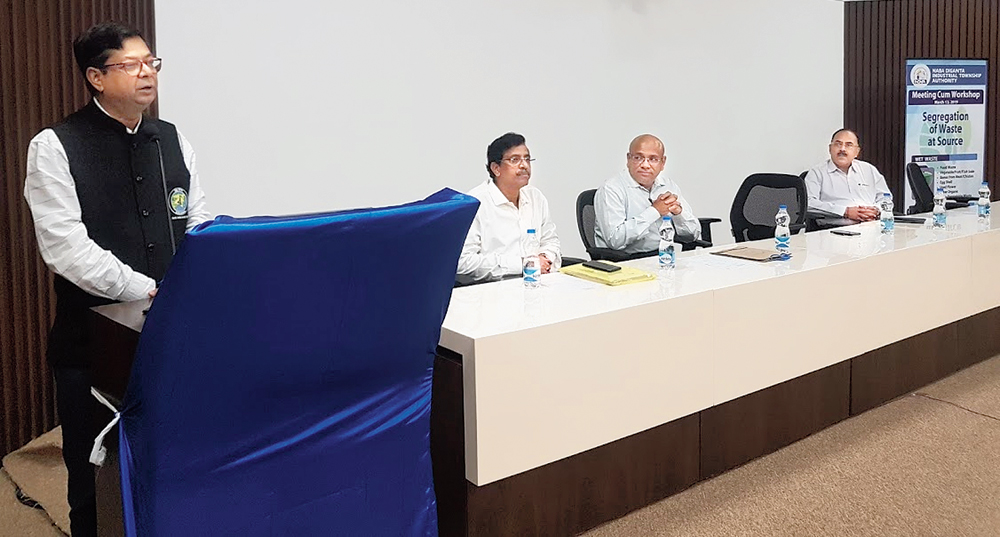 NDITA chief Debashis Sen addresses representatives of Sector V offices at the meeting cum workshop
Picture by Brinda Sarkar
---
Calcutta
|
Published 21.06.19, 10:09 AM
|
---
Sector V offices will now have to segregate their waste before dumping. While some companies have already gone green vis-a-vis waste management, the authority has now assigned one agency to educate other companies about the process and another to audit the waste leaving their premises.
The initiative began with a meeting cum workshop by Nabadiganta Industrial Township Authority (NDITA) that was attended by representatives of several Sector V offices.
"The idea is to try to be 'zero waste'," said Debashis Sen, chairman NDITA. "Unlike in residential areas, most of Sector V's waste is "dry", comprising paper, plastic etc. "There a few eateries that generate food waste but the quantity is not significant. So we have not installed a composter machine yet."
Earlier this year New Town introduced solid waste segregation at source and Sen, who is also chairman of New Town Kolkata Development Authority, informed that two composter machines had already been installed there. "In Sector V, we are building a dry waste segregation centre in AQ Block," he said. From there materials would be sold to dealers.
In Sector V, Shreemitram Environ Management, led by waste management consultant Sanghamitra Mukherjee, will be interacting with facility managers at offices for the IEC (information, education and communication) and SN Greenovation Services, led by environmentalist and sustainable living consultant Sujata Nandy, will be auditing the same.
"Some large offices are already near-zero waste as their foreign clients require them to be environmentally conscious," said Mukherjee. "We shall be holding workshops with up to 150 select offices after clubbing them as per their industries — IT, government sector, laboratories etc."
The broad new rules for garbage disposal were laid out at the meeting cum workshop. "While wet waste will continue to be collected daily, dry waste such as paper and plastics will be picked up on Mondays, Wednesdays and Fridays in Sector V," said Badri Narayan Kar, additional director, Institute of Local Government and Urban Studies, urban development and municipal affairs department. "Offices will have to segregate their waste and keep."
But any hotel or organisation that generates 100kg of waste a day or more will have to manage its own waste by way of composting etc.
"As lifestyles improve, per capita waste increases, making solid waste management a challenge of modern civilisation. But the Solid Waste Management Rules, 2016 has clear directions and the national green tribunal is closely following these rules now. So the local body and you, the waste generator, have a responsibility towards this cause," said Kar.
Kalyan Kar, an NDITA governing body member, added that implementing the system successfully will have not just a huge but global impact. "Sector V is the pride of Bengal but to remain admirable we must implement this," he said.
Sen shared future plans in this field too. "These days people discard clothes and mobile phones after just a year," he said. "We shall soon introduce collection points in the township for people for donate old clothes and have an NGO pick them up to distribute to the needy," he said.
He has a plan for old cell phones too. "We are speaking to a start-up on IoT (internet of things) that could use old phones for audio analytics. We could install them on roads to pick up audio signals. For instance, a person in distress may not come under the surveillance of a CCTV, but he/she screams, it would get caught on these phones and send alerts to us," Sen explained.
While representatives of some companies said they had not given waste management much thought before, a few like Pradeep Kumar Sharma, facility manager of Wipro, said they are near zero-waste for a few years now.
"An NGO takes our dry waste and we give our e-waste (such as old keypad, mouse etc) to recyclers certified by the pollution control board. The only problem we face is with thermocol and styrofoam. We pour acetone on thermocol to reduce its size but don't know what to do with styrofoam so send it to the landfill, via NDITA garbage collectors," said Sharma.
Other companies like CTS and Srijan Park too explained how they have been trying to manage waste. Others asked how they can reduce the quantity of waste to which Nandy shared how she leads a 95 per cent zero-waste life (see box).
Several companies said they hand their dry waste over to recyclers, but Mukherjee asked them to ensure they take 100 per cent utilisation certificates from the recyclers. "Otherwise they take what's valuable and dump the rest in the nearest empty plot, thereby defeating the purpose," she said.