Demolition drive by Siliguri civic body assumes political colour
The Left and the BJP accused the civic body, run by a board of administrators comprising Trinamul leaders headed by former minister Gautam Deb, of cruelty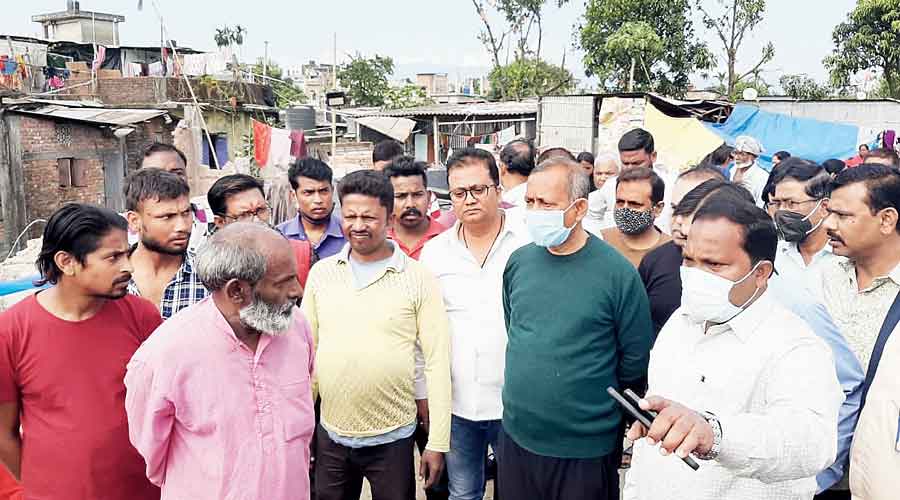 Gautam Deb visits the site of the demolition drive in Siliguri on Monday.
Passang Yolmo
---
Siliguri
|
Published 07.12.21, 12:47 AM
|
---
A recent demolition drive by the Siliguri Municipal Corporation (SMC) to clear illegal encroachments on the banks of the Mahananda river that flows through the city has fanned political interest.
Last week, civic authorities and the police razed around 30 hutments in South Bagha Jatin Colony.
Three months ago, residents got notices to vacate their places. As none did, their homes were demolished. The initiative was taken on specific directives of the National Green Tribunal that ordered the SMC, the district administration and other agencies to keep the Mahananda free of encroachments and pollution.
Homeless families blamed a section of political leaders who they claimed had helped them settle on the riverbank.
The Left and the BJP accused the civic body, run by a board of administrators comprising Trinamul leaders headed by former minister Gautam Deb, of cruelty.
"It was inhuman to demolish hutments that left families homeless. Officials involved in the drive should be removed from their posts. Compensation should be paid to victims," said CPM veteran Asok Bhattacharya, Siliguri's former mayor and MLA. On December 15, they will take out a march against the civic body on the issue, he added.
The BJP also questioned the drive. "The civic authorities should have acted leniently. They should have allowed the families to shift. It is unfortunate that the drive was suddenly carried out... Most (victims) are poor and will find it tough to buy a plot to build a house," said a BJP leader.
With the Opposition keeping the issue alive, it is evident that this demolition drive would figure in the SMC elections likely next year.
Trinamul leaders are countering the charges and planning to help the families.
On Monday, Gautam Deb, who heads the board of administrators in SMC, with several former councillors of the party, visited the area and spoke to the affected families.
"In all, 28 structures have been removed and nine were partially affected in the drive done according to directives of the NGT. The previous (Left-run) board of the civic body did nothing to stop encroachment of the Mahananda, else we need not have taken such steps," said Deb, adding they were looking for government plots for the affected residents.
"We are concerned about their rehabilitation and will give some aid to them. A decision will be made at a meeting of the board of administrators. Some people are trying to play politics on the issue but such tactics won't work," Deb added.