Covid: Left lifeline for patients and kin during pandemic
A young brigade of the CPM and other Left parties, who formed the Red Volunteers group last year, has been providing aid to people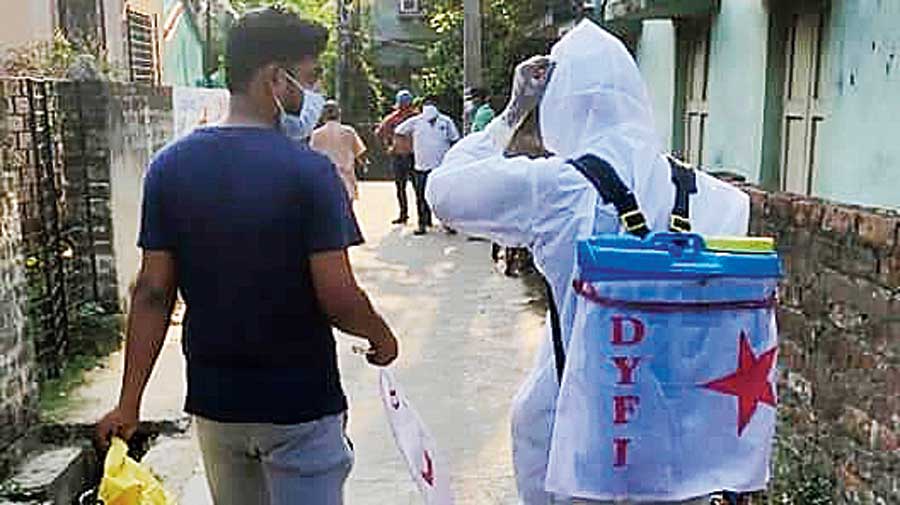 Red volunteers during a recent sanitisation drive on the fringes of Calcutta
Telegraph picture
---
Calcutta
|
Published 09.05.21, 02:04 AM
|
---
A young brigade of the CPM and other Left parties, who formed the Red Volunteers group last year, has been providing aid to people during the pandemic across the state. 
Debashis Nandy, a member of the group and resident of Hooghly's Kotrang Ghoshpara, arranged an oxygen cylinder within half an hour for a 12-year-old boy after receiving a call from his father around 3.20am on Friday.
"The patient's father was on the verge of sobbing. He was anxious as the oxygen supply was available for about 30 minutes only and afterwards he had no back-up. I assured him that we would arrange something within 30 minutes and we were able to live up to our word," said Nandy, a member of the CPM Kotrang area committee said.
Another Red volunteer, Arka  Bhowmik of Kalobaari Sporting Club in North 24-Parganas' Ashoknagar returned home around 6am on Saturday. 
Bhowmik had spent the entire night at the Khardah Sri Balaram Seva Mandir State General Hospital to admit a 62-year-old Covid patient after getting a call from the patient's daughter. 
The oxygen saturation of this patient had dropped to 62 per cent. The normal level in human blood is 95-100 per cent.
"The patient and his wife were both Covid-19 positive. Their daughter had just returned from Bangalore. I had to accompany this person to the hospital and ensure that he was admitted," Bhowmik said.
Bhowmik added that he put on a PPE kit and went with the patient and his daughter to Khardah in an ambulance and returned home only after the senior citizen was hospitalised.
Red Volunteers have been arranging oxygen cylinders, donating blood and plasma and delivering groceries, food and medicines to those who need them across the state during the pandemic.
Srijan Bhattacharya, state secretary of the Left-backed students' outfit SFI, pointed out the shift in one year of the pandemic, now in its second wave. 
"A year ago, there wasn't such a scarcity of oxygen. Our job then used to be mainly arranging food and medicines. This time the cry for oxygen and hospital beds is alarming. This is why the nature of our work has changed," he said. 
He added: "As far as I remember the name Red Volunteers was suggested by our leader Samik Lahiri. In a year the network has grown so wide that I won't be able to tell you how many teams are actually working at the moment."
Volunteers have strategised their operations to accommodate local needs.
In Hooghly's Uttarpara, Red Volunteers have divided all work in four groups. One group has collated the data of people willing to donate blood and plasma. About 250 such names have been collected. A second group organises oxygen for patients. A third group arranges food, groceries, medicines for patients or families who cannot go out. The last set of members coordinates the entire operations.
"We called out to local people saying whoever is willing to help patients with blood and plasma can get in touch with us. Around 250 people from Uttarpara Assembly constituency have got in touch with us. On an average we serve at least eight oxygen requests every day," said Arnab Das, an SFI state committee member and representative of Red Volunteers in Konnagar.
Akash Kar, an SFI member activist and a member of the Red Volunteers Ashoknagar group, said his team attends to at least 150 to 200 distress calls every day. "One of our groups is looking after the oxygen needs. Another group visits patients to check their oxygen saturation level. A third team keeps database of beds available at hospitals and nursing homes. A last team keeps in touch with Covid-19 patients until he or she recovers," Kar said.
The Bengal poll results have shown that no Left party has any representation in the Bengal Assembly for the first time. However, that hasn't dimmed the morale of Red Volunteers.
"Many volunteers have been attacked by Trinamul goons after May 2. Female members have been abused over phone. Some of our own party members asked us to withdraw the service. But an overwhelming majority of volunteers decided to carry on," Srijan said.
The Red Volunteers Facebook group created in July 2020 has over 75,000 members now, and is flooded with distress requests, around 3,000 each day. Praise also floods the page. 
One Paromita Roy wrote on the Red Volunteers' Facebook page that she has always been "a TMC supporter". But she lavished praise on the Red Volunteers. "Apart from helping the people they've kept in touch with the patients…I bow down to these boys and girls today."