Toy train service faces its biggest crisis
Concern over maintenance of tracks and century-old locos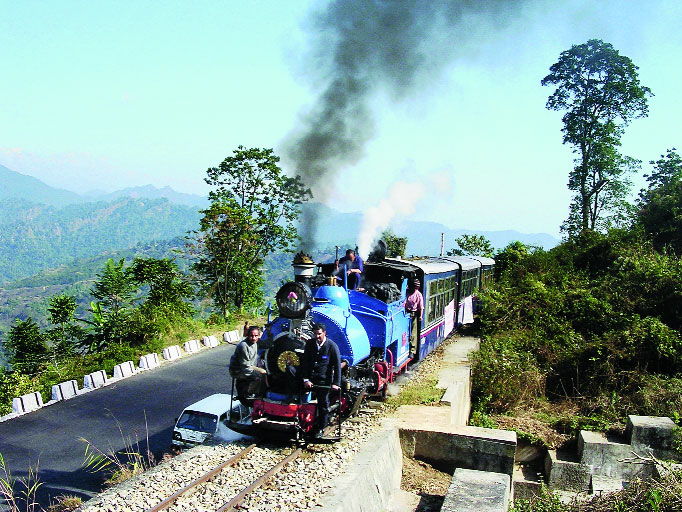 ---
|
Siliguri
|
Published 02.05.20, 11:22 PM
---
The 139-year-old Darjeeling Himalayan Railway's toy train service is facing perhaps its biggest crisis because of the lockdown.

As the toy trains have been off the tracks for weeks now, officials and stakeholders are worried about the maintenance of the heritage railway, which began operating in 1881.
In past three years, this is the second time that DHR railway services have had to be suspended over a prolonged period. In 2017, the 104-day strike during the statehood agitation in the Darjeeling hills had halted the toy trains.
"Because of the lockdown, regular maintenance of the tracks has not taken place. The lines have got covered in weeds. We are apprehensive of further damage of the tracks as the monsoons are approaching. Landslides are common on some stretches during rains. But right now, maintenance of the rolling stock, the old station buildings and other heritage properties are our main concern," said an official of Northeast Frontier Railway.
Sources in NFR said in 2019-2020, 1,01,429 people took the toy train ride. The hill railway, which is a key attraction for tourists visiting the Darjeeling hills, earned a revenue of around Rs 10 crore in the last fiscal.
With the popularity of the DHR rising in recent years, the railways had come up with new rides such as jungle safari and fresh rolling stock like vistadome coaches and air-conditioned compartments.
However, because of the lockdown and the pandemic, nobody is sure when the services will resume. The heritage railway had received world heritage status from Unesco in 1999.
"We are regularly checking the old locos and coaches in the sheds. Once the lockdown is over, we hope to resume the services soon. But it would also depend on the turnout of passengers and tourists," said M.K. Narzary, the DHR director.
The DHR has five diesel locos and 13 steam engines.
Narzary said it would be difficult to sustain the services if there weren't adequate passengers.
Those associated with the travel trade are also worried about the suspension of the DHR services. They said the railways would have to clear the tracks, inspect them and also ready the locos, most of which are a century old, before services resume.
"The shutdown has badly affected the tourism industry. But considering that the DHR is a heritage railway, the steam locos, which are examples of technical brilliance, and the tracks should be maintained regularly. We are keeping our fingers crossed and also hope the authorities will take due care to conserve the railway, which is a pride of our region," said Samrat Sanyal, the general secretary of the Himalayan Hospitality and Tourism Development Network.