Queues fail social distancing
Rush for doles crowds banks & post offices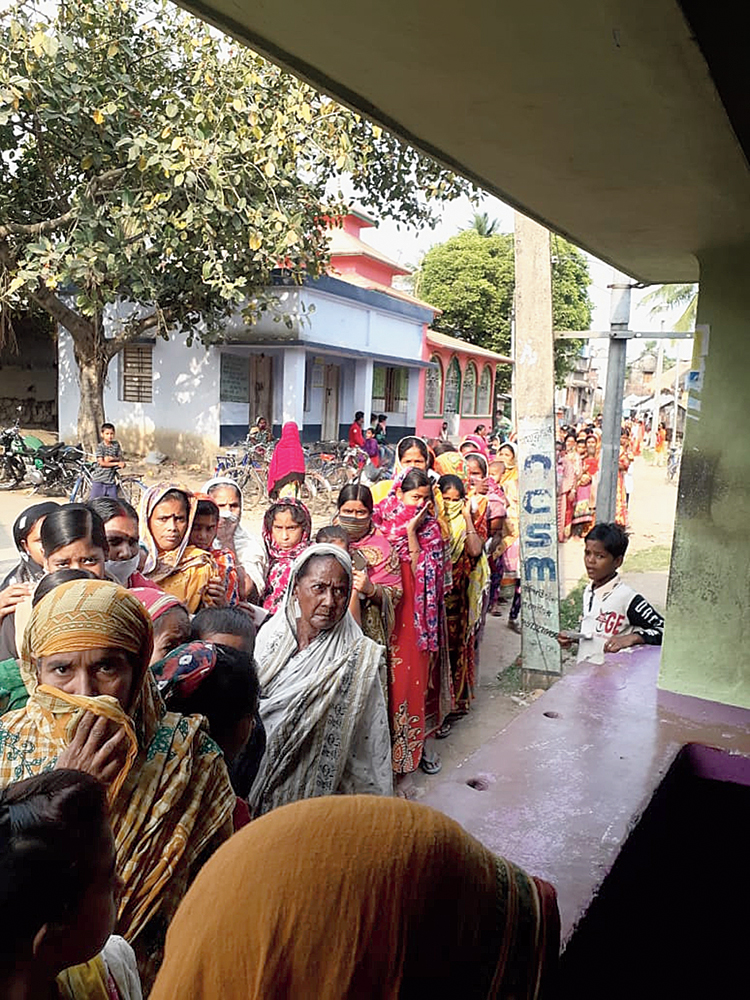 ---
---
The lockdown plight of the poor has showed up outside banks and post offices at several places in Bengal as people are turning up in thousands in violation of social distancing protocol to withdraw meagre doles that the Centre credited to their bank accounts.
The long queues outside the banks are partly because of misplaced fear of the money going back to the government in case it is not withdrawn now.
As part of its package to help the poor during the lockdown, the Centre had credited Rs 500 each to Jan Dhan and other accounts of women beneficiaries since April 4. An additional amount of Rs 800 had been given to purchase gas cylinders under the Ujjwala Gas Yojana.
There are 78 lakh beneficiaries under Ujjwala scheme in Bengal, while the number of women with Jan Dhan account holders is over a crore.
"Government started to deposit the money in the accounts from April 4 and since then, people are queuing up outside banks to withdraw the money. They have the misplaced panic that the government will take back the money if it is not withdrawn in time," said a senior official of the State Bank of India.
The main problem is with rural branches and customer service points (CSPs) where lakhs of people are queuing up daily to withdraw the money.
"There are around 4,900 CSPs in the state and on Thursday, over five lakh turned up. We failed to convince them that the money would remain in their accounts even if it is not withdrawn now," said the SBI official.
The CSP operators said the number of customers in their branches increased from 20 to 150 after the money started to be deposited in the accounts.
"How can we maintain social distancing while hundreds of people are coming at a time? People want to withdraw money as soon possible," said Pinaki Sinha, a CSP operator in Birbhum's Goala village.
The situation is same at post offices, too. Officials of the postal department said they had a transaction of around Rs 5.86 crore on Thursday, while it was only Rs 85 lakh on April 4.
The beneficiaries of Ujjwala scheme said they wanted to use the fund for their expenses as they had no income at all. "The government has given us Rs 800 to buy gas cylinders. But I can't use the money to purchase a gas cylinder. I need it to buy food for the survival of my family," said Bahamoni Murmu, a resident of Bolpur's Sian village.
Murmu cared less for Covid protocol of social distancing as pangs of hunger were far more real than the fear of the disease.