Mamata targets 'communal virus'
Among the seven areas specified by the Centre, six have a substantial minority population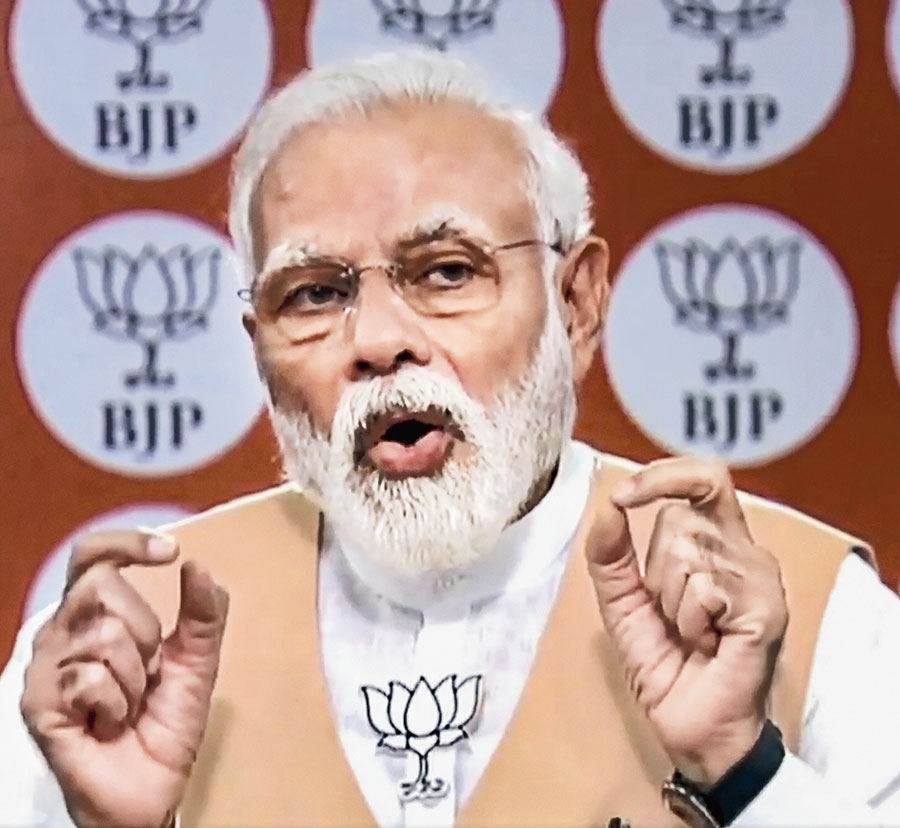 Narendra Modi.
File picture
---
Calcutta
|
Published 11.04.20, 10:13 PM
|
---
Mamata Banerjee on Saturday lambasted the BJP-led Centre for sending her government a letter advising "strict action" against "violation" of lockdown measures in certain areas, accusing Delhi of being preoccupied with the "communal virus" even in the midst of a pandemic.
Among the seven areas specified by the Centre, six have a substantial minority population.
The concerns flagged in the letter, circulated on social media by BJP leaders and at least one junior Union minister, were identical to those frequently raised by the saffron camp and its propaganda machinery, many of them with communal overtones.
Mamata said she told Prime Minister Narendra Modi during his videoconference with all chief ministers earlier in the day that he must not allow "dirty games" by the Centre against states ruled by parties in the national Opposition.
"Did you get something like this?" the Bengal chief minister asked state chief secretary Rajiva Sinha when asked about the letter at her daily pandemic-related news conference. Sinha responded in the affirmative.
"Some places they said give special attention. You understand very well whom Delhi wants beshi nojor (extra vigil) on. I am not elaborating…. We are not here to prioritise the communal virus. We are fighting against the human disease…. Here, we do not have discrimination or differences between Hindus, Muslims, Sikhs, Christians," Mamata said.
The letter, dated April 10, from the internal security division of the Union home ministry was sent to Sinha and director-general of state police Virendra. It referred to another letter from the same ministry on April 4 regarding "violation of lockdown measures".
"As per further reports received from security agencies, gradual dilution of lockdown has been reported from West Bengal…. For instance, shops relating to non-essential items have been allowed to function. There is no regulation of vegetable, fish and mutton markets where people have been thronging in complete violation of social distancing norms in… Kolkata," the April 10 letter said, naming seven prominent places in the city.
"It has been reported that police have been allowing religious congregations. Free ration has been distributed not through the institutional delivery system but by political leaders…. It is requested that strict action be taken in the matter and a report in this regard may be furnished to this ministry urgently," it read, adding that the activities it mentioned were liable for penal action under the Disaster Management Act, 2005.
Mamata said she told Modi to ensure reciprocal courtesy from his government and his party amid the pandemic, when she and her government have firmly steered clear of politicising the Centre's efforts.
"Since the morning, everyday, some spread various things…. I said (to Modi) in the meeting today. We have been extending total cooperation to the Centre. The Centre should also ensure that its ministers and other people they have, they should show basic courtesy," said the Trinamul Congress chief.
"Only saying whatever they please against this one, that one, the (national) Opposition-ruled states… and playing dirty games. 'This should not keep happening, Prime Minister,' I said in the meeting. Everybody was there. Everybody heard," Mamata added.
On allegations that the Bengal government was "suppressing facts" related to the pandemic, the chief minister said: "I told the Prime Minister in the meeting, 'please, crosscheck…' We said clearly… only in a handful of cases where there are recurring problems, such as pneumonia, broncho-pneumonia, lung problems, chest problems, kidney problems, hypertension. These people with co-morbidities have been coming with very little time left. Some, we have been finding out after death. Those are not connected to this."