Dogs enjoy Covid-induced company
Pets are overjoyed at finding their families home all day during the lockdown period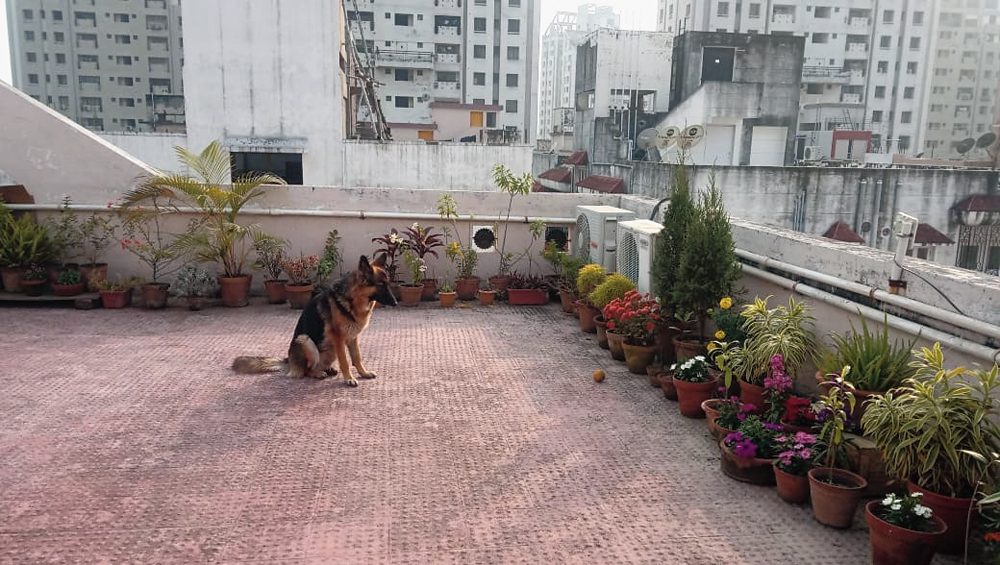 ---
---
A Dachshund in the UK recently sprained his tail from wagging it too hard. Little Rolo couldn't make it stop given how happy he was that his entire family is now around him 24x7 due to the Covid-19 lockdown.
Pets in Salt Lake are enjoying their bonus time with their families too. "My wife and I both have jobs that have us travelling for about a week every month," says Dr Pragnajyoti Mukherjee of BF Block in New Town. "But now Bia, our Labrador, and Iris, our German Shepherd Dog, are enjoying double the attention with both of us around. Their energy has peaked and they are very happy."
Rancho, the Labrador of FE Block, is getting pampered too. "We are a joint family living in a three-storied house," explains K.Z. Islam. "But while many members study or work in other cities, the lockdown has brought all but one back home. We are 13 people in the house now and Rancho is curling into anyone's lap any time he feels like."
Rahul Arora of AD Block has two black Labs — nine-year-old Pablo and his son Disco. "Disco, particularly, is over the moon at seeing me at home all the time and is following me around. He and I are making several videos on the TikTok app," he smiled.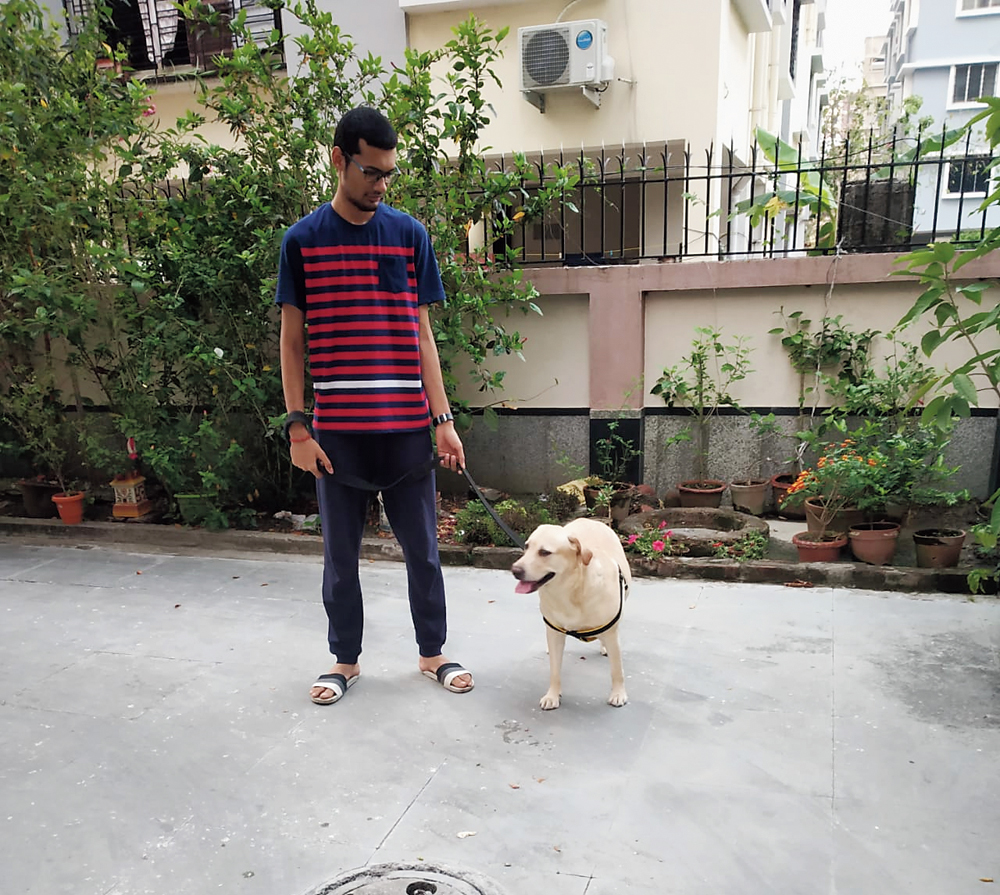 Conditions apply
Chandrasekhar Tawri, of New Town's DB Block, is a student in Delhi and says his Lab Julie jumps with joy whenever he returns home. "Julie knows I'll take her for longer walks and many walks but this time I'm not able to do that thanks to the lockdown," says the boy who also feeds street dogs outside his home. "I'm still stepping out to feed them and rushing back. With all establishments shut there is no source of food for them."
Islam's relative Zobaida Faizal is an animal activist and has been going to feed street dogs too. "She has a special permission letter from minister Maneka Gandhi to show the police if they question her for moving about," he says.
In Salt Lake's HB Block, Doberman Rhino and German Shepherd Dog Gucci nearly got the company of their dada who stays in Bangalore and didi who stays in Chennai. "My daughter came recently but her office called her back. As for my son, he had his tickets booked for Wednesday but then the flight ban got announced so he's stuck down south," sighs Kalyani Bose. "So it's down to Rhino, Gucci and me."
With walks out of the equation, Bose is now leaving open the doors of her home and terrace ajar, keeping only the outside gate bolted. "They are running up and down the stairs and the driveway to keep themselves busy," says the lady.
Some like Arora are worried they might run out of dog food though. "While Disco likes home food, Pablo prefers packaged meals. In case the lockdown is extended there would be a problem so we're encouraging him to have soyabeen, eggs, masur dal… They are spending about 45 minutes in the terrace running and playing fetch too."
Mukherjee has stocked up on 4kg of dog food. "We can eat titbits if need be but my dogs' stomachs are sensitive to any change in diets," he says. "Judging by how happy they have become they probably think everyday is a Sunday now. It's naive but then maybe it's good they cannot understand how deadly the world outside their home has become," Mukherjee shakes his head sombrely.
Expert speak
While it's all hunky dory now, how do you think your dog will react once the lockdown is over and you and your family members head out to work from nine to five again? Some pets could take it pretty badly, says Paramita Das, canine trainer and behaviourist and a resident of FE Block.
She has a solution. "Don't let your dog stick to you round the clock now. Make sure he spends at least an hour alone. Also, while it's no longer possible to walk him outside, try and maintain the rest of his routine as it is," Das says. So don't change his feeding time just because you are waking up late.
As for the lack of exercise, she asks pet parents to substitute it with mental games. "Find out if your dog is motivated by food or toys and make him play games accordingly. Give him scent games, teach him new commands like 'handshake' or 'roll over'," says the lady who is utilising the lockdown period to pursue an online course in advanced professional canine training by Mumbai-based Shirin Merchant.
While Das says one can look up YouTube for games and tricks, she suggests a few for readers too (see box).