Call for compassion & sensitivity in teachers
'Help mentally ill students'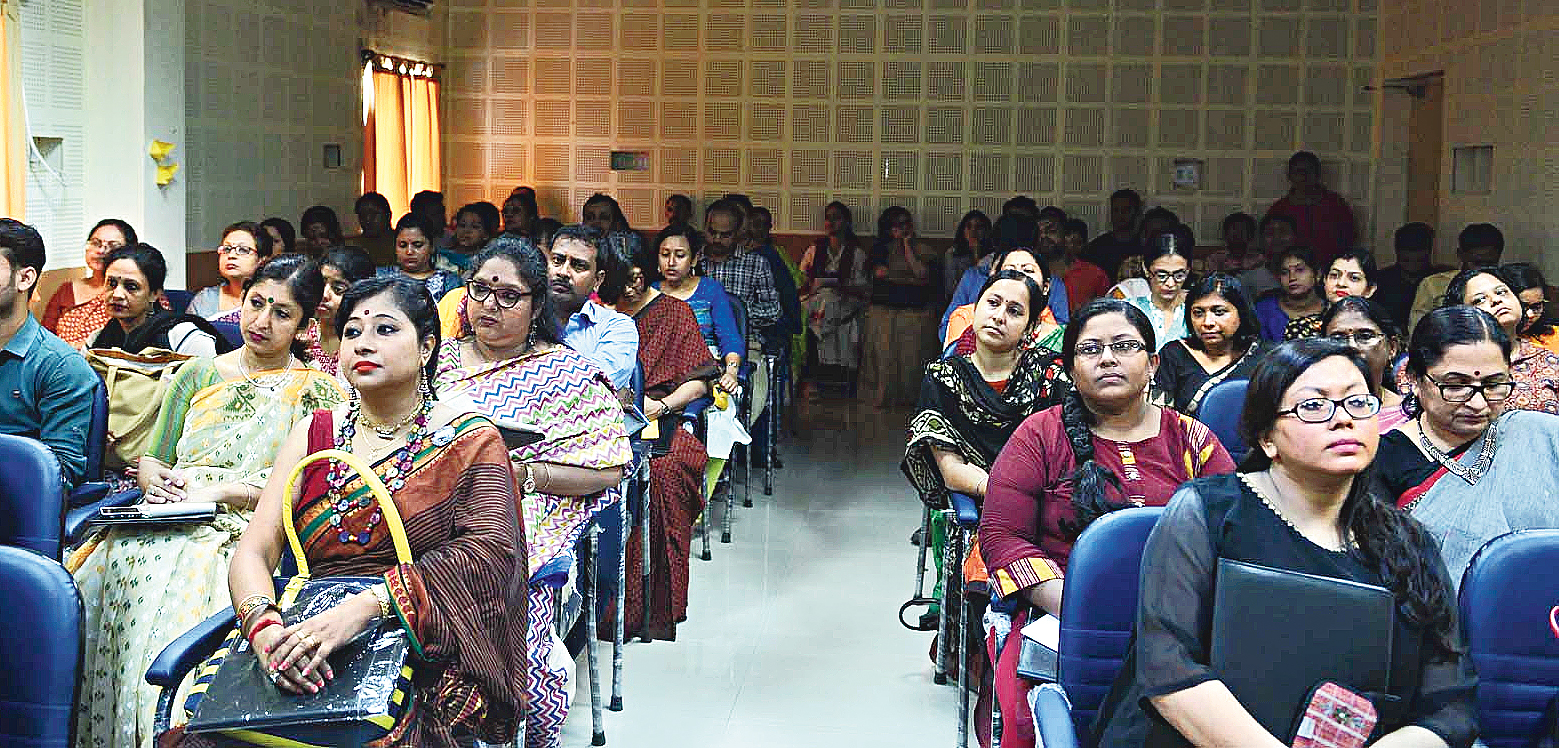 Teachers at the workshop at Jadavpur University.
Picture by Gautam Bose
---
Calcutta
|
Published 24.09.19, 11:50 PM
|
---
Teachers should be equipped to help children with mental illness in the classroom instead of referring them to a specialist because a child will accept a teacher more easily than a stranger, a psychiatrist said at a teachers' workshop at Jadavpur University recently.
More than 125 schoolteachers attended the awareness programme on the Role of Teachers in Managing ADHD (Attention Deficit Hyperactivity Disorder).
The workshop was organised by the Mental Health Foundation, an organisation that provides specialised mental health care in collaboration with the department of education at Jadavpur University (JU).
The implications of labelling a child are huge. Rather trying to understand a student and handling him or her with empathy will solve problems in the classroom, teachers were told at the daylong workshop.
"Labelling a child with mental illness could have huge implications such as low self-esteem and stigma. There is a fear of segregating or singling out the child in the classroom. So it needs to be thought over whether there is a need to refer a child (to a counsellor) because it creates stigma," psychiatrist Jai Ranjan Ram, the joint director of the Mental Health Foundation, said. "Your counselling will be a lot more acceptable than that of a stranger who doesn't know the child as well as you do."
Ram said teachers are already playing the role of counsellors but often their skills are underplayed or underestimated, disempowering them.
"When you are working as a teacher you are playing many roles, including pastoral care, counselling and advocacy of child rights. They are already doing all this but doing it unknowingly, therefore they should not underestimate their skills as counsellors just because their identity is that of a teacher," he said.
Appropriate measures in school, such as having counsellors, making the school environment child-friendly, openness of communication between parents and teachers and a more pro-active management that looks after the mental health of children will solve many problems.
The session, attended by teachers of CBSE, ICSE and the state board, underlined the importance of teachers being aware of mental illnesses and their symptoms.
"A child in your class won't care how much knowledge you have but how much you care for them. That is the positive touch that teachers can provide," said Muktipada Sinha, associate professor, department of education, JU.
The education curriculum at JU includes mental health and life skills.
"To address emotional and behavioural problems in the classroom and school, only theoretical content is not enough. There must be workshops and training to make teachers aware and equip them," Sinha said.
Heads of schools also attended the workshop. "Many cases can be taken up in the school only if we are equipped to understand and deal with it. Its important for principals to be on board to lead the team," said Moushumi Banerjee, the principal of Future Campus, Garia, who came with five of her teachers.