Zoophilists who are taking care of animals on the streets during the pandemic
The Covid-19 crisis and the resultant lockdown has rendered not just humans but a lot of animals helpless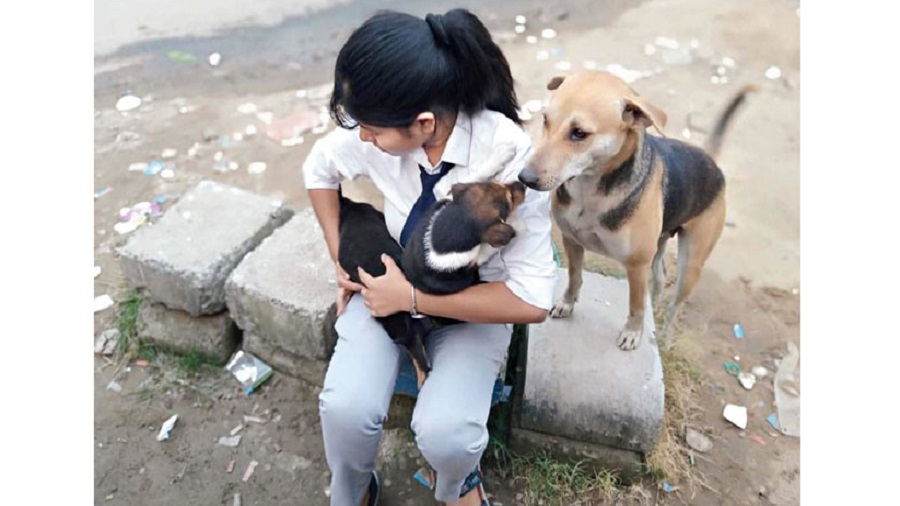 A student of The IEM Pet Society takes care of dogs around her college campus
Sourced by the Telegraph
---
Published 05.07.20, 08:41 PM
|
---
The Covid-19 crisis and the resultant lockdown has rendered not just humans but a lot of animals helpless, without the basics of life like shelter and food. It has also brought to light the human side of many individuals who have worked relentlessly to feed the poor and the needy. Similarly, there are individuals as well as groups who have been working hard through these difficult months to feed and rescue animals — strays to abandoned pets.
The Telegraph spotlights a few such groups/individuals who have come forward for the cause of animals and hears from them about the work they have been doing and the challenges they are facing...
The IEM Pet Society was started on April 25, 2019, under the guidance of Sanghamitra Podder, head of the department, student affairs and alumni relations, and Malay Gangopadhyay, head of the department, electronics and communication engineering of the institute in Sector V. A team of 400 students had already started the practice of feeding stray dogs and cats in and around the college campus. IEM Pet Society also vaccinates them and provides medical assistance to the helpless animals. During the lockdown, they have shouldered the responsibility of feeding more than 100 dogs and cats around Sector V area every day.
"We rescued two puppies whose mother had died in a road accident. We brought them to our college campus, dewormed and vaccinated them. Later we managed to find a home for them too," said Niloy Chakravorty, a final-year engineering student, who is also student head of the IEM Pet Society. Niloy also feeds the strays near his house in Lake Town. "I give them home-made food, which usually consists of rice, dal and chicken," he added.
"Animals are much more emotional than us. They care and love us without expecting anything in return. Our contributions might be small but even the smallest of changes matter," said Sanghamitra.
Before lockdown, the IEM Pet Society used to feed 40 dogs near the college campus. But once the lockdown was announced, small eateries in Sector V closed down and that led to shortage of food for all the dogs around Sector V. "Attending to the injuries of the strays was a major challenge for us. But that didn't stop us from doing our work. We became much more active during the lockdown when it came to delivering medical assistance," said Niloy.
The expenses that the Pet Society incurs are completely funded by the college. "We also have an exigency fund that we have collected from the donations made by the members of the society," said Niloy. "I believe that the stray animals are dependent on us for their survival. It's time that we all understand that. Let us strive to make this world a much better place for us and for them," said Malay.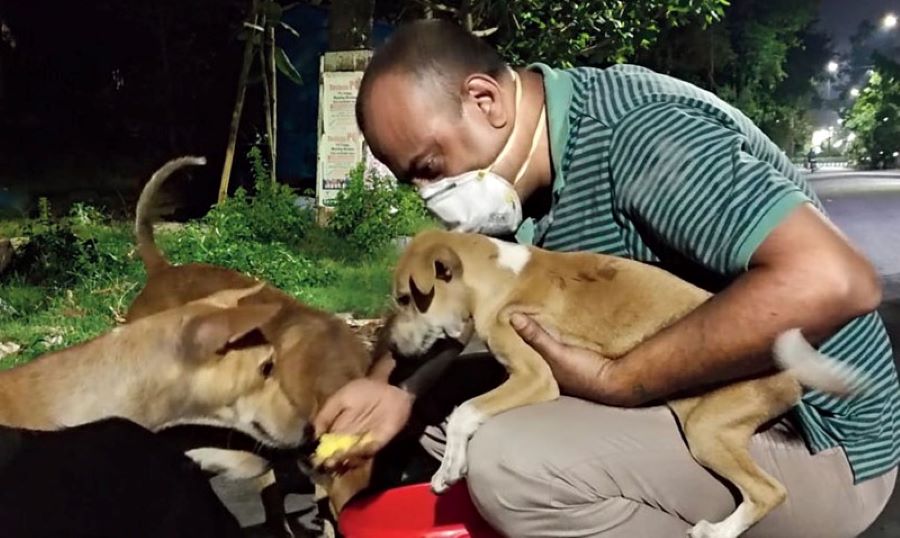 Forty five-year-old Arijit Mukherjee runs a veterinary clinic for cats and dogs in Salt Lake, along with his partner Seema Kapoor Taneja. From the first day of lockdown till date the duo is feeding 2,500 stray animals, in Howrah and Salt Lake. "This project of ours is called 'Fill a bowl, feed a soul'," said Arijit, who used to be a cinematographer for wildlife documentaries.
"The Howrah city police commissioner, Kunal Agarwal, had asked me to start a campaign where we will feed all the stray animals in and around Howrah railway station, and other industrial places, which were completely shut down. Howrah city police provided me a place to cook at the office of the Golabari traffic guard and also vehicle to distribute the food," added Arijit. In Salt Lake, Arijit was supported by Bidhannagar police to go out and feed stray animals during the lockdown days. They were given a pass to access every place.
Scud society for Social Communication, an NGO run by his elder sister, actress Satarupa Sanyal, helped Arijit with some funds. During the lockdown, he rescued five stray dogs. "We found a puppy in Karunamoyee, Salt Lake, who had an injury. We got him to our clinic so that we could treat him," said Arijit, who also rescued a stray dog that met with an accident. "We provided him with medicines and saline. Three of these puppies are there in my clinic, while the rest two are at their location and the people of that particular para look after them," he added.
Arijit's biggest challenge is to find homes for the dogs. "People are willing to adopt other breeds, no one shows interest if it is a stray dog," he said. Recently, Arijit got a surprise visit too. Not by any person, but by a puppy. "Someone had kept a puppy in a basket and left him near my doorstep. I took him in," he smiled.

Actors Debleena Dutt Mukherjee and Tathagata Mukherjee are a part of a community that feeds animals and rescues them, across Bengal. "We feed and rescue all year round. Once the lockdown was announced, we all were worried about the shops being closed. We were concerned about the office areas too because there the dogs depend on leftover food or the office-going people who feed them. We knew if we didn't do anything about it, during this long period of lockdown they would have starved and died," said Debleena.
The community formed groups and people were divided according to the locations. While one group fed 400 cats and dogs at office areas in north and central Calcutta, another group covered Barasat side. Tathagata and Debleena have taken up the Golf Club area. "Usually we are away for shoots, so we have appointed a feeder who used to come every day. Once the lockdown started, the feeder stopped coming. That's when we started doing it ourselves," said Debleena. There are about 50 dogs around Golf Club Road and a non-vegetarian goat that waits for the couple for food. The duo cooks the food at their place and carries it in buckets.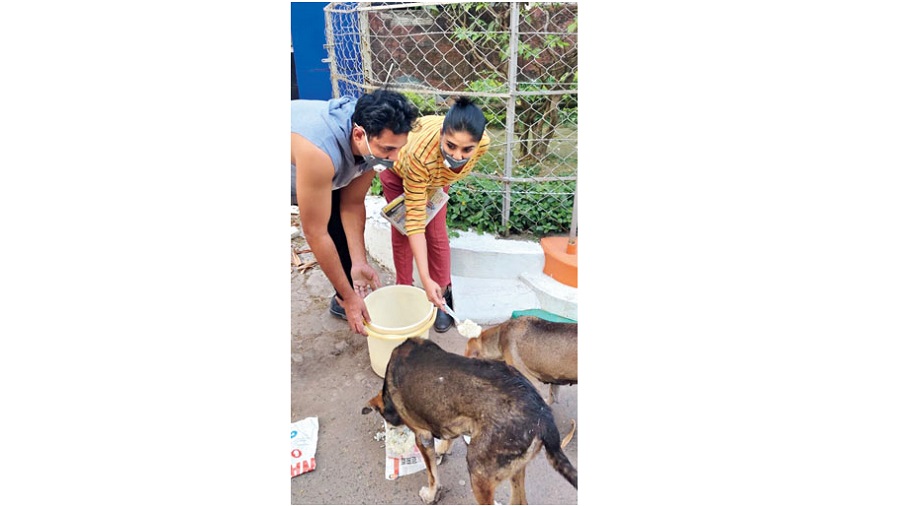 "Others face a lot more challenges than us because of our identity," said Tathagata, though they have faced a lot of trouble, especially in the residential areas. "There will be two or three families who will have objection. Legally no one can stop you from feeding dogs and cats. Relocating a street dog is a punishable offence. In spite of that we had received a phone call from a young girl who was feeding dogs in south Calcutta. She was threatened and asked to leave and was told if she continued feeding she would be hurt," said Debleena, who complained to the cops and provided her support, but the girl's family did not think it safe for her to go back there so someone else was appointed. "Few days back a mother and her son were beaten up so badly because they were feeding dogs. We too face a problem. In one area of Golf Club Road, a doctor and his wife were out on their balcony and discovered that we were feeding the dogs. It was after sundown and we were wearing masks so they did not recognise us. They asked us to take all the dogs to our house if we want to feed them. When we asked why, they replied that if dogs eat they will poop on the road. The moment we took off our masks, their behaviour completely changed," recalled Debleena.
Animals are abandoned every day and during lockdown, it tripled. Ill-informed people thought that dogs could be a threat during this pandemic, whereas dogs are completely safe according to World Health Organisation (WHO). In case of different breeds and specially puppies, finding a home is never difficult. "People buy puppies and bring them home and once they grow old, they are abandoned. People fail to realise that like Labrador and German shepherd, the Indian pariah dog is also a breed. It is difficult to get a home for pariahs. Even if they are taken in as a puppy, once they grow old they are left on the streets. It is difficult for any dog to survive on the road once they have grown up at a home," said Tathagata. The duo keeps rescued dogs at their house till they find a home for them. "Very recently a pariah who has a problem in his leg was adopted. We adopted a German shepherd who was beaten up and had six fractures. We knew that it would never get a home so we adopted him," said Debleena.
Animal abuse cases are not taken seriously at police stations though there strict laws in place. "In such cases, we go to the police station. We have different WhatsApp groups in different areas and we are constantly in touch. From financial to physical, Tathagata and I support this cause fully," she added.

The Pooch Collective, an online pet supply store was started in January by Neha Bajoria. Apart from selling accessories and organic animal skincare products, Neha has tied up with Animal Shelter cum Hospital and Research Institute (ASHARI). Neha has not only donated money to ASHARI but also feeds dogs, cats and horses on the street, near Chowringhee, Victoria Memorial, Maidan, Park Street and Theatre Road areas.  
"Pedigree donated 11 cartons of dog and cat food because they believe in my cause. We kept few boxes to feed the animals on the streets and sent eight cartons and 1,600 packets of food to ASHARI," said the 27-year-old resident of Russell Street, who rescued a pup from near the RCGC Maidan tent. Neha was inspired by her mother who has been feeding dogs, birds, ants and cows for the last 20 years.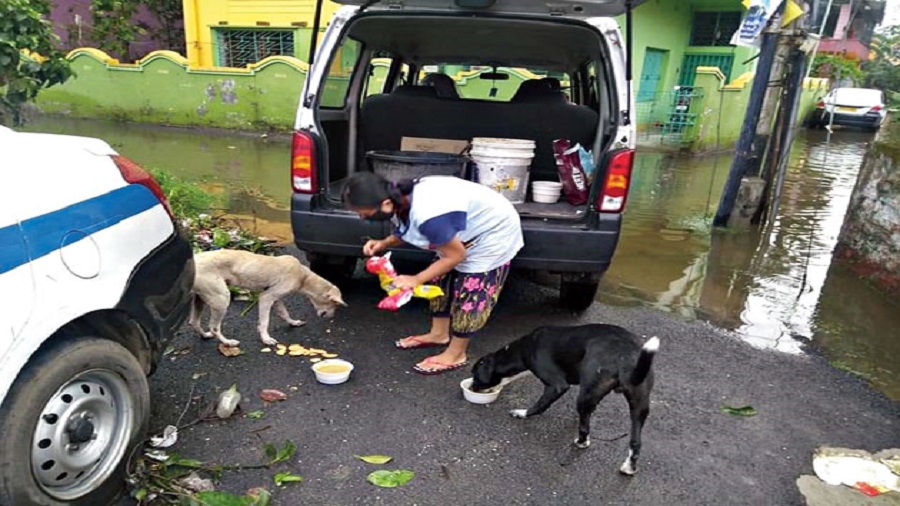 Titas Mukherjee runs Animal Rescue and Care Kolkata (ARC) in Thakurpukur, which feeds more than 500 dogs in places like Thakurpukur, Pailan and Joka. Now they have started feeding them on alternate days so that they too get back to their normal days. "Before lockdown we used to feed 200 to 250 dogs all round the year. We are also treating sick and injured animals and deworming them too," said the 28-year-old girl, who had started birth control programme for dogs, but unfortunately after 15 days her area turned a red zone.
"During the lockdown we found a Pomeranian. The breeder had disowned him after being mated heavily. It is being treated at the dog shelter at Thakurpukur. The shelter was affected by Amphan and a part of the boundary wall has fallen down. The roofs and the doors of the kennels were dislocated, a lot of food was spoilt due to the storm. No one is willing to come and fix the place," said Titas, who is also getting an animal rehabilitation centre made in Bardhaman.
Another challenge during the lockdown period was procuring food. From rice and chicken to biscuits, everything had become expensive. "Another problem was feeding dogs on roads. Everyone kept asking us to go somewhere else to give the food and not at their doorstep," added Titas, who had registered her NGO, ARC, in 2016. "From childhood I have been into this and I did not have my family's permission. They did not harm any animal but did not support me doing this. I used to use my pocket money and tiffin money to feed the dogs. I realised this was not enough, so I started going to WB State Veterinary Hospital Kolkata to learn how to inject saline so that I can attend an animal during any emergency," said Titas.
What she was lacking was a place to treat or keep the dogs and cats. She rented a house in Behala before she met her now husband, Somak Chatterjee, "I met my husband over social media and that too we spoke on dogs and cats at length. His ground floor used to be a manufacturing unit. He gave that space to me. My mother and husband help me out. Also, dozens of Facebook friends come forward when needed," said Titas, who houses 60 dogs and cats at her shelter.

Tolly actress Sreelekha Mitra used to feed eight street dogs, three of which were adopted by her. During the lockdown she stepped out to fill more stomachs around her Barisha residence. "People were confused during the lockdown and that resulted in abandoning pets, even though experts kept saying animals do not get Covid-19. The sad part is people don't like street dogs and they are looked down upon compared to other breeds. The dogs usually fetched their food from nearby markets, but that stopped once the lockdown was announced," said Sreelekha.
Absence of domestic help was a hindrance for Sreelekha. "Without the help, it was difficult because there was no one to shop and help me make food. I could not stock up enough before the lockdown. After I went live asking for help, a friend came over with 25kg rice and other things. Also, there is a constant trouble with people inside the compound, but my neighbour and the para boys helped me out," she added.

Music man Debojyoti Mishra has been feeding street dogs from his childhood days which his mother. Throughout the year he feeds six to seven dogs near his Jodhpur Park residence and his studio in Lovelock Street. "During the pandemic we realised how badly street animals have been affected. All the dogs I fed had become skinny and they literally wait for the sight of food. After seeing this condition I started feeding more dogs in different localities," said Mishra, who now feeds rice and chicken to more than 35 dogs.
"I am lucky that in my locality no family objected, but I have heard of situations that were not pleasant. It was more challenging feeding dogs around my old house in Jodhpur Park. During the lockdown though nobody objected and I could peacefully feed the dogs," added Mishra.

Nitin Jaisingh, a Class XII student of The Frank Anthony Public School, started feeding dogs from the day after Janta Curfew was announced. Every day post-lunch, Nitin leaves his house on CIT Road with food for the dogs in his area. "I believe that if we all do our small bit, the situation will change," said the 18-year-old boy who uses his pocket money to get liver and chicken for the dogs.