Workstations on hourly rent in New Town
Neighbourhood work cocoons being built in New Town for people cooped up at home seeking to step out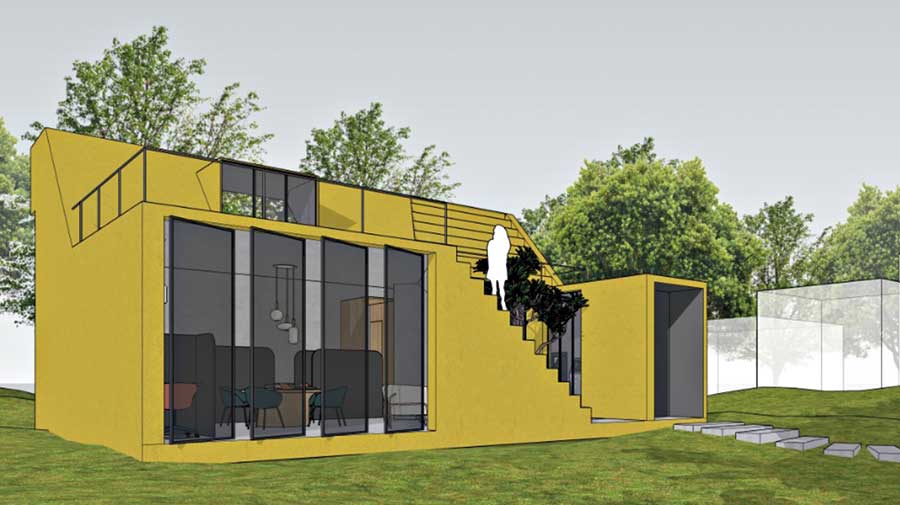 ---
---
Are you tired of working from home? And yet not feeling confident enough to travel all the way to office daily? A solution will soon be on offer in every extended New Town locality which will allow people to step out for some hours and get some quality work done in a socially distanced and convenient set-up.
The Housing and Infrastructure Development Corporation (Hidco) is building neighbourhood work cocoons. These will be community spaces of 800 to 1,000sq ft area in residential localities where people can spend a few hours on payment. The space will be wi-fi-enabled and one will have to bring one's own device. It will be like an internet cafe but away from commercial hubs where cafes are usually located. There will be provision for photocopy. One person will be in charge who can serve coffee and biscuits too. It will be a silent zone with library-like discipline. If a person wants to stretch his legs or take a call, he can walk around outside before settling back.
"In a situation where we are trying to decentralise, the aim of building these facilities is to provide a flavour of office in one's own neighbourhood," said Hidco chairman Debashis Sen.
Its uniqueness and appeal in the Covid situation lie in the way the space has been designed. "We are breaking the open office design which can spread infection. There will be glass panel partitions about three feet higher than the table tops and sufficient spacing between what we are calling isolation desks," he explained.
Hidco is building two such work cocoons in Action Area 1 and will hand them over to a private agency against a rent. "These will also generate employment in a situation where people are losing jobs. We will set the operational module which the agency will have to follow," he said.
Sanitisation, for instance, will be a vital part of the maintenance and the private management will have to follow a protocol set by the government authority. For instance, Nabadiganta Industrial Township Authority, which Sen also heads, has a routine prescribed for Sector V offices. "We recommend workplaces to be sanitised thrice a day — before opening, at lunch time and after shutdown," he said.
The hourly charge for use will be decided by the agency taking the facility on rent. "It will have to be affordable enough to ensure high footfall and be viable to leave them a margin after paying us the rent," said Sen, predicting that the charge could be flexible, with Sundays having a lower rate.
Abin Design Studio, which has designed Nazrul Tirtha, has drawn up the layout for the work cocoons. "This is a visionary idea. With people avoiding commuting in public transport and companies avoiding gathering of employees in offices, work from home is here to stay for long. And this will be the future. This will also generate local revenue," said Abin Chaudhuri, the architect.
While the ground floor will be air-conditioned, one can climb up the stairs and sit on the open-air terrace too, especially in winter. The terrace will have gallery-like steps by way of seating arrangement and will have wi-fi connectivity as well.
There will be space for lockers in the single-floor structure to store one's belongings if one wants to spend all day there. The furniture would be modular so that it can be installed and reoriented with ease. Each of the 21 isolation desks will be equipped with a laptop charging station.
The brief from Hidco was to evolve a model which is scalable. While the current plots will house 1,000 sq ft structures, a smaller plot can be two-storeyed too, said Chaudhuri.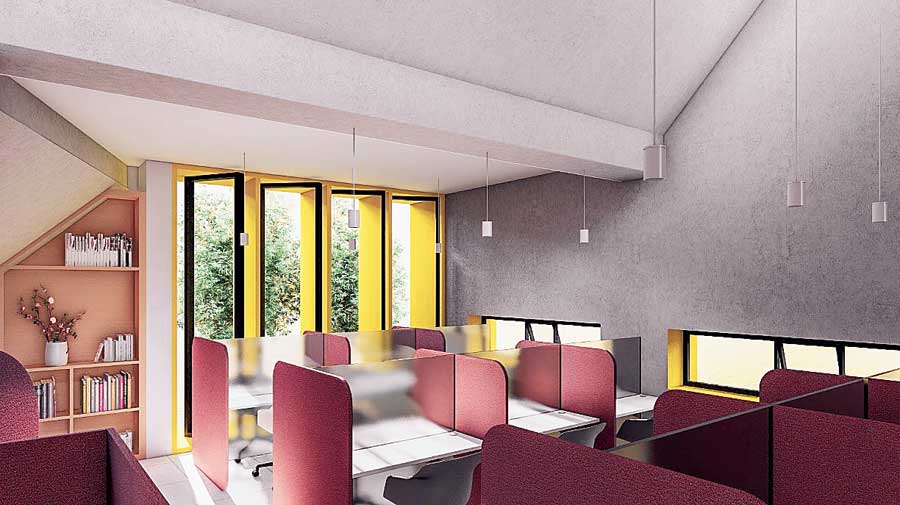 Space to relax
The work cocoons will be of use even to those wanting to take a break from the monotony of a life of leisure indoors. "It can also be used for relaxation, like reading newspapers or a book. A rack will have books and magazines. Even if you want to watch a film, you can bring your laptop or tab along and watch it over a cup of coffee," said Sen
The space, Chaudhuri explained, will be divided into a work area and a round table for those wanting to relax. The table can sit about four people in a sufficiently distanced manner. Separate toilets will be there for men and women.
For starters, Hidco has earmarked plots for three work cocoons — two in Action Area 1, which has disjointed plots in residential blocks, and another in Nababpur in Action Area 2. The first two sites are on the Major Arterial Road, making them convenient to reach.
"Apartment complexes have their own community centres and coffee shops where we cannot intervene. So we are targeting people in the standalone blocks for now as potential users," said Sen.
Construction is in full swing at all three sites — beside the NKDA office, between the Croma store and Sankalpa 4 and the third across the road from Eco Park's Christ the Redeemer statue. "The structure next to the NKDA office should be ready by the end of the financial year," Sen said.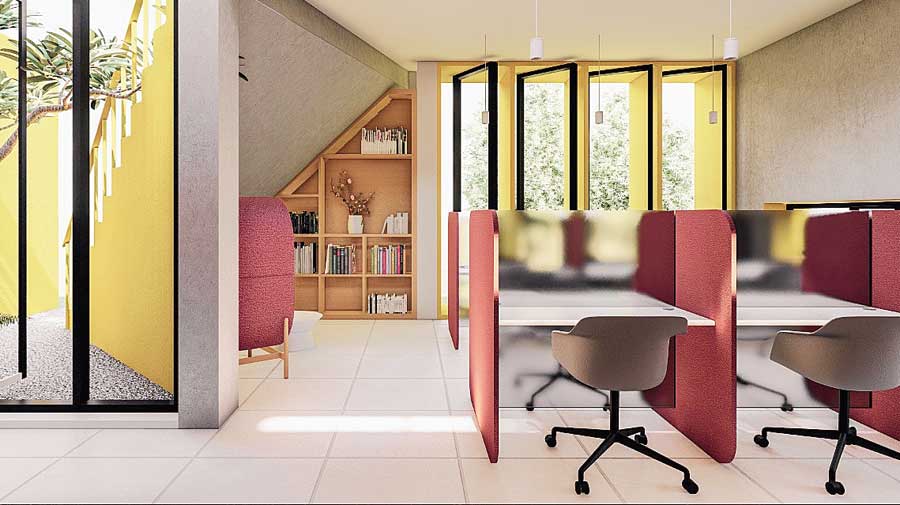 Respite from confinement
Sen had foreseen the requirement in April when the lockdown started. "People will realise the problems of work from home with conflicting demands on the home space. Once they get fed up, they will feel it necessary to go out but not venture too far out," he had told The Telegraph Salt Lake in early May.
Plots have been chosen for three structures. Here are their locations:
Between Croma and Sankalpa 4
Next to NKDA office opposite Nazrul Tirtha, in Action Area 1
Across the Major Arterial Road from Christ the Redeemer statue in Nababpur, Action Area 2