Work-from-home has been a boon for pet lovers
They are loving the fact that they can spend more time with their furry friends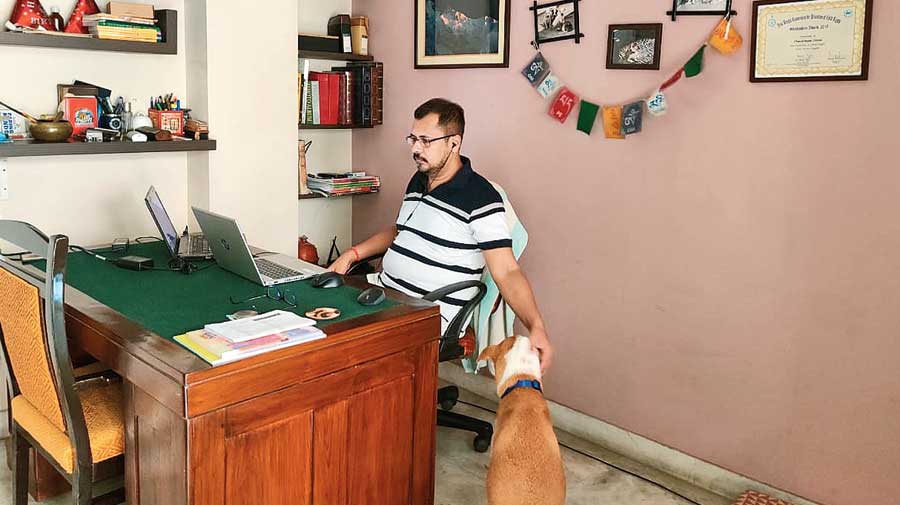 ---
---
If you have been working from home from the beginning of the pandemic and have pets at home, chances are you have been having mixed feelings about having them around. While it is surely a joy to have them for company, it can also be a hindrance sometimes if they get in the way of your work. But when t2 spoke to a few pet owners from cities, most of them felt that the plusses outweigh the minuses. They recount their funny and unique experience of being 24x7 with their dear ones and enjoying their work more now thanks to them…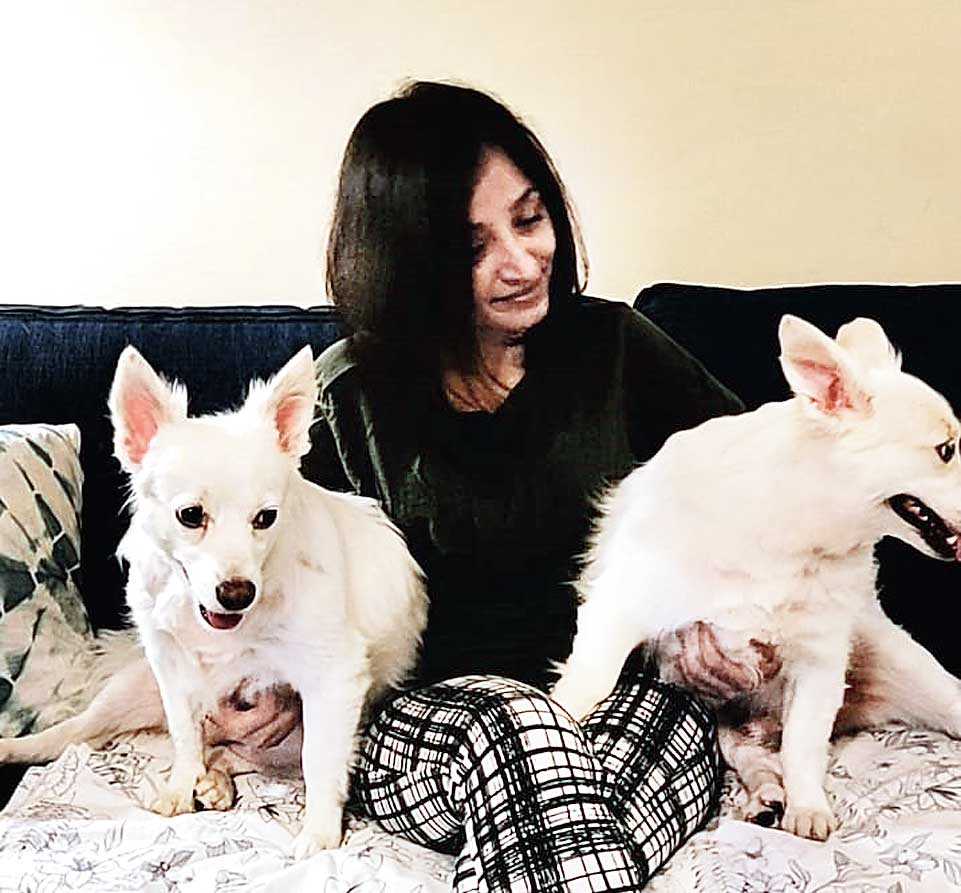 They're loving it!
Milk and Cookie are now super excited as their guardian is with them 24x7 and they are going out to walk twice a day instead of twice a week for the first time in three years of their existence. For the twin Pomeranians, it's like a weekend that's never ending. "I have always been in advertising agencies and I have to work under immense pressure. So I always felt guilty because I couldn't give much time to them. I used to spend hardly three hours with them. But now I'm with them always and can take them out anytime. So the pandemic becomes a blessing in disguise for us," said Kobita Banerjee, a 32-year-old who works with an ad agency in Bangalore.
Pikachu and Dobby are so happy nowadays that they are eating more than what they usually do. Pikachu is a three-year-old cat while his sister Dobby is one year old. "When my cats used to be alone, they would often fall asleep and skip their meals. But now since I'm with them all the time, they are always awake and having lots of food. They have gained weight in the last few months," said Anna Sakhi John, a content writer based in Chennai.
Pocket, Golla and Lakkhi have at last found freedom to play whenever and wherever they want. "My cats have a problem with vision. So when I'm not at home, they are not allowed to go out of their room and play. But now things have changed. I'm always with them and they can go out and play whenever they want," said Chaitali Chakraborty, a 26-year-old IT professional from Calcutta.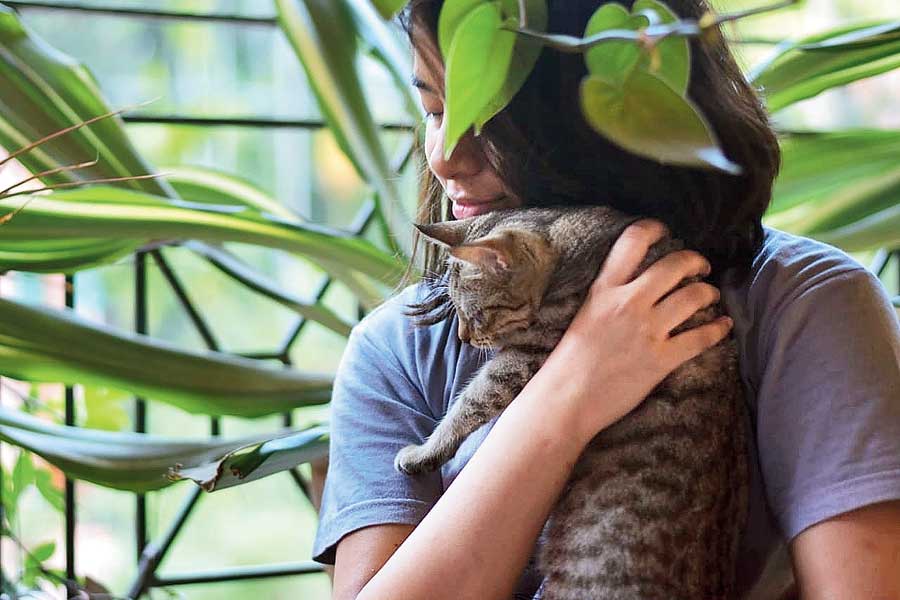 New 'colleagues' at work
Suvarghya Dutta has turned his study into a mini office and he has found two new 'colleagues' — his pets Portia and Martini. Both are seven-year-old Indian dogs. Suvarghya has to keep the door of his study open and the two enter and leave the room whenever they want as they like to stay with him all the time! "Unless there is a very important meeting when I need a calm and quiet environment, Portia and Martini are always with me," said the 47-year-old who works in an IT firm and is based out of Calcutta.
Kobita has also set up her workspace in her living room and Milk and Cookie sit under Kobita's desk as long as she works. The two now spend more time watching Kobita work than barking at people from the balcony. "My colleagues say jokingly that my dogs must have thought I have been fired," said Kobita.
Chaitali's office colleagues are now used to seeing Golla running over her laptop and Pocket screaming "meow meow" in front of the laptop when a meeting is in progress. "It's a welcome change for them as well," said Chaitali. Golla is seven years old and his two sisters, Pocket and Lakkhi, are one-and-half years and one year old respectively.
Pikachu and Dobby always walk around Anna when she works. "It gets difficult during meetings as they often come and jump on my laptop. However, my colleagues take it sportingly," said the 29-year-old.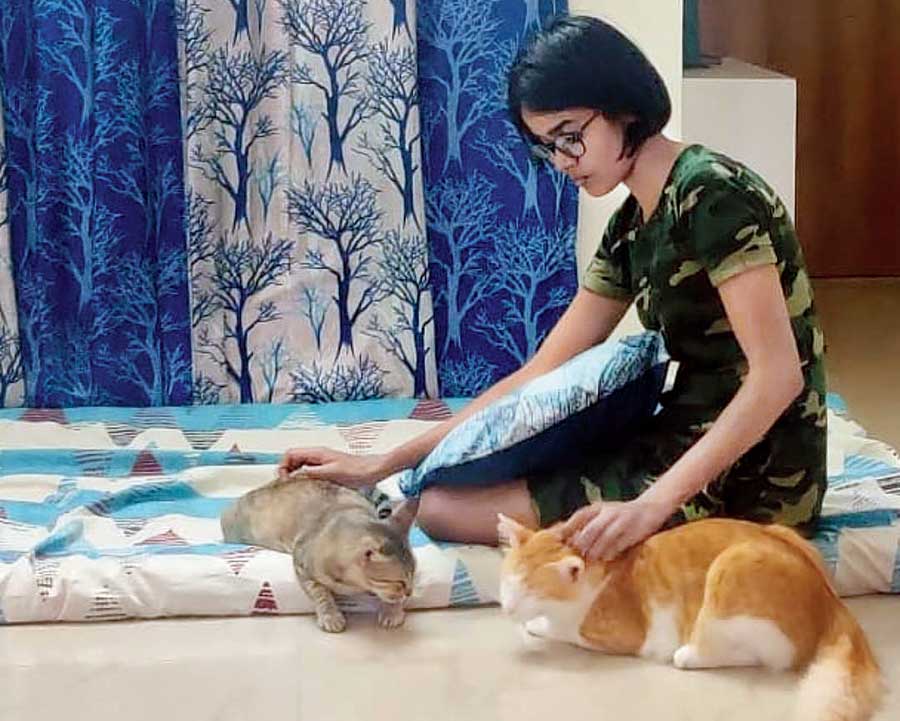 Wherever you are, they follow
Whatever Chaitali does throughout the day, be it having breakfast, watering the plants or taking a stroll on the terrace, Golla and gang are always there with her. Portia and Martini even sleep in Suvarghya's study only to be with him always. Anna said: "When I'm at home, my cats don't like to be in any other room even for a few minutes. It keeps bothering them if I don't allow them in my room. They follow me wherever I go."
Stress buster
Milk and Cookie often take a ball and put it on Kobita's lap when she works. Sometimes they put their heads on her lap. "It's like 'please play with us'. They are like children. So they seek attention and want to get pampered. I also love to spend time with them. These little breaks are very much necessary for me. Moreover, when I feel sad or I'm not in a great mood, they can easily sense it and they immediately come to me and try to lift my mood," said Kobita.
Suvarghya feels the presence of Portia and Martini is a huge stress buster for him. "I love to play with them. It helps me rejuvenate myself and concentrate on my work better. It's actually reducing the stress of work."
For Chaitali, having her cats always by her side gives her immense energy. "Before lockdown, it was like a 10am-7pm job for me. But now since I'm at home, I have to work almost 10 hours a day. So seeing them and playing with them in between work gives me a lot of positive energy," Chaitali quipped.