Women saviours when virus hit men's income
Families once opposed to careers are now grateful for support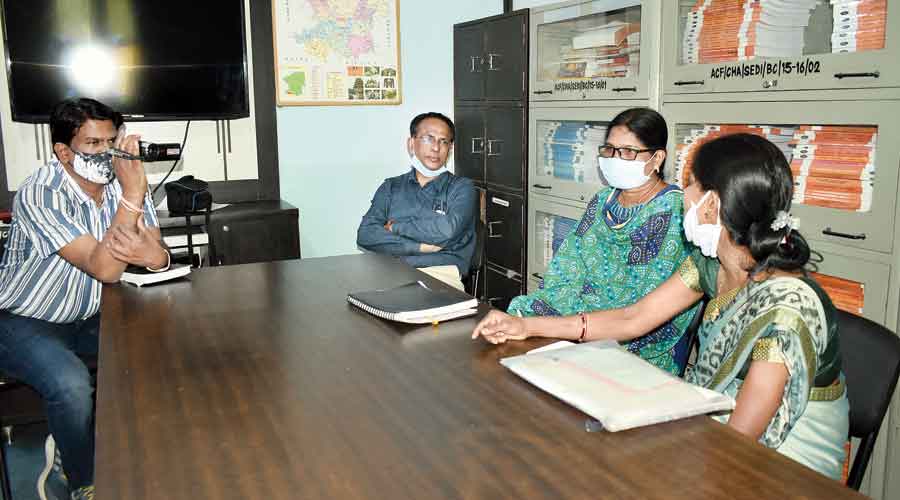 Abhijit Chowdhury in a meeting with members of a self-help group
Telegraph Picture
---
Calcutta
|
Published 09.12.20, 04:43 AM
|
---
Hundreds of women in a Maharashtra district, whose attempts to earn by joining self-help groups had met with resistance from husbands and others, emerged as saviours for their families when the Covid pandemic robbed men of income.
A public health expert from Calcutta who is visiting several places in India to witness community endeavours against Covid-19, saw how the pandemic led to women empowerment in a string of Maharashtra villages.
Abhijit Chowdhury, at the forefront of the Mamata Banerjee government's fight against Covid-19, recently visited Chandrapur district in Maharashtra. He narrated how hundreds of women in several villages there, who had earlier been neglected and had no say in their families, have taken the lead in sustaining their near and dear ones.
"I met many women who are members of self-help groups (SHGs). They said for long their husbands, as well as other family members, were against their taking part in SHG activities and they had no importance in their families," said Chowdhury.
"But during the Covid-19 pandemic, when the men lost their livelihood, these women, through various SHG schemes of income generation, ran their families. Now, they say, their husbands are urging them to continue with the economic activities. Many of these women told me during my visit that now they have gained importance and respect in their families, for which they have strived for years," he said.
Chowdhury is documenting these experiences for research.
He saw how these women, who used to run community health centres at their villages for non-communicable diseases, are using the facilities with encouragement from their families to raise awareness about Covid-19.
"There are cement factories and cotton mills in the areas where most men work. They also work in agriculture fields and sell milk and dairy products in these villages," said Jyoti Khandale, a project executive for women empowerment at Ambuja Cement Foundation in Chandrapur district.
The foundation runs around 200 SHGs, involving nearly 2,300 women and covering about 50 villages in the district. "During the lockdown, their incomes reduced to zero as factories were closed and they could not go house to house selling milk. They were also unable to go to the fields for farming because of lack of funds," she said.
The Telegraph spoke over the phone to a few of these women who narrated how their social standings changed during the pandemic. 
Sangita Chaudhury, 41, Isapore village: Sangita's husband Vijay works at a cement factory, earning Rs 15,000 a month. "During the three months of lockdown, the factory was closed and he did not get any wages," said Sangita.
She has been working with an SHG in her village for some time but would always face resistance from her husband and other family members.
"In my husband's family, no woman member is allowed to go out. They would tell me I was wasting time attending SHG meetings and urge me not to go. They would wonder why I should be involved in those activities when my husband was earning enough," Sangita said.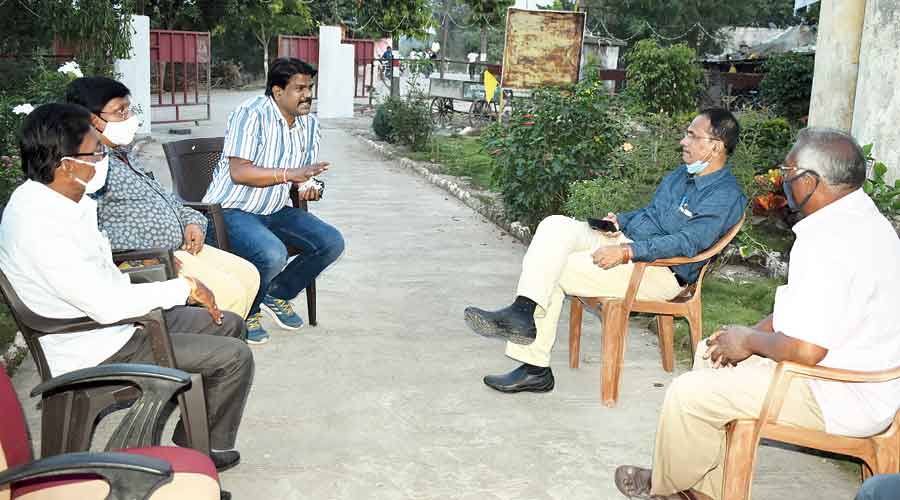 She was earning about Rs 2,000 a month earlier from various activities. But during the lockdown, when no veterinary doctor would visit villages, she was earning more than Rs 5,000 through goat and poultry management and vaccination of animals, for which she is trained.
"I learnt how to drive a Scooty, which was given to me by the foundation, and went to various places in course of my work. My husband's factory has resumed production but he still tells me to do what I am doing. He keeps telling me that it was because of me that the family was saved," she said.
Tai Kelvadkar, 38, Thutra village: Tai's husband, Sudhakar, works at a cement factory and earns Rs 9,000 a month.
"He would tell me that I attended SHG meetings only to gossip and urge me to, instead, concentrate on domestic work. Family members would tell me I had no business attending those meetings since I am uneducated," she said.
But during the lockdown, and even later, when her husband had no income, she was preparing masks and selling them through the SHG, earning more than Rs 4,000 a month.
"I know how to knit and took online training in preparing masks," she said. Now, her husband says she should continue preparing masks and is even eager to help her sell those.
Geeta Watguire, 29, Timpalgaon village: Her husband drives a vehicle and earns Rs 15,000 a month. She has been working with an SHG in her village for about two years and would face resistance and abuses from her in-laws.
Her husband had no income during the lockdown and even for several months after that. During the period Geeta was supporting the family by making saris and other apparels and selling them through the SHG. She also started vaccinating cows and oxens after training and was earning nearly as much as her husband.
"Initially, my family members and other villagers would laugh at me and wonder how a woman could vaccinate cattle?" said Geeta. "But now I get calls from villagers even late at night for vaccination and my husband takes me on a two-wheeler to those places," she said.