Ode to freedom on the Net
With students locked down at home due to the pandemic, the August 15 celebration went the same way as their classes — online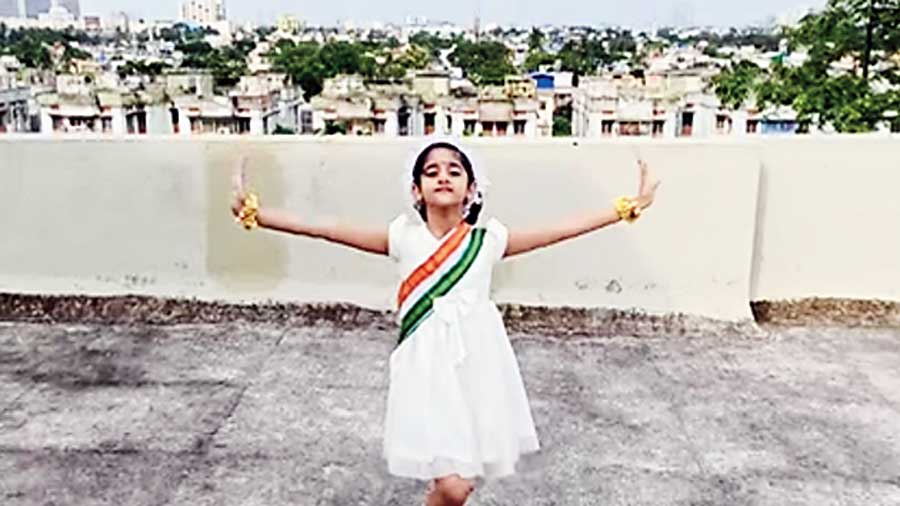 A participant performs at home
Sourced by The Telegraph
---
Calcutta
|
Published 29.08.20, 12:08 AM
|
---
Sri Aurobindo Institute of Education
August 15 has always seen the grandest celebrations at Sri Aurobindo Institute of Education as it marks the birth anniversary of Sri Aurobindo, is the school's foundation day and of course, is also India's Independence Day. And students weren't about to let the pandemic change that. 
They released a slew of videos of their performances on YouTube starting with the principal's address on August 15. "We never imagined the school in complete silence, without any children playing in the field, without assembly or classes. Covid-19 has shattered our lives but has not been able to stop students from expressing themselves," said principal Debleena Bhatatcharya.
Teachers and students, she said, had used technology this year to reach out and their performances too spoke of solidarity. So a Hindi play depicted a typical home in the lockdown scenario, where the parents are now working from home and kids are itching to go out. But ultimately they realise they are better off being able to spend time together and learning new skills. United, they now look forward to freedom from Covid. The play was shot at homes of different students and edited to look like the same. 
An audio drama showed a girl getting irritated when her grandparents repeatedly ask for help to use their smart phones and remote controls. "She also looks down on an uncle who limps, only to be reminded that he had lost his legs in a war," said Sagnik Banik, a Class X student who wrote the script. The protagonist is taught at the end to see the sacrifice of her grandparents and not to discriminate between age and ability. 
There were dances too. Dance teacher Susmita Nandi Sethia choreographed dances for the tots by sending them videos of herself doing the moves. "Then I had to send another video teaching parents how to upload the kids' videos to Google Drive. Even then, there were challenges of poor resolution and it was difficult to correct the movements over video call." Her students danced to songs like Aao bachho tumhe dikhaye. Nandi Sethia would later be part of a dance collage by teachers too. 
"I have been a part of this school for the last 15 years and never has a function passed without me dancing on stage," said head girl Anushka Bose. "So this year too, I have shot my dance video at home and sent." 
Most of the videos were edited by Jyotirmoy Sanyal of Class XII. "This is our last year of school and we're spending it on online classes without living it up with friends," lamented the boy who took part in some plays. 
"Even if different, this year's celebration shall be memorable," said head boy Saptarshi Dutta, who handled much of the show's co-ordination.
Brinda Sarkar
Salt Lake School Salt Lake School uploaded two videos on its social media sites to mark Independence Day. One was created by the students of Class VII and the other by those of Class XII. Performing to editing, it was an all-student show all the way. 
"Most classes have unit tests going on. Usually exams are over by now but this year classes started late. The Class VII batch was very enthusiastic to do something for August 15, so we asked them to go ahead," said principal Sugata D'Souza. 
The Class VII video had 13 students taking part to give lip to the Roja song Bharat hum ko jaan se pyara. "There were 12 of us initially. So we divided the song amongst ourselves and recorded  giving lip to the section given to us. The clips were sent to me and my father helped me put it together. He is used to editing cooking videos for my mother's YouTube channel," said Ishita Samanta, one of the participating students.
This meant Drittriksha Chakraborty had to give lip to the male voice of Hariharan. But she did her best to make up for the incongruity with her expressions.
The number became 13 when another student, Aryabrata Samaddar, wanted to join. "We had run out of lines in the song, so we added a bit of Main rahoon ya na rahoon to accommodate him," said Ishita, who loved the experience of being part of the video. "If we were going to school in normal times, there would be no guarantee that our class would have been chosen to perform in the I-Day show. It was because we discussed doing something and our friend Arka Mitra took the request to our class teacher that we got to do this." 
The video created by Class XI was a haunting collage of able performances, captured in black and white. The suggestion to do away with colour came from English teacher and cultural co-ordinator Payel Das. "I wanted the video to have a pre-independence feel," she explained.
The Class XI students were asked on Monday if they could produce something in time for I-Day on Saturday. Pratiti Majumder and her namesake Prateeti Parida were put in charge of editing the video. They were also among the five participants. While Pratiti recited Amitabha Dasgupta's hard-hitting poem Amar naam Bharatbarsha, Prateeti sang Ebar tor mora gangey.
Asked about the challenges they faced, Pratiti said receiving a clip of Vande Mataram shot vertically from Srijata Pramanik had caused them a headache. "We had forgotten to ask her to shoot horizontally. Prateeti too had not noticed the problem when she converted the colour clip to black and white. Later she suggested changing the ratio of the picture. The video editing software took care of the rest," Pratiti smiled.
Then it became a race against time. Sagnik Sikdar's flute piece, which was to conclude the video with the national anthem, finally landed at 10pm on August 13. 
Both videos were uploaded on Saturday. "We will do a more elaborate Teachers' Day programme," D'Souza promised.
Sudeshna Banerjee
Hariyana Vidya Mandir The 33-minute video prepared by Hariyana Vidya Mandir on Independence Day started with photographs of the school officials hoisting the national flag on campus. There was not a single student present. But some of them did their bit at home, in advance, by recording performances. 
"The students are missing school but at least they should stay involved. So we have taken the entire co-curricular calendar online. This was perhaps the seventh occasion they contributed from home for since April after Janmastami, Gurupurnima, Rabindra Jayanti, Rakhi, Premchand Jayanti and World Yoga Day," said principal Sanghamitra Banerjee.
The programme started with a spiritual discussion on staying healthy and stress-free amid the pandemic. "Start the morning with thanksgiving to the Creator, your body and mind, nature and your family. Take a resolution to be strong, to be at peace and to be fearless. Do not waste energy in arguments and by being irritable. Banish the thought of what would happen if you or your loved ones fall ill," said B.K. Shivani, spiritual adviser, Brahma Kumaris, in a recorded address.
Class X students Titas Ray, Ditisa Mondal and Anusha Bhattacharjee got the show rolling with the Dwijendralal Ray song Dhanadhanyo pushpo bhora, dressed in white sari with red border, on their respective rooftops. Shreyan Dey recited Kalidas Ray's poem Annapurna. 
But Class XII student Sankalp Singh's recitation was an in-house special as the poem in tribute to Kshudiram Bose was composed by the school's Hindi teacher Sangeeta Agarwal. "August 11 was the martyr's death anniversary. I wanted to make the students remember him on this occasion," said the lady, who has been teaching at the school for 23 years. "I gave an offer to the students, sending them a few lines to recite as test. Sankalp was chosen from those who submitted recordings," she added. Sankalp's elder sister Akanksha prepared the video clip with the recitation, with visual material sourced from the Net.
Soumyajit Chakraborty of Class IX played a piece on the guitar, Bipasha Dey, Aditi Singh and Godhulika Dasgupta danced, Snehaparna Saha recited while Anushka Chakraborty and Archisman Dutta presented solo songs. Another highlight was Debasmita Bisay performing karate moves with Nanna munna rahi hoon playing in the background. The girl studying in Class VII, who is just a step away from black belt, would have preferred attending school on the day but felt she would have been nervous if asked to perform on stage. "At home, space was a problem but I had the option to record again. The one submitted was my third take," she said, adding that her kicks were not high enough due to lack of practice.   
The last segment of the video, edited by the co-curricular activity co-ordinators of the school's two shifts — Satarupa Hore and Sanjukta Sengupta — comprised dance pieces by Mouma Pal, Disha Gupta and Asmita Mandal, with the latter performing to the lesser-known fourth verse of Janaganamana Adhinayaka. The last shot was of the three doing a salute with Sare jahan se achchha playing in the background.
Bharatiya Vidya Bhavan When Rohan Khanna, head boy of Bharatiya Vidya Bhavan, said that it "feels strange to celebrate Independence Day away from school", he was echoing the sentiments of pretty much everyone from the school watching him speak on the school's YouTube page on August 15.
"I missed the unfurling of the national flag and us singing our national anthem together. But even though we are not together, nothing can stop us from honouring the most important day in our national calendar," the head boy continued in his address. 
With students and teachers away from the campus, the school took the celebration online by creating and posting a video to mark Independence Day on its YouTube page.
The 45-minute video had both primary and secondary section students singing, dancing, reciting and playing different instruments from home.
All the participating students did their best to do up their background with suitable tricolour motifs. Flag in hand, Diptangshu Bhattacharya stood against orange and white balloons on the wall as he sang Chol re chol shobe Bharat-santan with five others from the primary section. Shirshannita Majumdar had balloons arranged in a triangle behind her. Aendri Basu wore tricolour wrist bands. Each student sang a part of the song and in the end all their voices were played together to give a choric effect. "This virtual celebration was a new experience for me as was practising at home.
Our teachers helped us a lot. They would regularly do online practice with us and we also had the chance to record again if something went wrong," said Aendri, a Class V student. "I wanted to have a virtual background and edited my recording but I was not happy with the result. So I sang and recorded again in front of the flag," she added. The primary section also staged a dance to the song Vande mataram, with the four dancers sitting in poses of worship of different religions at one point and thereby delivering a message of communal harmony. "Our teachers had asked us to create a similar Tricolour-themed background, so I took three of my mother's saris to hang. My father helped set them up. It looked colourful and bright. The most difficult part was all of us dancers having to wear the sari in a similar way, with one leg sticking out of the folds. In school, our teachers would assist us to get dressed but here we had to do it on our own," said Ayushi Ray of Class V.
A special part of the programme was an instrumental section where senior section students Soumyajit Pal, Souradeep De and Paulasta Ghosh played musical instruments like the violin, the keyboard and the flute respectively. But it was Souryadeepta Majumdar's playing Ae mere watan ke logon on the melodica that caught the eye. "I chose to play an unusual instrument. It's a very old model of the melodica that we had at home and
I've been playing it for six years," said the Class XII boy, who also can play the keyboard. The video carried another student's name during his performance but he chose to play down the glitch, which was later rectified.  
Drawings of several students were showcased during the instrumental performances. 
The senior section students also presented a medley of patriotic songs and dance. While some of the eight dancers recorded their part indoors others used their rooftop, lending some variety to the ambience. 
"It was difficult to make the students practise through recorded videos and online calls but we tried our best. I had divided the song lines among the participants and sent them the steps on only those lines as it was not necessary to make them dance to the complete song as it would be edited," said Dipanwita  Dutta, dance co-ordinator.
"We did not want to miss this occasion. The students sent us video clips of their performances which we edited and created a complete video. Everything was done beforehand except the flag-hoisting held on our school premises. That footage was added to the video at the end," said cultural co-ordinator Mohua Kundu. 
Arun Dasgupta, the vice-principal, pointed out how tough it was to create a choric effect in the song, using individual recordings of singers. 
Sneha Das of Class XII not only participated in the secondary section's dance performance to the song Bharat anokha raag hai, but she also edited the group's dance video. "I like video editing and happily agreed when our teachers asked if I could edit our performance. Getting to perform was exciting and that too, in these times when we are locked down at home." 
Head girl Siddhi Agarwal tried to be positive in her speech, referring to India's scientific efforts in the space programme and the coronavirus vaccine race. She also referred to capability to think freely and freedom of opinion being prerequisites of a successful democracy. 
Head teacher Ranu Biswas reminded everyone that India was "passing through a period of crisis" and this was "not the time to quarrel over petty issues. We must stay strong and united…and bond irrespective of religion, caste and creed," she said.
Principal Sujata Ghosh put up a mirror to the state of the nation.  "The outbreak of Covid-19 pandemic in India has unveiled the actual condition of a large section of our countrymen. Poverty, oppression, illiteracy, hunger, a health system that is unreachable for many, inexplicable misery of lakhs of migrant labourers.... Is this condition desirable in a country 73 years after its independence?" She urged students to work harder as "you have a lot more to do for the country". "A lucrative job and a life of luxury cannot be your only aim," she summed up.
Shatadipa Bhattacharya
saltlake@abpmail.com