Will skip if it's Covaxin: Calcutta doctors
Health workers sceptical of 'untested' vaccine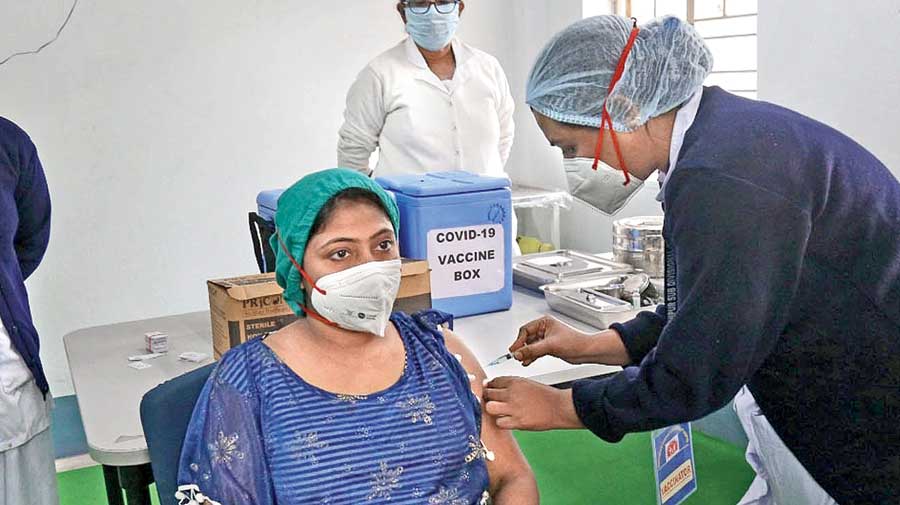 A woman being inoculated at Baruipur sub-divisional hospital on Monday
Telegraph picture
---
Calcutta
|
Published 19.01.21, 02:08 AM
|
---
Many doctors in Calcutta who will not get the Covid jabs in the first round of vaccination said they would skip the second round if the "untested Indian vaccine" is given to them. 
In Bengal, Covishield, the AstraZeneca-Oxford vaccine manufactured by the Serum Institute of India, is being administered to health-care workers in the first round. 
State health department officials said there was no clarity on which vaccine the Centre will send in the next instalment — Covishield or Covaxin, the home-grown vaccine from Bharat Biotech. Many doctors told Metro that they were not keen on receiving Covaxin, which is still undergoing phase-III trial and for which there is no efficacy data.
"Although not peer-reviewed, there is efficacy data on Covishield. But there is no such data about Covaxin. A recipient cannot choose between the two and will have to take the one the government makes available. I will prefer to skip the second round if Covaxin is sent to our state in the hope that Covishield would be made available later," said a senior physician, whose name does not figure in the first round of vaccination.
"I will prefer Covishield because Oxford was involved in its development and there have been internationally accepted trials in the UK with efficacy data available. Compared with Covaxin, the data is more robust for Covishield," said surgical oncologist Gautam Mukhopadhyay, who is waiting for his turn for a Covid shot. Physician Chandramouli Bhattacharya said he had reservations about Covaxin, but not Covishield.
"The government should not have authorised a vaccine without publishing proper efficacy data. Although at this moment it is impossible to gauge the long-term efficacy of any of the Covid-19 vaccines, we have to go by whatever data is available based on trials," said Bhattacharya.
"There is hardly any adverse effect of these vaccines, which trials have shown. However, if a vaccine is administered without proper efficacy data, it can indirectly cause harm because a recipient might think he is safe, though in reality the vaccine might not be effective," the physician said. 
"I will take Covaxin if there is no other option," Bhattacharya added. 
A state health department official said they were in the dark about which vaccine will come in the next rounds. "We are yet to receive any communication from the government," said the official. 
In the first phase, Bengal received nearly seven lakh doses of Covishield, which was half the doses required to vaccinate a little over six lakh health-care workers in the state.
The Telegraph had reported last week that chief minister Mamata Banerjee during a video conference with Prime Minister Narendra Modi asked whether "adequate scientific confirmation" was available in favour of the two Covid-19 vaccines (Covishield and Covaxin) that have been approved for emergency use in India.
During the meeting, Mamata had asked why the states were left with no option to choose one of the two vaccines.