Why Covid vaccine has run into reluctance
There are still doubts about the vaccines ranging from their adverse effects to dearth of efficacy data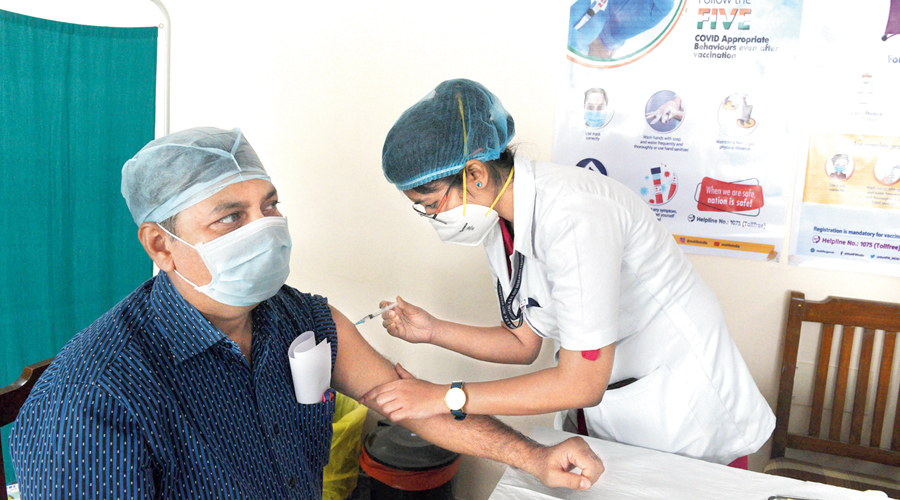 A Covid vaccine dose being administered at a site in Chetla.
Telegraph picture
---
Calcutta
|
Published 23.01.21, 01:28 AM
|
---
The state government is worried that many health workers are reluctant to be vaccinated against Covid-19 and is asking hospital authorities to dispel their doubts and motivate them to take the jabs.
The health workers are still reluctant because they harbour doubts about the vaccines approved for emergency use in India, ranging from their adverse effects to dearth of efficacy data.
"We want to finish this phase of vaccination as quickly as possible and proceed to the next phase, but reluctance among many health workers is slowing down the process. We are hoping that the number of vaccine recipients will go up in the next few weeks. There are a variety of reasons why many health-care workers are not keen on getting a dose. So, we are asking senior doctors and hospital officials who have already taken shots to motivate others," a senior official of the health department said on Friday. 
Health-care workers are being vaccinated in the current phase, following which frontline workers will be called.
"Human resources and infrastructure are wasted if people don't turn up for vaccination. We expect the turnout will increase once prospective recipients see for themselves that those who have taken the shots have not suffered from any serious adverse effect."
At the vaccination centres in Peerless Hospital and the RN Tagore International Institute of Cardiac Sciences, barely 50 per cent of the prospective recipients from other hospitals who are to get their shots there are turning up.
Officials of both hospitals said they were asking their employees to fill up the vacant slots.
Many of those who did not turn up said their family members had asked them not to go for vaccination now since they had suffered from Covid-19 and developed antibodies. 
"There were others who said they were on leave. Several did not receive calls. We got some of our employees vaccinated in the vacant slots with the health department's consent," said R. Venkatesh, the regional director (eastern India) of Narayana Health, of which the RN Tagore hospital is a flagship unit. 
The hospital was given 12 vials of Covishield vaccine, each having around 10 doses. The hospital could vaccinate 109 people and returned two vials to the Calcutta Municipal Corporation.
The hospital has asked senior doctors to motivate health workers to take the vaccine. Utpal Brahma, a consultant in emergency medicine at the hospital, said there were questions in the minds of several co-workers. 
"I had taken the vaccine on the first day (January 16) and had no reaction. After several senior doctors and nurses have taken the vaccine, doubts are slowly getting cleared. But still we are being asked about adverse effects," Brahma said. 
"We are assuring them that there could be minor side effects like fever or pain at the site of injection. Paracetamol can be taken."
Before vaccination, Brahma and other senior doctors are talking to recipients in groups and addressing their concerns. 
"People are also asking what they should eat before and after the vaccination. There are no restrictions," said Brahma.
At Peerless Hospital, there were plans to get 120 health workers vaccinated. All were supposed to come from the two other private hospitals. However, only 64 had turned up. The hospital filled some vacant slots with its employees.
"There is reluctance among some of our employees, too. Government officials are calling up every day, asking us to motivate such workers," said Sudipta Mitra, the chief executive of Peerless Hospital. 
"People are confused about whether Covishield underwent proper trials and about adverse effects. We are speaking to such workers individually to explain that the vaccine did undergo trials and it's safe," he said.
The health department, in video conferences, is also asking senior officials of government hospitals to try and bring more employees for vaccination.
"We are asking senior doctors and administrators to take the vaccine and then speak to their colleagues," said a health department official.