Demotivation learning from online class
When teachers ask questions to same set of students, many feel neglected: Parents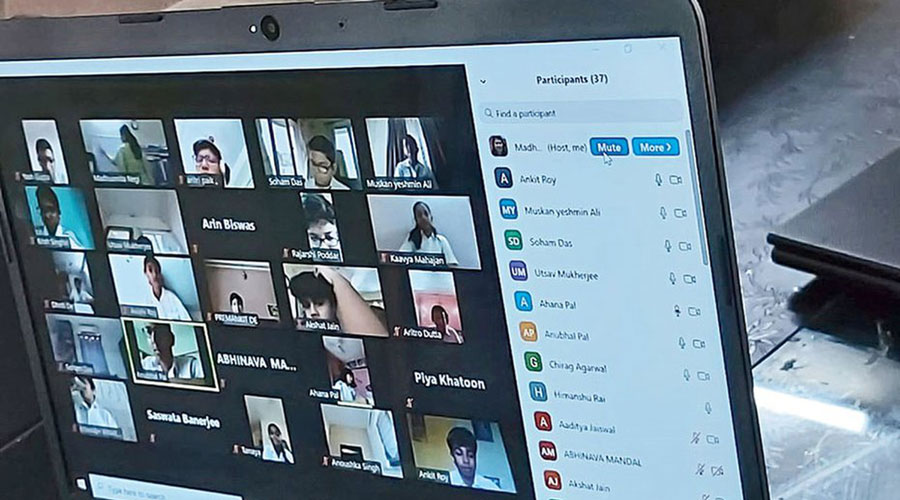 ---
|
Calcutta
|
Published 02.08.20, 04:34 AM
---
In online classes, teachers tend to address questions to the same group of students, which makes others feel "less involved", parents across the city have said.
It leaves some children demotivated, too, some have said.
The allegation has been there even in classrooms but the impact can be far more negative in online classes where personal contact or a more regular communication is absent, according to the heads of some schools.
In a classroom there is at least an eye contact, which goes missing in an online set-up and so teachers have to make an extra effort to call out children by their names to ensure participation in the class, a school principal said.
The tendency to ask the same group questions is because the teacher will get the answer easily and can finish the lecture, a school head said.
"In a classroom, a teacher can make eye contact with all students even if he/she is not asking questions to all students. But in an online class a teacher has to call out everyone by names to engage every child else it is natural for students to lose interest," Rita Chatterjee, principal of Apeejay Schools, said.
Often, some teachers ask students to switch off their videos because of Network problems. But this leads to many children taking long breaks and becoming inattentive, a parent said. "Children know that they won't be approached by a teacher; so, they take it easy."
Online classes can be "demotivating", a man whose son is a Class III student of a south Calcutta school said. "My son feels demotivated to attend some of the classes because he feels the teacher is neglecting him. The teacher keeps asking questions to the same set of students… it should be done on rotation."
In an online set-up, teachers have to include everyone in the "teaching strategy" otherwise it is bound to leave out some students, psychiatrists said.
"Some children might feel demoralised and further alienated and some might be happy to be left out," psychiatrist Jai Ranjan Ram said.
The need to switch off video and keep the audio on mute is to minimise distractions, some schools said.
"If everyone has their videos switched on it can be distracting for other children. Their attention might get diverted to their friend's screen instead of listening to the teacher," Dalbir Kaur Chadda, principal, South Point School, said.
"Like in a classroom there are some children who will respond a little more in online as well. But we have told teachers to try and ask questions everyone on rotation and not to keep asking the same set of children."
Asking questions to children who are weak has to be done in a sensitive way. "It is a sensitive issue and teachers have to ask without embarrassing the child because children can go offline if they think they cannot answer," Bobby Baxter, principal of Julien Day School, Ganganagar, said.
The modalities have changed for online classes and because class times are limited and screen hours are reduced, teachers have little time for questions, a school head said.
There isn't enough time now and if in a classroom teachers asked a certain number of students it is fewer in an online class, John Bagul, principal of South City International School, said.
"But four months into online classes schools should do a survey on students to understand how they need to modify the teaching so that it is accessible to everyone," psychiatrist Ram said.