When PM becomes a 'daily passenger'
WHAT: The Bengal Club 10th Annual Panel Discussion in association with The Telegraph and Finolex Pipes on Elections 2021: Calcutta caught between two powers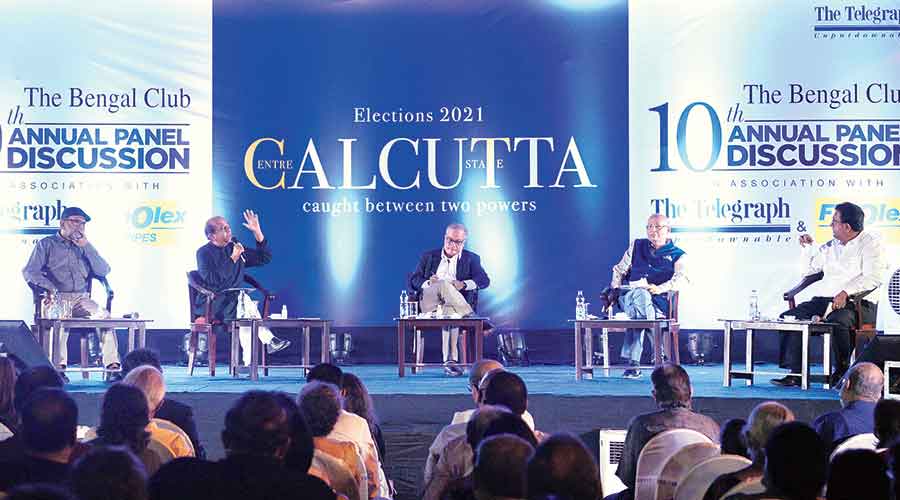 ---
---
TOPIC: Is Bengal Better Served from Delhi or Calcutta?
Santanu Sen
Doctor, Trinamul Rajya Sabha MP
I would like to know from this August gathering, would you ever believe that this prestigious club can be better served from somewhere else than Calcutta or Bengal? Would you ever believe? (A section of the audience responds with a "No")
Why is the Bengal election of national importance? Only Assembly election since Independence where respected Prime Minister, home minister, many other ministers, many other MPs are coming to our state like daily passengers. Why? It is not that they want to come to power in our state of West Bengal. It is not that they want to develop West Bengal. It is not that they want to grab it but the reason is that they are very apprehensive. They know that as of now the only voice of Opposition on the floor of Parliament comes from the soil of Bengal. That is why they know if they cannot throttle this voice, if they cannot win this semi-final, they are sure to lose the final in 2024.
It has forced our Prime Minister to be a daily passenger. What can be more unfortunate than this? It has forced our home minister. They hardly find any time to go to the Singhu border to show their solidarity with farmers who are dying on the road but they have enough to come to Bengal to do their propaganda just to fool the people here.
Dinesh Trivedi
BJP member and former MP
Anybody who is coming they (Trinamul) say they are outsiders, they are goondas. Who is the brand ambassador of Bengal? Anybody remembers who is the brand ambassador of Bengal? (Some in the audience say Shah Rukh Khan).
Shah Rukh Khan. Is he an outsider or just because he happens to be Khan? If he happens to be Khan I have nothing to say.
And who is the greatest consultant where the entire TMC party has been taken over. He is also an outsider. I think he is from Bihar. So you have sold your soul, Santanu (looking at Santanu Sen). People of Bengal do not like when you abuse the Prime Minister of India.
Why are we so hesitant about being Hindu? For me, being Hindu is like physics, chemistry, mathematics. It is all pervading and applicable to all.
I have a blueprint here (holding aloft a file he is carrying) as to what is needed in Bengal. How do we attract industry? Bengal could be the hub of innovations, microprocessors, tourism. Sonar Bangla, we say. But if you want to convert that into sone ki chidiya, it is Bengal's brains. Let's get out of the pettiness.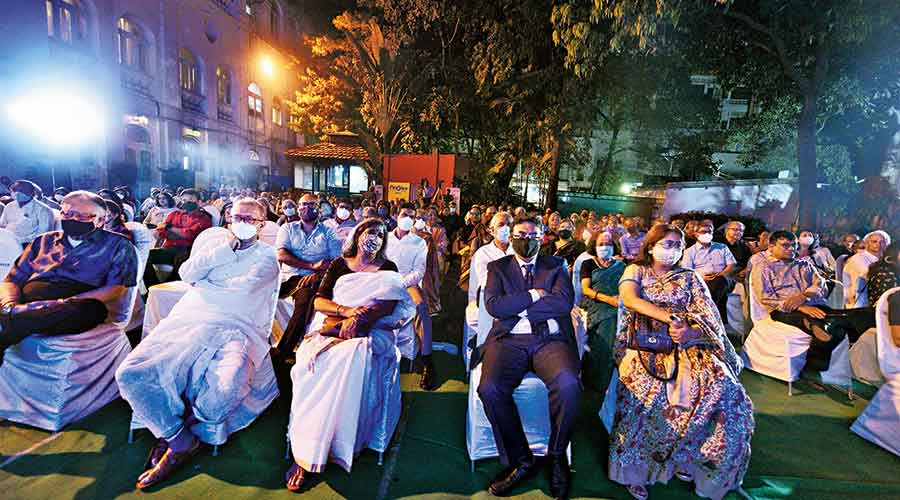 Abhishek Manu Singhvi
Rajya Sabha member, Congress spokesperson and senior advocate
The theme is almost self-answering in the sense that it requires cooperative federalism of both Delhi and Calcutta to be governed better. But the question is, what is the redefined Delhi we have. Unlike all parties in the 75-year history of India, the party in Delhi has found new allies, which are not registered political parties with the Election Commission. They are a series of acronyms called the ED, CBI, IT, SFIO. What do you do with that redefined Delhi governing Calcutta? A redefined Delhi which has the BJP headquarters at constitutional designated residences of the governor; where, possibly never in the history of India, more money has been spent in one single state in one single election by one single party? What do you do with the redefined Delhi (governing Calcutta) where fear stalks the land, in the very land where (Rabindranath) Tagore talked about head held high without fear…. The CBI today wants to prosecute every crime in every state without that state's consent. This is a distortion of the Constitution…. Bengali asmita (pride) is unique. I don't know of any state, which has six Nobel winners, which has given the national anthem to two countries. There, you would not tolerate cultural fascism. You would not tolerate this one-size-fits-all approach of the Delhi party deciding what you wear, what you eat… It is not enough to look like Tagore. You have to think and act like Tagore. Is your heart in the same place as Tagore? That is the question.
Mr Modi is far from infallible in state elections. Contrary to popular belief, I would just want to tell you how successful is this whole perception and image (of being infallible) that the BJP has created. And yet, perceptions are false. That is why they are called perceptions.
In my ideal world, the best thing would have been an overarching larger coalition between three parties — TMC, Left and the Congress. But some polar opposites will never meet. I understand that. But the second-best thing is what Sitaram Yechury said. He said the ultimate objective, post result, is to keep the BJP out. I think that is a very heartening comment from a very senior leader.
In the recent weeks, rallies that the Congress and the Left have held with far less resources, I think that deserves kudos, because in comparison the money being spent by the BJP is much more. I would also not hesitate to say that irrespective of political differences, the person fighting like a lioness is the chief minister. There is no doubt about that. She is fighting with everything she has got.
Bikash Ranjan Bhattacharyya
Member of the Rajya Sabha; CPM leader and advocate
Religion is a personal right, you have every right to go to your place, offer your offerings to your god. But being in public office you don't have any authority to go and perform particular religious rituals and proclaim I am a religious man. This is against constitutional principles. This is destroying the Constitution and this is also taking away the right thought of governance. Today in India we are really suffering from that. We have never seen this before. The elections are fought in the name of Jai Shri Ram, elections are fought in the name of going to the temples. We have never seen this. We have seen the leaders, in my personal career, and you must have seen the others.
Pandit Jawaharlal Nehru flatly refused to attend any religious function while he was the Prime Minister. Because as Prime Minister he was representing the country, not representing a particular political party. In our present, we find the Prime Minister representing a particular political party. He doesn't speak of the nation. He doesn't speak of the entire state. He speaks of a particular sect, a particular group, it is very unfortunate. It is very unfortunate we find the President of India donates for a particular religious purpose and proclaims it, he being the custodian of the Constitution. They are spoiling the entire constitutional ethos.
India is a union of states. India is not a unity of states. If we really sacrifice this divergence, we will sacrifice the Indian polity and Indian culture.
The Indian cultural identity in fact was influenced in the fag end of the 19th century by the Bengali Renaissance movement. Therefore Indian culture today, in my humble understanding, is the culture that was professed and practised by Rabindranath Thakur, followed by Netaji Subash Chandra Bose, which was keenly followed by Mahatma Gandhi. That is the cultural scenario in which India won freedom.
Today, there has been an attempt to destroy this diversity, which is against the basic perception of the Indian Constitution.
They (the BJP) are giving so much stress on Bengal because they are losing ground everywhere. After the Kisan movement, the people are tremendously against the BJP. BJP MLAs in Punjab have surrendered their memberships. And this is the reality in which the Modi government feels their last resort to have a stronghold and footprint is winning the West Bengal election. They can't win the election in Bengal and I can confidently say this because the ground reality is people are in favour of unity of the people. They don't want to see the country divided.

Kunal Sarkar
Cardiac surgeon, moderator
Post-colonial Bengal was just about resigned to its destiny of unending mediocrity. We used to have our elections; we were in and out of the democratic exercise almost unnoticed by the entire country. When I was in school, we thought that it was a constitutional phenomenon that at the end of every election, Jyoti-babu would be the chief minister…. So, this Bengal suddenly finds itself, absolutely and flatteringly,
in the middle of a very unaccustomed national attention. We are almost at the centre of the Olympics of democracy…. Eastern India being at the centre of the entire focus; is it to administer Bengal or is it to acquire Bengal?

Soumendra Nath Mookherjee
President, The Bengal Club
Though the club was founded by the British, though the club is one of the oldest clubs in India, arguably the oldest social club in India. It's also on the premises where
Macaulay resided. He is responsible for the Indian Penal Code and the famous Macaulay minute, which stultified the growth of local education.
The club today has moved on. It is a platform for freedom of expression. We encourage views from every kind of ideology and civilised discussion. And that's always been the hallmark of this club. Apart from that we have a magnificent membership profile- a tolerant profile. A profile, which is willing to listen to the right, the left and the centre and debateabout it.