Wetland in Howrah to shelter fishing cats
Enclosure to educate people about habitat of Bengal's state animal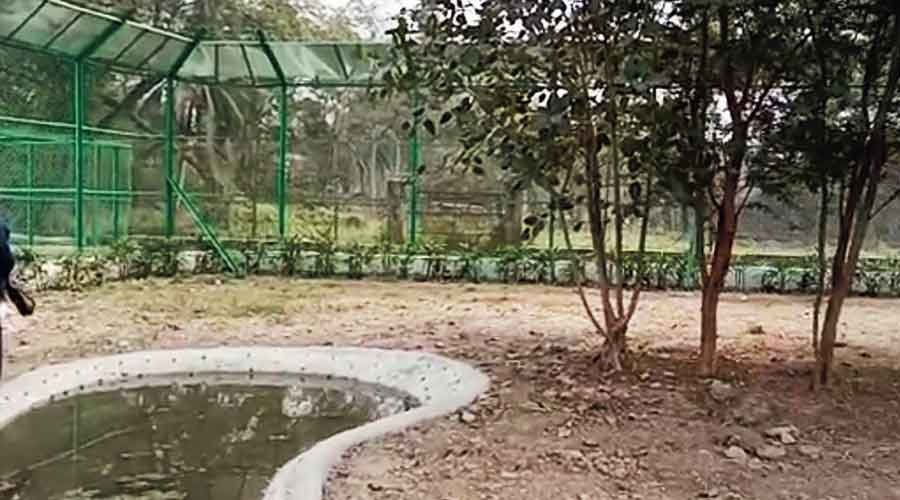 ---
|
Calcutta
|
Published 19.02.21, 02:58 AM
---
A mini-wetland is coming up inside a park in Howrah to provide a home for rescued fishing cats.
The enclosure, carved out of a portion of land at Garchumuk Deer Park in Uluberia, around 60km from the heart of Calcutta, is fenced by a mesh of steel wires.
Bamboo shoots have been planted inside the enclosure. An artificial shallow water body has been dug. Tall reeds like khori (Saccharum narenga) and hogla (Typha elephantina and Typha domingensis) will be planted there.
Two pairs of fishing cats, rescued from Howrah, have been just released into the open enclosure, said a forest official in Howrah.
Once there is thick plant cover, the enclosure will be opened to visitors. It should take a couple of months, the official said. Fish will soon be released in the pond for the cats to hunt.
A spike in the death of fishing cats over the past year has had conservationists worried. At least eight fishing cats have been killed in the state since May 2020, according to conservationists.
Fishing cat, baghrol in Bengali and Bengal's state animal, is included in Schedule I of the Indian Wildlife (Protection) Act, 1972. It is supposed to receive the highest conservation measures — akin to tigers and elephants, said animal activists.
Killing a fishing cat can invite a jail term of three to seven years and/or a fine up to Rs 30,000.
The nocturnal animal thrives in wetlands. Though it is said to be the top predator in its habitat, fish is its favourite prey. Shrinking wetlands has dwindled their numbers and forced them to stray into human settlements and prey on fish and livestock.
"Howrah is home to many fishing cats. Once the enclosure opens for visitors, both children and adults will be educated about their habitat. People can come and see the fishing cats and their fear is likely to go," said Raju Sarkar, the divisional forest officer of Howrah.
The project is being executed by the Bengal Zoo Authority in association with the state forest department.
The male and female fishing cats released into the enclosure were rescued from different pockets of Howrah.
The usual destination of rescued fishing cats is the Alipore zoo, where they are kept in a cage. "It is not always possible to keep them in a familiar habitat. But the enclosure in Uluberia will provide that," said a forest official.
In Uluberia, each male and female cat was kept in separate cages to start with. "The plan was to get them accustomed to each other. If they are released together at one go, there is a risk that the male would attack the female," said Sarkar. 
"This open enclosure mimicking features of a wetland habitat will be unique as it will introduce residents of the area to these enigmatic felids and educate the general mass about their habitat preferences," said Tiasa Adhya, the founder of the Fishing Cat Project, a campaign for research on and conservation of the animal.