Bengal Elections 2021: Polling and police jostle for space at EVM collection centre
At a time Covid-19 cases are on an alarming rise in the city many who had gathered inside were not wearing masks and no distancing was maintained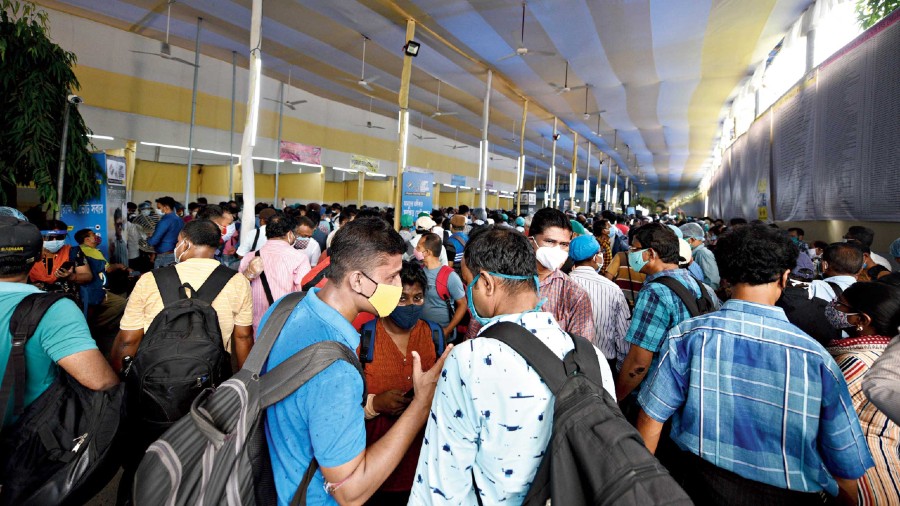 Polling officials at Netaji Indoor Stadium to collect voting materials on Wednesday.
Picture by Gautam Bose
---
Calcutta
|
Published 29.04.21, 02:25 AM
|
---
At a time Covid-19 cases are on an alarming rise across the city and its fringes, thousands of polling and police personnel jostled for space at Netaji Indoor Stadium to collect EVMs before being sent to polling stations in packed buses on Wednesday.
In the afternoon, the inside of the stadium was a scary picture. Polling personnel stood cheek by jowl to collect the EVMs and other polling material including masks, sanitisers and gloves.
Many who had gathered inside were not wearing masks, several had them hanging on their chins or from their ears and no distancing was maintained.
There were big crowds both inside and outside the stadium.
Inside, counters had been set up from where the EVMs and polling material were being distributed.
There were also counters where the polling personnel had to register before collecting the items. There were serpentine queues leading to the registration counters and polling personnel were seen standing close to one another.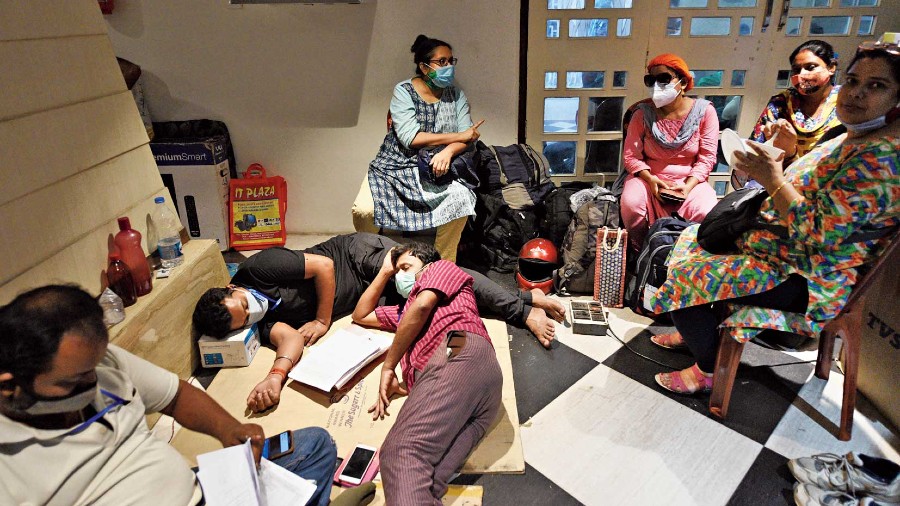 Many were also seen laying out newspapers and having lunch huddled in groups. Some others had tucked their masks into their pockets to have lunch or tea and biscuits.
No facilities to conduct temperature checks were seen at the entry points to the stadium.
The main gate served as both the entry and exit point from the centre. No easily-visible facilities to wash or sanitise hands had been installed on the premises.
After the polling personnel collected the EVMs and material, they stood in a long queue for buses that would ferry them to their respective polling stations.
Nearly all the buses that left the stadium were crammed, leaving no chance for them to maintain distance.
A presiding officer headed to a booth in Beleghata said that many of them were scared for themselves and for their families.
"This is a very, very scary situation. The way it was crowded inside, leaving no space at all to maintain any social distancing, has put us at great risk. We are now boarding the buses with a prayer on our lips," the officer said.
Another polling official was seen recording the crowded scenes on his mobile phone.
"It is very likely that I will get Covid as the situation here is unprecedented and grim. I want to show my family members how we collected the items. I have already asked my wife to go to my in-laws' place and stay there for a few days because I don't want to take a risk," said the official headed to a booth in Shyampukur.
EVMs and polling material for seven Assembly constituencies in Calcutta North, including Maniktala, Beleghata, Entally, Chowringhee, Jorasanko and others, were distributed at the centre.