Bengal Polls 2021: How we voted
The battle for Salt Lake went down to the wire, with just 47 votes separating the two main candidates. Analysing the figures…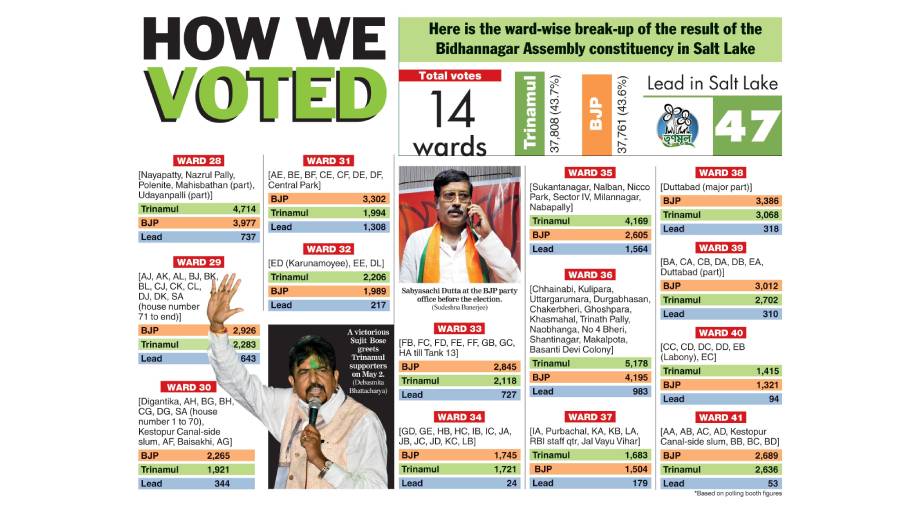 ---
Salt Lake
|
Published 14.05.21, 12:27 AM
|
---
Salt Lake has given this election's winning Trinamul Congress candidate Sujit Bose a lead of 47 votes. The figure may look insignificant but is of critical import when viewed in the context of the 2019 Lok Sabha election in which Trinamul's Kakoli Ghosh Dastidar, despite bagging the Barasat seat, had conceded a lead of 12,270 to her BJP rival in the township's 14 wards. The over-all lead from the Assembly constituency was 18,916. This time, Bose won the Assembly seat by a margin of 7,997 votes.
Overcoming the Lok Sabha deficit was the challenge facing Bose, the sitting MLA. The fact that he not only did that but also managed a lead in the township itself is a Herculean feat. Of course, Bose always maintained that Parliamentary and Assembly polls followed different dynamics. He would know as he came back from behind and won even in 2016, by 6,988 votes, when the deficit in the 2014 Lok Sabha polls was 6,489 votes in favour of the BJP. That was the first time the BJP made a mark electorally in the area.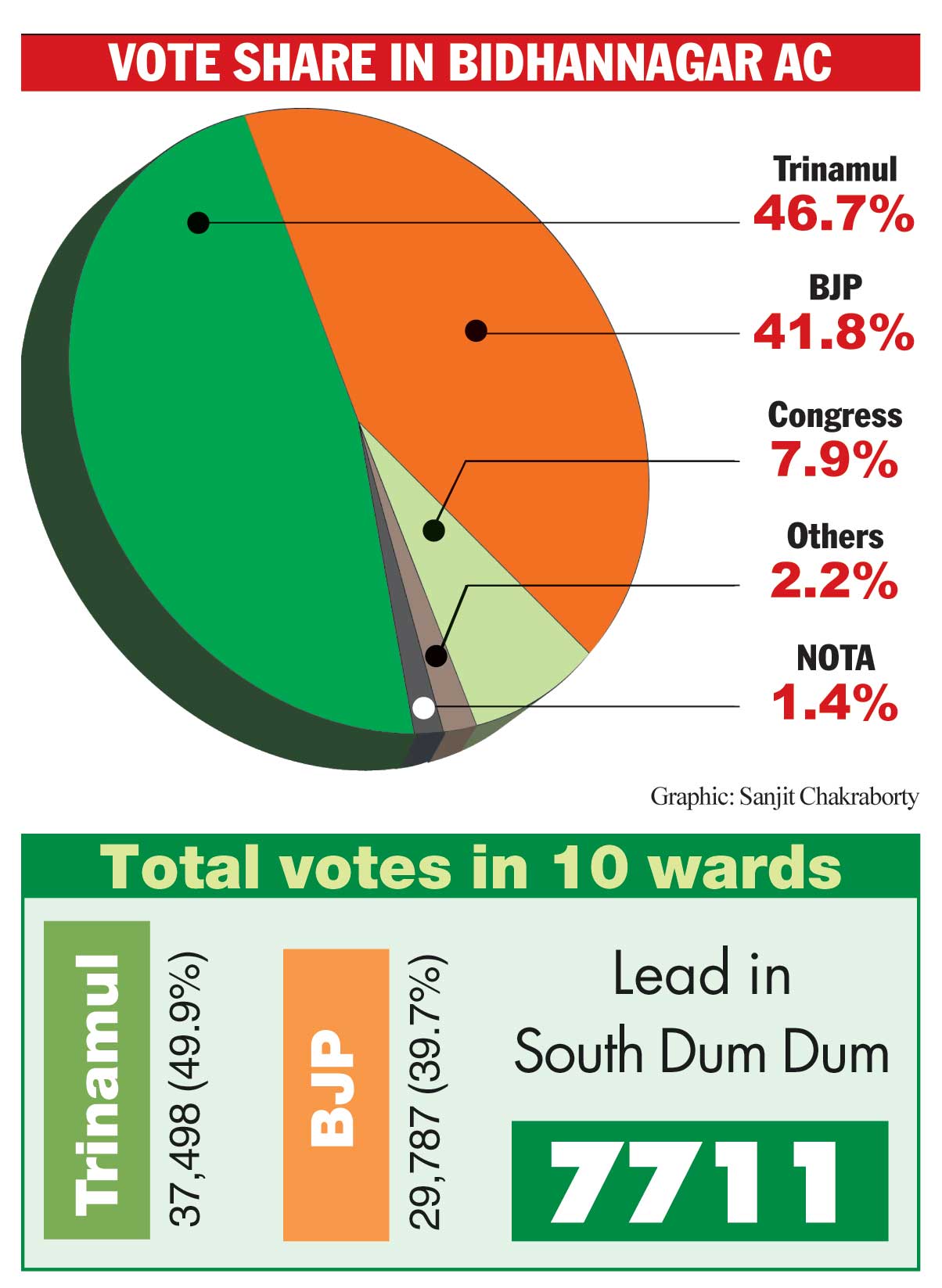 Lead in six wards
A look at the ward-wise figures reveals that Bose has led in six of the 14 Bidhannagar Municipal Corporation wards that are part of this Assembly constituency — wards 28, 32, 35, 36, 37 and 40. Which means he trailed behind BJP's Sabyasachi Dutta in eight others.
The highest lead came from Ward 35, comprising Sukantanagar and the adjoining added areas — 1,564 in favour of Trinamul. This ward had given BJP a lead of 71 in 2019. So there has definitely been a massive turnaround. Ward 36 is another such case in point. The added areas of Chhoynabhi, Kulipara, Khasmahal, Trinath Pally etc. had given BJP a lead of 79 in 2019. This time it went the other way, giving Bose a lead of 983.
The most slender margin is 24 votes in Ward 34, comprising GD, HB, HC, IB, IC, JA, JB, JC, KC, LB blocks etc) for the BJP. Even here the 2019 lead for the BJP was a far more decisive 731.
This is, in fact, one of the reasons why Dutta lost. He did not get as handsome leads in the blocks where he was expected to do well as what would have helped him offset the deficits elsewhere.
Ward 31, with a high presence of Hindi-speaking voters in blocks like BF and CF, other than AE, BE and CE blocks, had given BJP a lead of 2,258 votes in 2019. This time, the lead reduced to 1,308 votes. Another high-yielding ward for BJP, because of the same voter demography, was expected to be Ward 33, with FC, FD, FE blocks along with FB, FF, GB, GC and part of HA Block. In 2019, it had propelled BJP forward by 1,728 votes. But this time, the lead reduced to 727. 
BJP's 2019 lead in Ward 29, comprising the AJ, AK, AL, BJ, BK, CJ, CK, CL, DJ, DK and part of Sarat Abasan, came down to less than half —  from 1,535 votes in 2019 to 643 this time.
The surprise this year was Duttabad. The slum that is sandwiched between the planned township and the Bypass matters because of the high polling percentage the area traditionally records. Even in this Covid-hit election, it recorded 82.2 per cent polling, way above the average for the whole of the constituency — 66.47 per cent. The only ward which amid the 2019 rout had given Trinamul a lead in Salt Lake was Ward 38, however slender may it have been, of 180 votes.

But while the added areas of Wards 35 and 36 decisively swung from BJP to Trinamul in this election, Duttabad has given BJP a lead of 318. The reason seems to be Dutta harping on residents of Duttabad being the original settlers of Salt Lake and promising a masterplan for its development.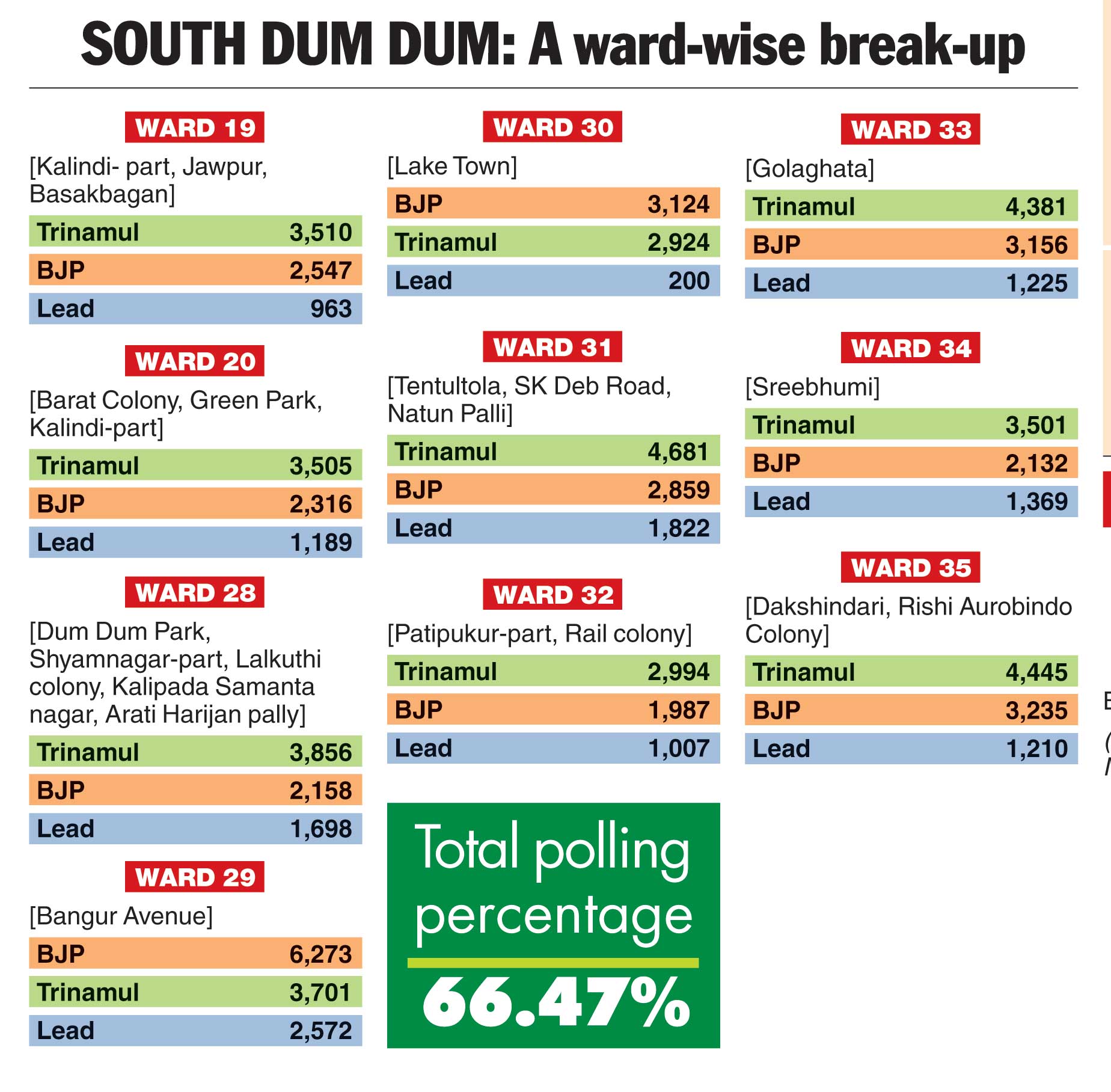 The South Dum Dum story
Bose's own turf South Dum Dum — he is a resident of Sreebhumi and the vice-chairman of South Dum Dum Municipality — gave him a lead of 7,711 votes, which largely gave him his winning margin as Salt Lake did not eat into it.
But even this lead was not assured for him because in 2019, the same 10 wards had given BJP a lead of 6,646 votes, which Salt Lake had handsomely supplemented, by 12,270 votes. "If we can lead with a minimum of 15,000 votes from the 10 wards under the South Dum Dum Municipality, I will build on it from Salt Lake," Dutta had told The Telegraph Salt Lake before the election.
Not in his worst nightmare could he have imagined the lead vanishing and plunging into deficit zone instead. The Hindi-speaking voter-infested Bangur Avenue, which he had assiduously courted, did give him a boost but the margin of 2,572 was far less than the Lok Sabha lead of 4,600-odd votes that the ward had generated for the BJP. That goes to show that many of even this community had preferred to support Bose, who is known to be accessible and hands-on with all local problems.
Even Kalindi, where Dutta's mainstay in South Dum Dum, Mriganka Bhattacharya, who is also a Trinamul-turned-BJP leader like him, was till recently the councillor, did not give him a lead. Bose got ahead by 963 votes here, in Ward 19.
Other than Ward 29 (Bangur Avenue), Ward 30 (Lake Town) is the only one among the 10 wards under the South Dum Dum Municipality where the BJP has done better than Trinamul.
Civic poll worry
Looking ahead, with Trinamul trailing in eight of the 14 Salt Lake wards, should the party worry about its prospects in the civic poll? Election is due in Bidhannagar Municipal Corporation, with the mayoral council and the board of councillors having been dissolved last October. But the chairperson of the newly reinstated Board of Administrators Krishna Chakraborty is unwilling to read much into it. Trinamul has trailed in her own ward. "There are some highly educated Bengalis like retired bureaucrats and non-resident Indians, who have their own logic and style of functioning and voting, as well as Marwari businessmen in my ward. This is a democracy. Still I have managed to convince many of them," she said.
She admits that the fight was not easy. "All our councillors have worked tremendously to recover ground. Hats off to them. We have given Sujit a lead of 47 votes. We have recovered a lot of ground in areas where we were behind."
The same voters, many of whom might not have sided with Trinamul even in this election, she is confident, "will shower us with support in the Corporation election". "The councillors are beside the people round the year. People, especially the women, have given their mandate for Mamata Banerjee," she signed off.