Bengal polls 2021: Women vote against male aggression
'If you are ridiculing a woman then we women have shown you the way and proved that you cannot suppress women's voices'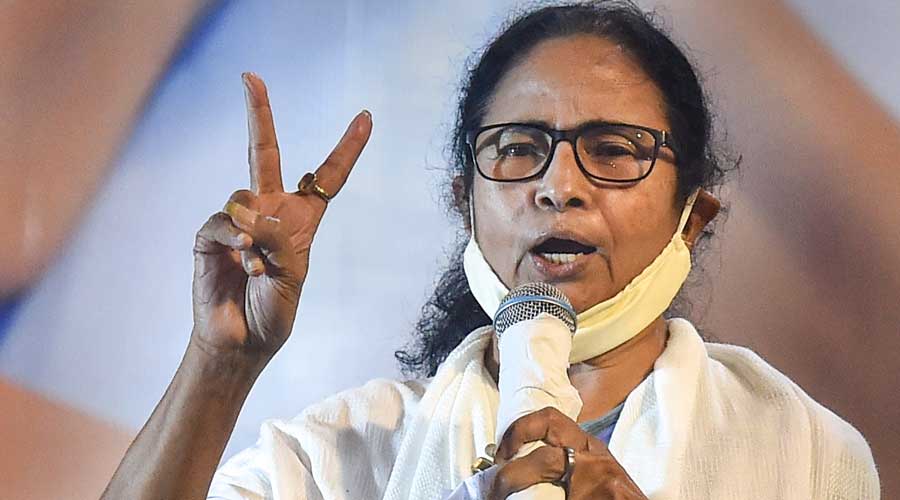 ---
|
Calcutta
|
Published 03.05.21, 02:25 AM
---
A group of misogynist men trying to heckle, ridicule and insult one woman made many other women of Bengal decide who they wanted to vote for, several of them said after the election results on Sunday evening. 
The insult to chief minister Mamata Banerjee was an insult to all women and we voted against that male aggression, many women said after the landslide verdict for the Trinamul Congress. 
"If you are ridiculing a woman then we women have shown you the way and proved that you cannot suppress women's voices," said Ashya Khatoon, a 26-year-old an engineering student. 
Some women Metro spoke to referred to BJP state president Dilip Ghosh apparently suggesting chief minister Mamata wear bermuda shorts to display her injured leg. 
The Telegraph had reported Trinamul leaders raising their concern at Prime Minister Narendra Modi's tone when calling Mamata "Didi o Didi". 
From a 74-year-old woman in Behala to a middle-aged schoolteacher in Sinthee, many said they went out to vote in this election, amid a raging pandemic, because every vote mattered and they wanted to do their bit to stand with Mamata.
"Some leaders were mocking her — is that the way to conduct oneself and talk about a woman?" said economics teacher Joeeta Basu.
Ankita Sharma, 25, said: "In politics, it is expected that one would pull the other's leg, but not bend so low to insult someone."
"We need women leaders who understand women's rights and issues. When we talk about equality, we have to practise it, too," said Khatoon.
At 74, Tanima Roy Choudhury, too, felt she had to do what was in her power to stand with Mamata.
"Amar khomota hocche ekta vote (my power is one vote and that is what I exercised)," Roy Choudhury, who voted after 15 years, said.
"It is also in my own interest that I stood up for Mamata Banerjee," she said. 
Many women described the feeling of "relief" after Trinamul's victory.
"I am happy I will be able to wear my shorts, eat pork and beef and travel alone," said Priyanka Kar, in her mid-30s. 
Kar, who works at a cement manufacturing company, has to travel to the districts for close to 15 days a month. She commutes on trains and buses and felt if the BJP came to power, she would have felt insecure.
Kar, who grew up in Jalpaiguri, said it was also important to her that Mamata addresses women's issues and tries to empower women.
"My aunt who lived in a village a few kilometers from Jalpaiguri had to give up studies because of the long distance between the school and her house. Giving cycles to girls has helped many cover such distances and not quit studies," she said.
For several others, the reason to vote for Trinamul was to fight against the divisive politics of the BJP.
"As a leader you cannot discriminate between your people," said Khatoon.
Bengal's "inclusive nature" was being threatened and a rift was being created not just amongst different religions but amongst people.
"We are here since my grandmother's time and we have had Bengali friends. Now, a rift has been generated in the minds of the people — a rift between Bengalis and non-Bengalis. We, as people of Bengal, fought against it," said Ankita Sharma.