Bengal Polls 2021: Salt Lake mega rallies on Super Tuesday
Home minister Amit Shah took stage at a BJP meeting at FD Park at 6.15pm and chief minister Mamata Banerjee addressed Trinamul supporters at BF Park at 9.20pm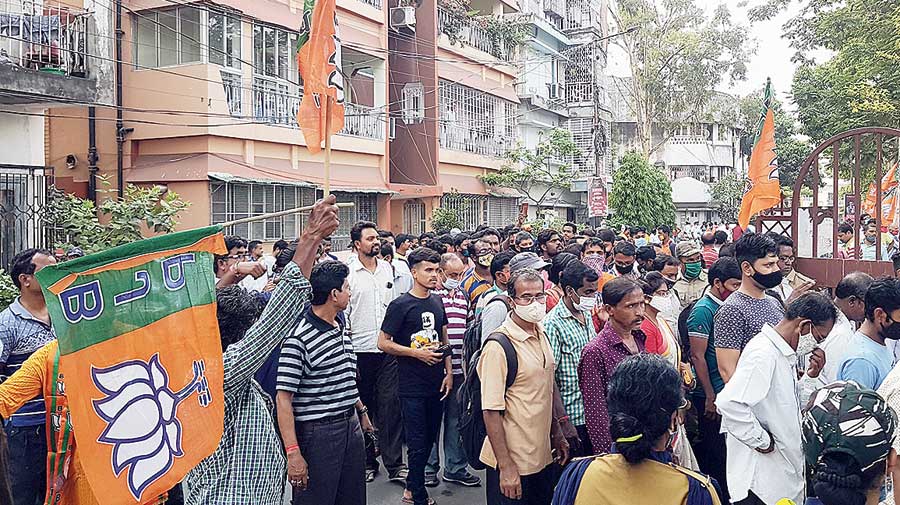 BJP supporters throng FD Park for Amit Shah's rally.
Brinda Sarkar
---
Salt Lake
|
Published 15.04.21, 10:14 PM
|
---
FD Block may be best known for the Durga puja it hosts and BF Park, behind the swimming pool, for its star-studded Kali puja. But in the run-up to the elections the two venues hosted two powerhouse politicians within hours of each other on Tuesday.
Home minister Amit Shah took stage at a BJP meeting at FD Park at 6.15pm and chief minister Mamata Banerjee addressed Trinamul supporters at BF Park at 9.20pm. Thousands had gathered for both the meets and together, they ensured an action- packed Tuesday for the township.
Sea of saffron, blue & white
The arrangements at both venues were elaborate. Massive stages were built, two-storey tall cut-outs of the leaders were put up, flags and sashes handed out to supporters and bio toilets fitted along the border of the parks.
The Trinamul venue had even been covered with a hangar-like shelter. It would have protected the audience from the heat, since the meeting was originally scheduled for the day time. It had to be pushed to late evening following an Election Commission order banning Banerjee from campaigning for 24 hours.
Before the speeches began, music drowned all other sounds. There was Rabindrasangeet as well as propaganda music played to the galleries. Both venues had the crowds cordoned off into different sections. Hundreds sat but many more stood watching from the back.
The BJP rally saw supporters in orange caps reading "Modi para" while the TMC folks wore blue and white caps saying "Didir doot".
Both rallies had a slew of speakers before the big act. The BJP show had the likes of candidates Swapan Dasgupta and Bhaskar Roy.
Amit Shah entered FD Park when Sabyasachi Dutta, the candidate from Bidhannagar, was delivering his speech. "Amit Shah swagatam!" he said and the crowd was up on its feet. Cellphone cameras came out, people waved and tried to climb over the barricades to get a closer look but security personnel forced them back.
At BF Park too, the Trinamul crowd roared when Mamata Banerjee was wheeled onto the stage. Most people stood up to see her better and click pictures but this had people at the back protesting. Police had to intervene and ask them to get off their chairs and bamboo barricades and take their seats.
Banerjee was flanked by candidates Sujit Bose and Tapash Chatterjee and a host of councillors. Making hay
The crowds may have been divided between the two venues but making hay were hawkers, many of whom had planned to attend both meetings.
"It's lucky for us that Didi's meeting got rescheduled. How would we have attended two events if the timings clashed," asked Pradip Adhikari, who arrived at the Amit Shah event early in the day selling sashes, caps and brooches in saffron and bearing the party logo. "There's huge demand for BJP masks too but my Burrabazar supplier is out of stock."
Before the pandemic, bread and butter for this hawker from Habra used to be selling cola at stadiums but now he lands up at political rallies. "I don't discriminate between parties and have been travelling across the state. This business is keeping me afloat now," Adhikari says.
Biswajit Choudhury had left home with as many kulfis as he could in his basket. "If I'm left with any kulfis after the BJP rally I'm heading to Didi's show," he said, adding that his ilk had to be apolitical at work.
But not all was hunky dory. The swimming pool area wore a strange look that evening. "There are no shoppers or diners today, only policemen," said a confused Pratima Som, who had come from Kestopur to drop her daughter at tuition in CF Block. "I'm feeling uneasy about walking about, as I usually do, and am worried about getting an auto home later."
The eat street was bereft of customers. "The swimming pool area is used to gala events but Mamata Banerjee's presence has drawn tremendous crowds. In fact it is so crowded that regular diners aren't showing up," said Satish Shaw of The Scoop restaurant in CF Block.
Abhijit Dutta of the Banchharam outlet there concurred. "The approach road has been blocked to cars and so our regular customers are unable to come. The crowd that has turned up for the rally is unlikely to buy from us," he said, wrapping up for the day. Modi fan club
Both rallies had die-hard followers who sang, danced and swore by their leaders. Adhikari, the hawker selling party merchandise, said A4-sized pictures of Prime Minister Narendra Modi were his highest selling item across BJP meetings.
Nitai Mondal and his chums were dancing outside FD Park to propaganda tunes playing on his phone, through a speaker that hung from his neck. "We have switched loyalties to BJP as we want better job opportunities," said the delivery boy.
Pinky Jana said she comes to FD Park every year during the Pujas. "I had especially loved their dinosaur-themed puja a few years ago. It was very crowded back then but it is even more crowded today," she said, looking around.
Bikas Upadhyay and his friends would have arrived even earlier to watch Amit Shah, "but we heard that BJP's star campaigner Mithun Chakraborty was coming to Kestopur. I'm a huge fan and went to see him first," he quipped. Didi fan club 
Sunny Bag of Duttabad stood on a chair, arms outstretched and showing the victory sign at Mamata Banerjee as she spoke on stage. He wore a striking parrot green kurta. "I've bought this kurta especially for Didi," beamed the man who runs a food joint. "I shall wear it for Poila Baisakh and again on April 17 when I go to vote."
Sixty-nine-year-old Rajkumari Banerjee had come to the venue with a walking stick. "I have to use this stick since I broke my femur bone," said the Karunamoyee resident, who had come escorted by her family members. "Mamata Banerjee too has broken her leg but she has to fight it out. And she can!"
Those like Ashima Sarkar of Polenite were somewhat relieved that the meeting took place in the evening as they were spared the heat. But those like Bijoy Shaw set the record straight. "The heat is incidental. For Didi we can assemble at 1pm or 1am," said the Lake Town resident.
"For Didi, we can sacrifice our lives. Hindus and Muslims live peacefully in my neighbourhood thanks to Didi. I don't want this to change," said Babu Sahu.
Covid scare
Many, if not most, across political rallies are going without masks. "I have a mask but I won't wear it. Corona can't touch us if Sujitda is by our side," Bakul Hussain had proclaimed at a Sujit Bose rally at City Centre on Sunday.
"Mask hatao! I don't wear masks," another member of the audience,
Jyotsna Bibi had said, holding her four-month-old baby on her lap.
Ashraful Khan, who lives in the tin-shelter slum near City Centre, had decided that the pandemic was but a ploy by the central government to render the common man jobless. "Have you seen this coronavirus? Then why do you believe in it?" he asked.
Khan, however, was carrying a mask in his pocket despite his beliefs. "Some months back, the cops caught me for not wearing one and tried to fine me Rs 300. When I apologised they made me do sit-ups instead. From then on, I carry a mask and wear it only when necessary."
At the Amit Shah rally, some youths, when asked why they weren't wearing masks, answered: "Jai shree Ram!"
"Modi is our mask; he will protect us," smiled Piyush Rana, before putting on a paper mask bearing the picture of Modi.
Deba Sahu said he didn't have time to wear his mask before coming. Next to him was his toddler neighbour, also without a mask.
"We won't get Covid. If anyone asks, I have a mask in my pocket but I'm not worried," said Dilip Sardar, a cycle mechanic from Duttabad.
Traffic management
A senior officer of the Bidhannagar Commissionerate said that the last minute change in timing of the Trinamul rally came as a breather for them.
"We thought traffic would get thrown out of gear due the to the clash of the two rallies but even the few hours of difference came as a blessing. We were able to handle traffic much better," said the officer.
When trucks and lorries headed to the BJP rally took over the Broadway, police diverted most of them through the lanes of GC and FD blocks.
But those like Ashis Bagchi, a resident of DB Block who was headed home after visiting a doctor at a hospital off the Broadway, were still stuck behind BJP supporters headed to the venue.
"My driver had to drive at snail's pace behind the supporters. We requested the constable to let us pass using the opposite flank of the road but he refused. I rolled up the windows when I saw that most of the people there did not have masks on," said Bagchi.
By the evening, cars and buses carrying Trinamul supporters were parked along the lanes leading to the BF Block venue. "But traffic outside the block was largely unaffected as this park was inside a residential block," said the officer.
He added that a helipad had been built at BF Park to receive the chief minister. "But it finally went unused as she came by car from Barasat," he said.
Covid protocol for voters
Voters will be given a glove to press the button which will be disposed as biomedical waste through designated agencies after polling. They will have their temperatures scanned at the polling booth. If someone's temperature is high, it will be checked one more time. If it is still high, according to the Election Commission of India guidelines, he will be asked to come back in the last hour of polling, between 5.30 and 6.30pm. "We have supplied polling personnel with PPE and face shield. One polling official in PPE kit will help him cast his vote," returning officer of the Bidhannagar Assembly constituency Biswajit Panda told The Telegraph Salt Lake.
The provision applies to Covid suspects and Covid positive people in home quarantine as well. They will have to wait till polling is complete for the general queue.
There was a provision for Covid positive voters to vote at home through postal ballot but for that the application needed to be made within five days of the last date of filing nomination of candidates, which is long over. Neither Bidhannagar nor Rajarhat New Town received any such application.
E-EPIC for first-timers
First-time voters can download their Electoral Photo Identity Card (EPIC) from the Voter Portal https://voterportal.eci.gov.in/.
"They need to register with their mobile number and choose the 'Download E-Epic' option. Over 800 first-time voters have already downloaded their EPIC in the Rajarhat New Town constituency," said an official. The e-EPIC is a non-editable secure PDF version. New voters will also get hard copies of their voter ID cards. "The digitisation is meant to provide faster delivery and easy accessibility to the voter ID card," the official said.