Bengal Elections 2021: Poll caravan rolls into city
Trinamul's Aroop Biswas spent most of his time appealing to CPM supporters to vote for Mamata Banerjee if they wanted an inclusive and peaceful Bengal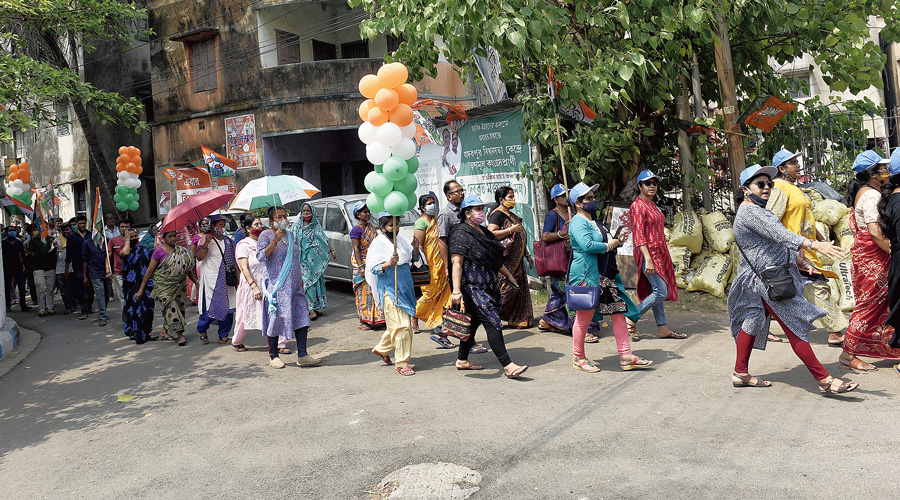 ---
Calcutta
|
Published 09.04.21, 02:24 AM
|
---
Union minister and the BJP candidate for Tollygunge, Babul Supriyo, wrapped up his campaign on Thursday in a road show where he trained all his guns on the outgoing Trinamul MLA from the constituency, Aroop Biswas.
Trinamul's Biswas barely spent a minute on Supriyo in his last street corner meeting. He spent most of his time appealing to CPM supporters to vote for Mamata Banerjee if they wanted an inclusive and peaceful Bengal.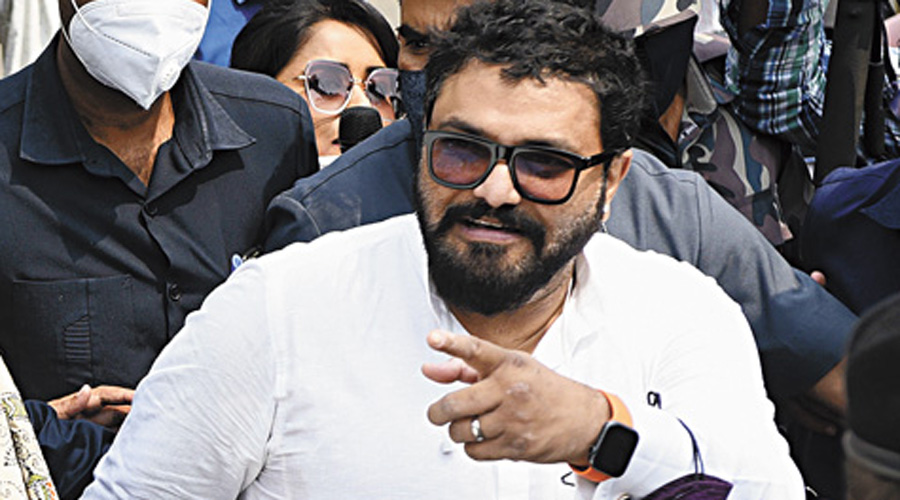 The results of the 2016 Assembly polls and the 2019 general elections show the CPM still commands a sizable support base in Tollygunge, which goes to the polls on April 10.
"There are many Left supporters who are still dedicated, who have not sold their souls to the BJP. I have a lot of respect for them. They write slogans against me every day. I don't mind. I appeal to honest CPM voters that if you really want a free and peaceful Bengal, an inclusive Bengal without discrimination, please vote for Mamata Banerjee," Biswas said at a street corner meeting beside the Azadgarh market.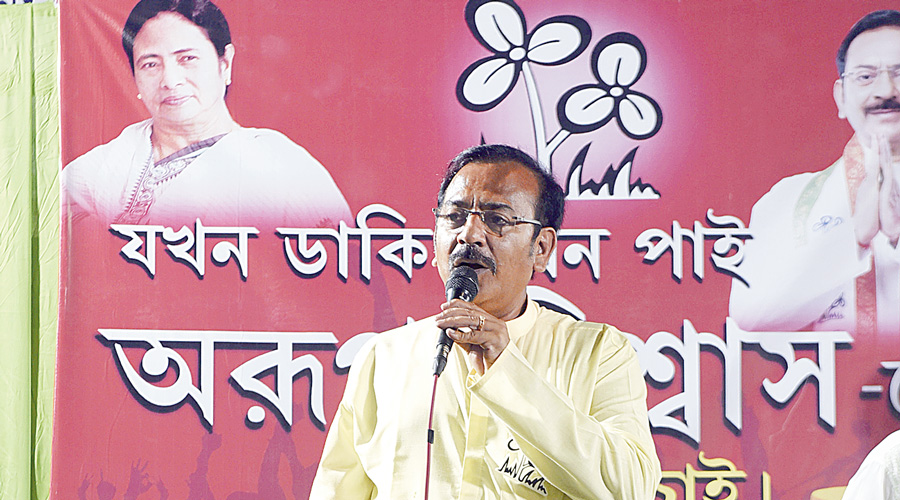 Azadgarh and neighbouring areas like Tilak Nagar and Bjioygarh used to be known as refugee colonies and were CPM bastions till a decade ago. Biswas acknowledged that many traditional Left supporters still lived in the area, saying he felt "sad that the CPM cannot find a local candidate against me".
Actor Debdut Ghosh, a Dum Dum resident, is the CPM candidate from the Sanyukta Morcha in Tollygunge. In 2016, it was Madhuja Sen Roy, a resident of Jhargram.
"The people of the state are in trouble because of the TMC and the BJP. They will vote for our alliance," said Ghosh. "Can any Trinamul worker say with certainty that their leaders will not join the BJP."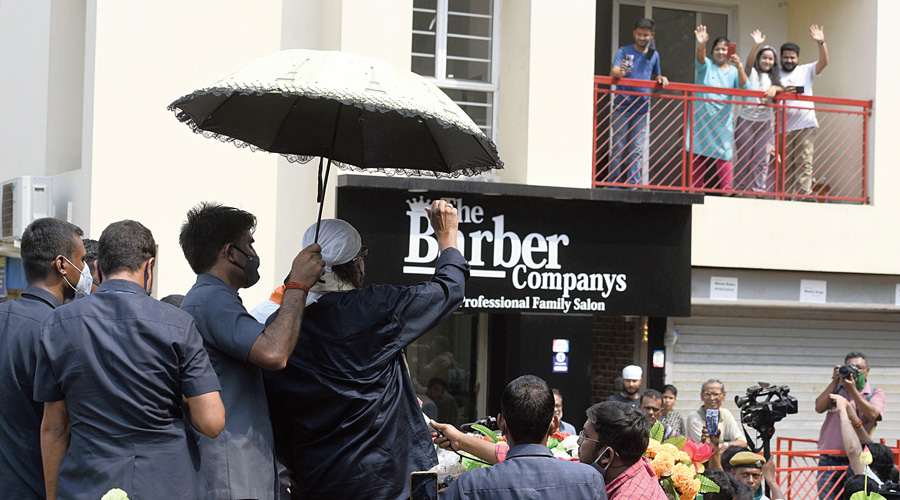 At the heart of Biswas's appeal to Left voters is poll arithmetic. In 2016, Biswas had polled around 90,500 votes, which translated to a vote share of nearly 47 per cent. He was trailed by Madhuja Sen Roy, who polled some 81,000 votes or a 42 per cent vote share.
The BJP candidate, Mohan Rao, had secured a little less than 15,000 votes or an 8 per cent of the vote share.
In the 2019 general election, Trinamul's Mimi Chakraborty led in the Tollygunge Assembly segment — which is a part of the Jadavpur Lok Sabha seat — with around 78,000 votes. The CPM's Bikash Ranjan Bhattacharyya trailed her with around 59,000 votes. The BJP's Anupam Hazra got around 46,000 votes.
"There was a pro-Modi wave before the Lok Sabha polls because of the Pulwama incident. That was behind the rise in the BJP's vote share. There seems to be no such wave this time. So, even if a section of the dedicated CPM supporters votes for us, Aroop-da's margin will go up many times from 2016," said a local Trinamul leader.
On Thursday, Biswas and several speakers before him spoke on the "perils" of the Modi regime's citizenship thrust.
Earlier in the day, Supriyo took part in a road show in an open vehicle, accompanied by another star campaigner for the BJP, Mithun Chakraborty. The convoy started from the statue of Kishore Kumar near the ITC Sangeet Research Academy and passed through the interiors of Kudghat and Bansdroni.
Speaking to reporters at multiple stops, Supriyo targeted Aroop and his brother Swaroop for treating Tollygunge — especially the entertainment industry — as their "fiefdom".
"I am going to win from Tollygunge not just against Aroop Biswas. I am going to win against his tyranny. I am going to win against the right hand of Mamata Banerjee," he said.
"Aroop and Swaroop Biswas run a fiefdom in Tollygunge…. They intimidate artistes into supporting Trinamul. People who do not support them do not get roles in soaps and films. They had threatened people, hardworking technicians, for not turning up at a rally on April 4," Supriyo said.
The roadshow had a dozen bikes and a couple of SUVs trailing the open vehicle. The number of people walking along was reasonably low.
But many people flocked to their balconies, waving at the stars.
Asked if he had been pitchforked from Delhi into the Bengal battle, Supriyo, also an MP from Asansol, said: "I told the party very willingly that I wanted to fight (in the Bengal polls). As a Bengali, my conscience would have been hurt had I been sitting in Delhi, not helping the people against the tyranny of Mamata Banerjee."
Biswas, a three-term MLA from Tollygunge, briefly mentioned Supriyo at the beginning of his speech in Azadgarh. "He (Supriyo) has been travelling only in a jeep and on bikes. He has not set his foot on the land of Tollygunge," said the outgoing PWD minister.
A political analyst said the BJP seemed to have missed a trick by limiting its Tollygunge poll campaign to the film industry.
"The choice of Supriyo suggests that…. He is speaking a lot about the Biswas brothers' control over the entertainment industry. But Tollygunge is more than that. There are many places like Azadgarh and Bijoygarh which used to be known as refugee colonies. The impact of the CAA-NRC-NPR narrative will be crucial in the vote," he said.