I liked the coffee, our men blacked out 'No'
The Telegraph spoke to a BJP politician who led a group of supporters to the 150-year-old eatery on Monday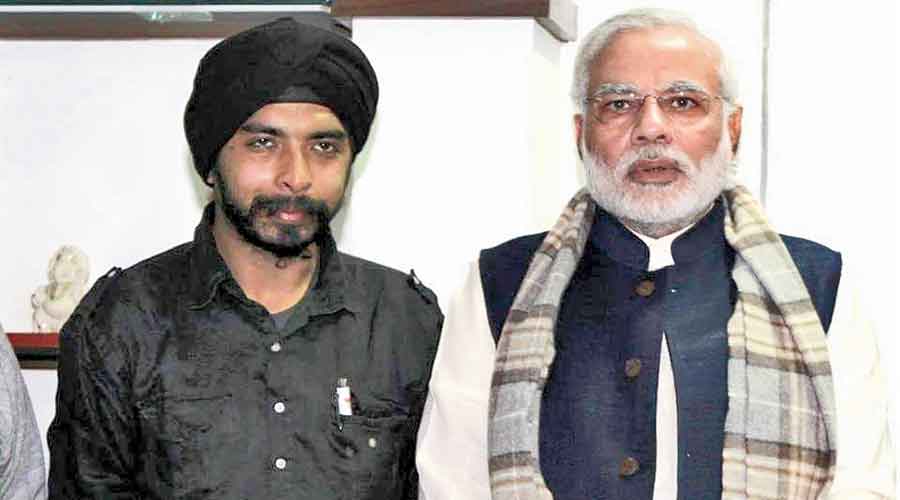 ---
Calcutta
|
Published 17.03.21, 01:44 AM
|
---
The Telegraph spoke to a BJP politician who led a group of supporters to the around 150-year-old Indian Coffee House on Monday and a foot soldier who was part of the team.
The group allegedly defaced "No Vote to BJP" posters pasted on the walls of the Coffee House building.
Here's what they had to say
Tajinder Pal Singh Bagga
In 2011, Bagga, now a BJP spokesperson in Delhi, had attacked lawyer Prashant Bhushan
We had just finished another leg of the Modipara (a campaign that aims to promote Narendra Modi in neighbourhoods) drive at the chowk by the lake (College Square). The campaign got a big thumbs up from the local people.
I had heard so many things about Coffee House. I wanted to smell some coffee at the famous place. I am aware that the place is considered a den of people who subscribe to a certain ideology. I think these people live in their own bubble.
We were a team of over 50 people, most of them in Narendra Modi T-shirts.
Not all of us got places to sit. But our supporters were disciplined. There was no politics inside Coffee House. We did not raise slogans. Our people just had some food and refreshments.
Personally, I quite liked the coffee.
On our way out, our men spotted some posters along the stairs of the building. They had "No Vote to BJP" written over them. Some of our men had markers that they used to black out the "No" part of the posters.
But the posters were not torn.
Some people at Coffee House raised slogans against us. Our supporters raised counter-slogans.
We did not heckle anybody. If we did, what is stopping police from slapping a case on us?
Coffee House does not belong to any particular group. These people who believe in failed ideologies imported from China and Russia are inconsequential.
I have faced a lot of trolling and abuse since I posted on social media pictures of our supporters inside Coffee House. In some of the posts, people are calling us monkeys and making fun of Hindu gods.
The BJP is going to get 200 seats in Bengal. I have been camping here for over one-and-a-half months and the public support for Modiji is phenomenal.
Kushal Pandey BJP's youth wing leader
Our boys are a little hot-headed (amader chheleder ektu matha garam). When some of them saw the (No vote to BJP) posters, they got somewhat agitated. But we did not indulge in any violence. We just covered the "No" in black ink.
The name of the place is Indian Coffee House, not Communist coffee house or coffee house of some other groups. Every Indian has the right to enter the place.
But the place has an image of being a Leftist bastion. We wanted to change that. Some people called us out for wearing Narendra Modi T-shirts. Is it a crime to flaunt the image of our Prime Minister, who is respected all over India and outside?
On our way back, we did not start raising slogans.
The slogans came from the other side. We just responded to show ournationalism.