Bengal Polls 2021: No sign of protocol at Salt Lake EVM centres
Many were not wearing masks, many had them hanging on their chins or ears and no social distancing was being followed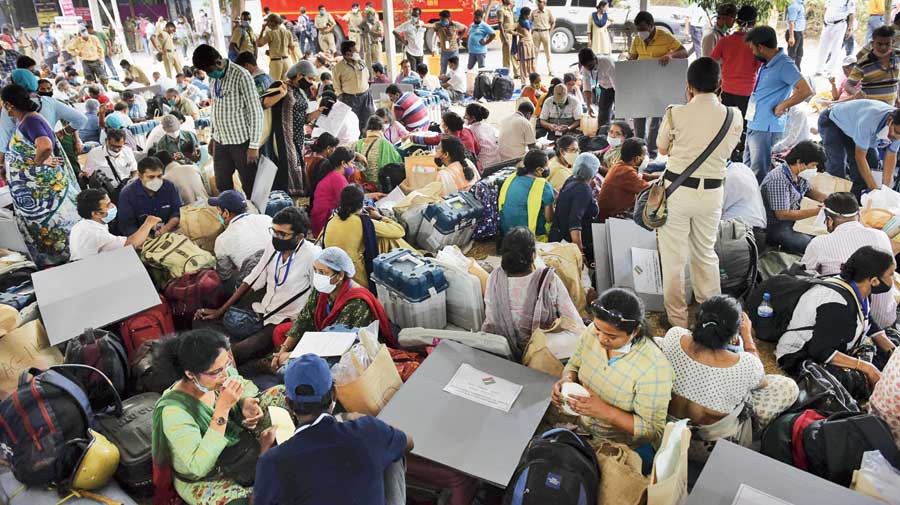 Polling officials collect EVMs and other election materials at Bidhannagar College on Friday.
Bishwarup Dutta
---
Salt Lake
|
Published 17.04.21, 12:31 AM
|
---
Covid-19 cases are rising alarmingly but there was no such alarm at the centres where thousands of polling and police personnel had gathered to collect EVMs before being sent to their respective polling stations in buses and cars on Friday.
Many were not wearing masks, many had them hanging on their chins or ears and no social distancing was being followed.
Polling material and EVMs for three Assembly constituencies — Bidhannagar, New Town-Rajarhat and Rajarhat-Gopalpur — which go to the polls on Saturday, were distributed at Bidhannagar College near City Centre.
There were crowds both inside and outside the college. The polling personnel had laid out mats and were sitting very close to one another under a large temporary shed on the campus. There were no temperature checks being carried out at the entry points to the college. No easily visible facilities to wash or sanitise hands had been installed on the premises.
Inside, there was a rush among the polling personnel to collect EVMs and polling material, including masks, sanitisers and gloves. This led to massive crowding in front of the counters where the items were being handed out.
Many polling officials were spotted chatting among themselves with their masks hanging on their ears or necks. Some had tucked their masks into their pockets to have tea and biscuits that were being distributed at a counter.
An assistant professor at a womens' college, who has polling duty at a booth in Salt Lake, said that although she had been wearing a mask, she was apprehensive because many around her in the crowds were not. "With the number of cases going up dangerously, we had expected people to become aware and behave responsibly. Here, we had no choice but to wait for hours in a large crowd where many were not wearing masks. I am worried as I have a child at home," said the professor who did not want to be named.
Excuses for not wearing masks were many. "I have a mask but I cannot wear it all day and talk to people. It is suffocating... I have already taken the Covid-19 shots so I am not worried," said an official of the state education department deputed as the first polling officer at a school in Salt Lake.
Health experts have stressed the need for people to adhere to the norms even after taking the Covid-19 vaccine.
A senior official of the Election Commission of India at the distribution centre said that they faced an uphill task ensuring that everyone turned up wearing masks.
"We have made announcements and held sessions about Covid-19 protocols during the training... It is also true that we are distributing polling material and EVMs from a limited number of counters and the area was crowded so maintaining distance was a challenge," the official said.
Asked if the polling personnel would follow the norms on election day, the official said that they had repeatedly asked the personnel to adhere to the Covid protocols. "All the polling stations will have cameras and our observers will also keep a check."