Bengal Polls 2021: Kisan Social Army's message for voters
The Modi regime's 'apathy' towards the long-standing protest is an insult to the entire farming community, the group said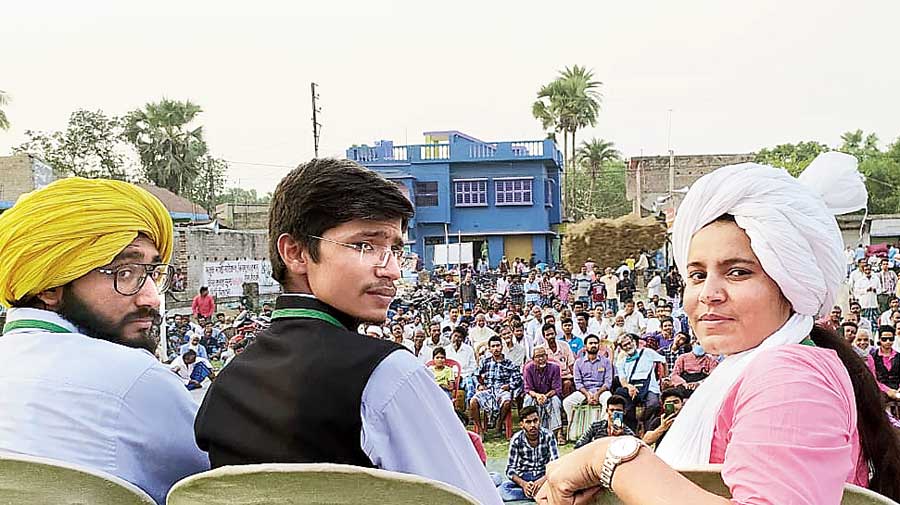 Kisan Social Army members at the farmers' meet in Murshidabad on Friday
Telegraph picture
---
Calcutta
|
Published 10.04.21, 01:41 AM
|
---
A group of young representatives of the farmers' movement on Delhi's borders visited a village in Murshidabad on Friday to urge voters to defeat the BJP in the state polls.
The Narendra Modi regime's "apathy" towards the long-standing protest is an insult to the entire farming community, the group told villagers at Mahalandi, around 20km from Kandi town.
Murshidabad votes in the last two phases of elections on April 26 and 29.
The six-member team reached Calcutta on March 31 to take part in the "No Vote to BJP" campaign and mobilise support for the protests against the farm laws.
The team has campaigned in Hooghly and Nadia. They have also visited places like Dunlop, Bhowanipore and Belghoria that have a sizeable Sikh community, which has been at the forefront of the campaign in Bengal in support of farmers.
Two days ago, they were addressing a rally near Dunlop Gurdwara, after which they met with residents of the area to chalk out the strategy for a sustained campaign against the farm laws in Bengal.
"The two issues ("No Vote to BJP" and campaign against the farm laws) are not separate. The BJP government is the common adversary for farmers everywhere. Our fight is not for farmers of Punjab and Haryana but in Bengal, Assam and everywhere in India," said Anup Singh of the Kisan Social Army, the social media publicity arm of the Samyukta Kisan Morcha, which is spearheading the farmers' protest on the borders of the national capital.
Singh hails from Haryana and has been camping at Tikri, on Delhi's borders.
In Murshidabad, Ankur Sangwan, another team member, stressed the "importance of a legally-guaranteed minimum support price".
"A legally-guaranteed MSP, along with a strong state procurement system, is much more viable for farmers than contract farming, where corporates will decide everything," Sangwan told the gathering.
Bengal has a minimum support price for farmers. But unlike some north Indian states, the government procurement process in Bengal is inefficient because of which there is a degree of reluctance among a section of farmers to sell their produce to the administration.
At a rally on College Street on Tuesday, Singh spoke of farmers' unity. "Punjab and Haryana had a long-standing rivalry over water sharing and the common capital, Chandigarh. But in the course of the movement, we have bonded like brothers, facing police batons and water canons together," Singh told the rally.
"It shows we are for unity, Modi is for division," he said.
The Kisan Social Army set up a Bengal "core committee" on Thursday. The 21-member committee, which includes several local persons, will organise meetings with small groups of people in the coming days.
"Once the BJP is defeated in Bengal, we will take farmers from the state to Delhi. It will be a huge boost to our morale," said Sangwan.