Bengal polls 2021: Covid protocol for voting in Calcutta
Every voter will be handed over a disposable glove for one hand with which he or she will sign the voting register and press the EVM button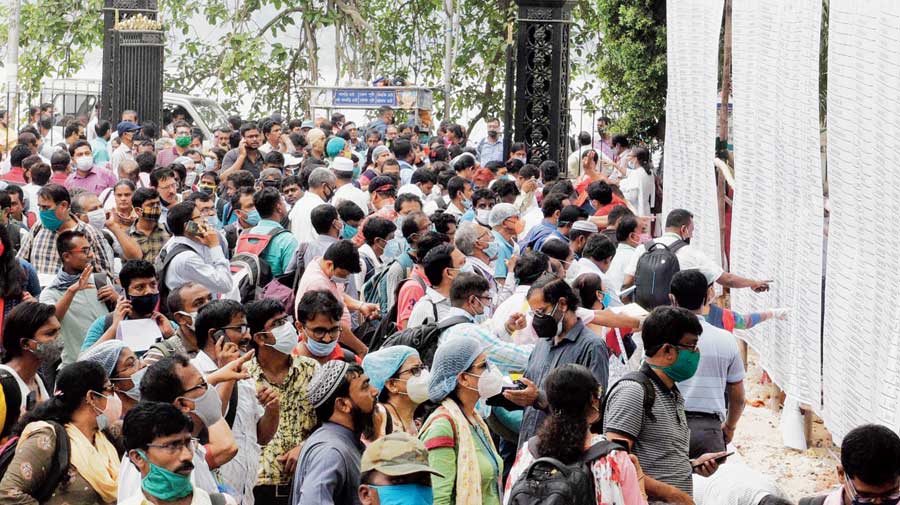 Polling officials check the list of polling stations at Serampore College on Friday.
Pradip Sanyal
---
Calcutta
|
Published 10.04.21, 02:26 AM
|
---
A large number of Calcuttans will cast their vote on Saturday amid the Covid-19 scare. Here is a list of things voters should know and follow while exercising their franchise during the time of pandemic.
Social distancing
Voters will be asked to stand 6ft-apart in the queue. There may or may not be markings. In the absence of markings, voters will be expected to maintain the gap themselves. Block level officers and volunteers will monitor the queue.
Mask
It is mandatory to wear a mask. If a voter does not carry one, polling officials may provide him or her with a fresh mask. During the process of identification. the voter will be asked to lower the mask.
Covid patients
People suffering from Covid-19 and those under quarantine can vote in the last hour of polling under the supervision of health authorities. Covid-related measures will have to be strictly followed when such patients and people under quarantine vote.
Thermal screening
Every voter will undergo thermal screening for body temperature before entering the booth. If the temperature exceeds 100.4 degrees Fahrenheit, the person will be subjected to a second round of thermal screening. If the temperature persists, he or she will be asked to collect a token from a counter on the polling premises and go home.
Such persons will be asked to cast their vote in the last hour of polling. They will have to show their tokens and follow all Covid-related protocols while casting their vote.
Sanitisation
Voters will have to sanitise their hands or wash their hands with soap and water at the entrance to the polling stations.
Gloves
Every voter will be handed over a disposable glove for one hand, with which he or she will sign the voting register and press the EVM button. The glove will have to be thrown into a designated drum/bucket. At the end of the day's polling, the used gloves will be disposed of in the nearest government hospital.
Maximum 1000 voters
Election officials will have to ensure that no more than 1,000 voters are allowed on the premises of a polling station at any given point of time. The earlier limit was 1,500. Fewer people are being allowed this time as a precaution against Covid.
Ground floor
As part of the Covid-19 protocol, all polling booths have been set up on the ground floor to prevent serpentine queues and facilitate voting of those who are unwell.