Bus and lorry operators seek 2019 Lok Sabha dues
The letter states that members of the forum were yet to receive 50% of their expenses from Calcutta North and Calcutta South districts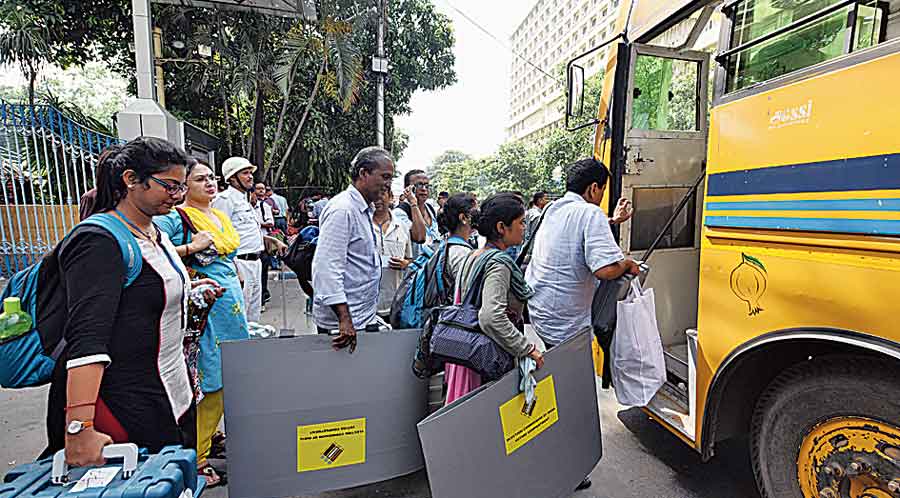 ---
Calcutta
|
Published 02.03.21, 01:56 AM
|
---
A forum of bus and lorry operators in Bengal has written to the state's chief electoral officer telling him that they would not give their vehicles for election duty if their dues from the 2019 Lok Sabha elections are not cleared.
In a letter addressed to the chief electoral officer on Monday, the forum demanded full payment of "hiring charges of the vehicles that were engaged in the 2019 Parliamentary Election duty immediately".
The letter states that members of the forum were yet to receive 50 per cent of their expenses from Calcutta North and Calcutta South districts each.
The two-page letter also states that the dues were 100 per cent in North 24-Parganas, 20 per cent in South 24-Parganas and 10 per cent in all other districts.
The outstanding amount, members of the forum said, was close to Rs 5 crore.
The letter goes on to demand 100 per cent advance payment of hiring charges for the 2021 elections.
"We, the operators and the workers concerned will stay away from the entire election process in protest," the letter states.
Signed by five representatives from different unions of bus, minibus, school bus and lorry operators, the letter demands revision of the daily hiring charges from Rs 1,910 to Rs 2,500 for buses and from Rs 1475 to Rs 2,500 for six-wheel lorries.
The expenditure for holding Lok Sabha polls is borne by the Centre.
According to guidelines laid down by the Union ministry of law and justice, transporting election materials, including ballot boxes and EVMs, to the polling and counting centres are among several items that are treated as expenditure incurred for the actual conduct of elections.
Buses, minibuses, school buses and even lorries are requisitioned to carry these items and the polling personnel.
The payment is made after bills that have been submitted by owners are scrutinised by the "transport cell" in each of the election offices in the districts and in Calcutta. Senior officials in the state election commission said the amount for respective states during the Lok Sabha polls is disbursed from the Union home ministry.
Bengal chief electoral officer Ariz Aftab was not available for a reaction. Calls went unanswered and so did text messages.
"There are around 45,000 buses and close to two lakh lorries in the state," said Pradip Narayan Bose, of the West Bengal Bus and Minibus Owners Association. "That would be several lakhs of voters."
Bus operators from Calcutta said around 1,900 buses were requisitioned for the 2019 Lok Sabha elections.