Bengal Polls 2021: BJP against women's dignity, says panel
Speakers highlight challenges, appeals to voters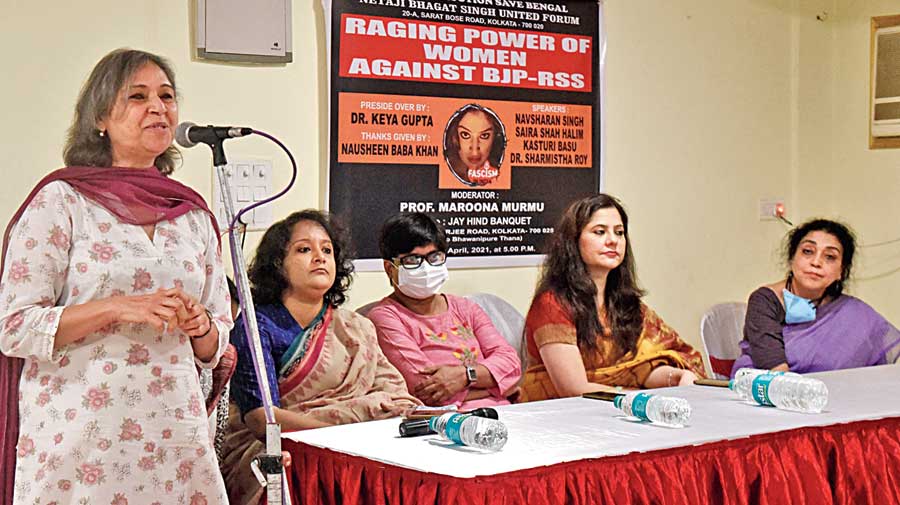 (From left) Navsharan Singh, Kasturi Basu, Sharmishtha Roy and Shaira Shah Halim at the discussion on Friday.
Sanat Kr Sinha
---
Calcutta
|
Published 10.04.21, 02:00 AM
|
---
The BJP represents a force that challenges a woman's right to live with dignity and tries to normalise this through a sustained campaign, said speakers on a panel discussing "Raging power of women against BJP-RSS".
The speakers referred to the Uttar Pradesh chief minister recently telling an election rally in Bengal that "anti-Romeo squads" would be raised in the state if the BJP came to power.
"Anti-Romeo squads" may prima facie pass off as a tool to protect a woman but delved deeper, it emerges as a tool to subjugate a woman, Sharmishtha Roy, a doctor who was associated with the "No NRC" movement, told Metro.
"There is a debate whether even parents can have any say on who an adult woman would choose as her partner. Here the state through a squad would decide who a woman could have as her partner. This is an assault on a woman's right to live with dignity," Roy said.
Fellow speaker Kasturi Basu, a documentary filmmaker, activist, writer and editor based in the city, said there was a ploy behind this carefully strategised narrative. "Through this ('anti-Romeo squads') narrative, they are trying to incite the patriarchal elements. They are instigating these rogue elements through this. By injecting patriarchal ideas constantly, they want to make it a part of mainstream discourse and normalise this assault on women," she said.
"That is why women should vote against the BJP in the elections now underway," Basu said.
The discussion, moderated by Maroona Murmu, professor of history at Jadavpur University, was held in a hall in Bhowanipore, part of the Bhowanipore Assembly constituency where Union minister Amit Shah held a roadshow on Friday afternoon.
Women's rights activist and human rights scholar Navsharan Singh in her speech referred to the spirited fight put up by women from Punjab and Haryana in the protest against the Centre's farm laws. She appealed to the women in the audience to resolve not to vote for a force that "believes in pulverising the dignity of a woman".
"The women on the borders of Delhi are not only fighting against the farm laws thrust on the farmers by the BJP government. They are now fighting for the release of women journalists who have been jailed by the BJP government. I refer to this so that the audience can make up their mind on who they should be voting for," Singh said.
Social and peace activist and theatre personality Saira Shah Halim said the BJP refers to issues like "love jihad" because they believe in assaulting a woman's agency. "Don't women have the agency to decide who they want as their partner? It took women a lot of effort to earn this right. No force can be allowed to challenge it," she said.