Bengal elections 2021: Battle royale for Bangur Avenue
It is a crucial turf that is expected to play a significant role in deciding who has the last laugh on May 2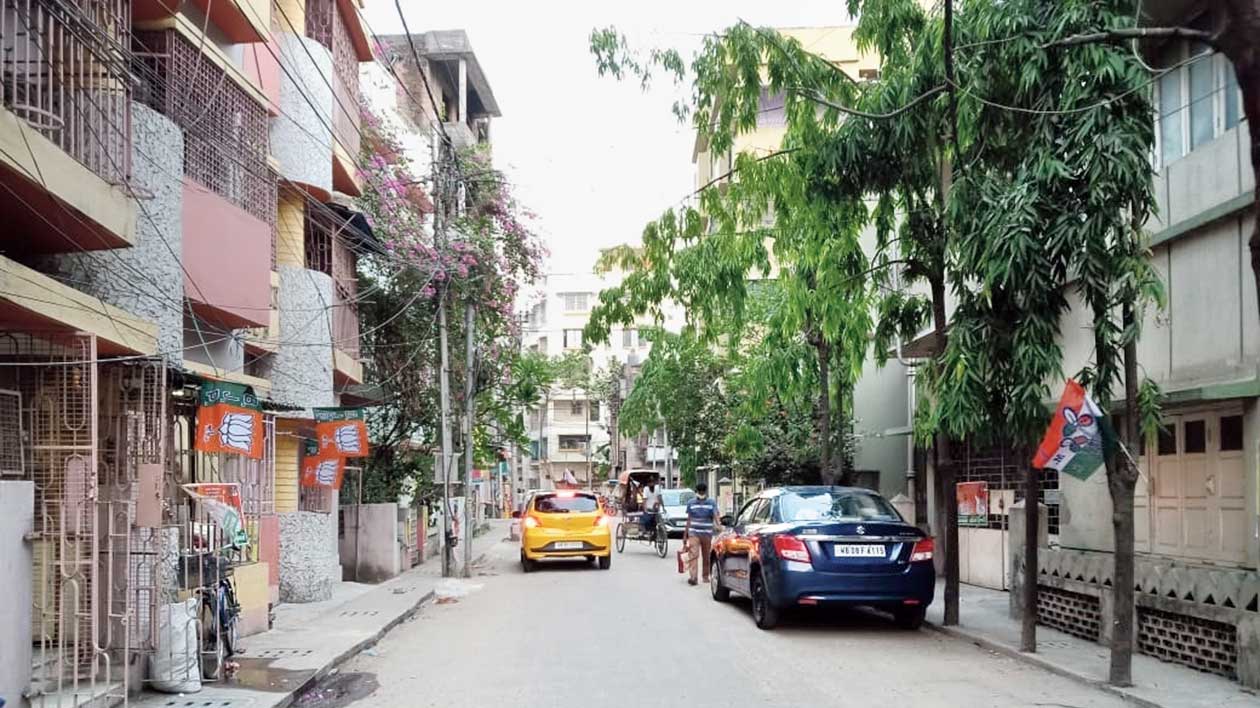 Bangur Avenue with flags of rival parties on opposite sides of the road.
Pictures by Showli Chakraborty
---
Salt Lake
|
Published 23.04.21, 01:19 AM
|
---
Bangur Avenue is a crucial turf that is expected to play a significant role in deciding who has the last laugh on May 2 — sitting MLA Sujit Bose or turncoat challenger Sabyasachi Dutta.
"If we can lead with a minimum of 15,000 votes from the 10 wards under the South Dum Dum Municipality (that are under Bidhannagar constituency), I will make up the rest from Salt Lake," Dutta told The Telegraph Salt Lake on poll-eve.
Seated at the BJP party office in Block B, he is a picture of confidence. His current party BJP had taken a lead of 18,916 in the Bidhannagar Assembly segment in 2019 even when Kakoli Ghosh Dastidar had been elected from the Barasat Lok Sabha seat, which has six other Assembly constituencies under it. Bangur Avenue (Ward 29) alone had given BJP a lead of about 4,600 votes out of a cumulative lead of about 6,152 votes from the 10 South Dum Dum wards. Trinamul Congress had managed a majority in only three wards then. This includes a lead of 13 votes in Kalindi, where Mriganka Bhattacharya was a councillor of Ward 19. 
If Dutta is so confident, it is because Bhattacharya has shifted loyalty from TMC to BJP, like he has. "It is because of Mriganka that I could gain an easy foothold here," Dutta says. "He is very popular here. His name is synonymous with development. He has really worked hard on issues like water logging, plastic ban, underground drainage etc. Residents know what he is capable of," the former mayor of Bidhannagar Municipal Corporation said, with the councillor by his side. Till a decade ago, Bangur Avenue was infamous for waist-high water-logging during monsoon. After the state government's 2007 ban on the use of plastic started getting strictly adhered to during the Trinamul regime, things significantly improved in monsoon. A beautification drive took place in 2013-14, in course of which the 2km stretch along VIP Road, from Golaghata to Bangur Avenue, became a sight for sore eyes. The waterbody was dredged and renovated, with a hanging bridge in the middle. The adjoining pavements were tiled and fitted with streetlights and statuettes. Both Bose, the vice-chairman of South Dum Dum Municipality, and Bhattacharya, the then chairman-in-council, public works department and local councillor of Bangur Avenue, claimed credit for it. Bhattacharya has accused Bose of replacing the original foundation stone which carried the names of chairperson Anjana Rakshit and other councillors with one bearing only his own.
With the two politicians in rival camps now in the election, the battle for Bangur Avenue has got interesting. Of the 18,000-odd residents, about 40 per cent are of north Indian origin. Dutta spent a lot of time here on his campaign trail, even playing Holi with residents here. Bose, on the other hand, got members of several social and cultural forums of north Indian communities from this area and his own backyard Sreebhumi to endorse him as a candidate at a pre-Holi meet in BF-CF Park, a stone's throw from Dutta's election office in Salt Lake.
Riot of party colours
The political tussle is apparent in the area, which is bedecked with poll publicity material. There is either a flag hanging from a shop or a banner stuck to a veranda or a festoon attached to the grille of an iron gate. For every Sujit Bose banner, there is a Sabyasachi Dutta festoon right next to it or on the opposite wall. The residents have simply been carpet-bombed with campaign as well as campaign material. The weeks leading up to the polls had the evening air rent with rap music, which were customised compositions commissioned by both parties.
Dutta campaigned twice a week in Bangur Avenue, brought in TMC-turned-BJP political heavyweight Suvendu Adhikari for a public rally on April 10 and a touch of Bollywood in Mahima Chaudhry for a roadshow along Jessore Road on April 12. He also played Holi with residents here. Bose made sure he was amply visible in all kinds of pujas and other religious gatherings held in March-April, right from Neel Sashthi to Makar Sankranti. He also held a Football Festival on April 18, the day after election. The tournament was held chiefly for party workers in Bangur Avenue, as possibly a reward for their hard work.
Bose is confident that TMC will win and form government for third time. "Banners don't decide elections. That is just publicity material. Our work here proves we have a strong base. Also, Mriganka always went against party instructions. He never obeyed his seniors which is why we are not bothered that he changed sides. In fact, it is good that he left; we now have a more organised party system," he said.
Polling may be over but there is politics on everyone's lips. Right from social occasions to vegetable markets, the only discussion that seems to be happening is on who will win from Bangur. It is no different at the tea stalls, be it the one owned by two Bengali siblings or Sharma Tea, known for tandoori chai and kesar chai, served with a sprinkle of saffron.
As one walks five minutes off VIP Road, to one's left, opposite the supermarket, is the BJP office that once belonged to Trinamul. Bhattacharya continues to hold fort here. Only the plastic chairs that are strewn all over the place have turned from green to bright saffron. Will Bangur Avenue flaunt saffron on May 2 or will green make a comeback? The debate rages over cha-singara in Bengali as well as over chai-samosa in Hindi.