Weighed down by chores, residents make do with home fixes or simply give up on their appearances
The lockdown has kept salons shut till recently and without domestic helps, most residents have been too exhausted to look after their looks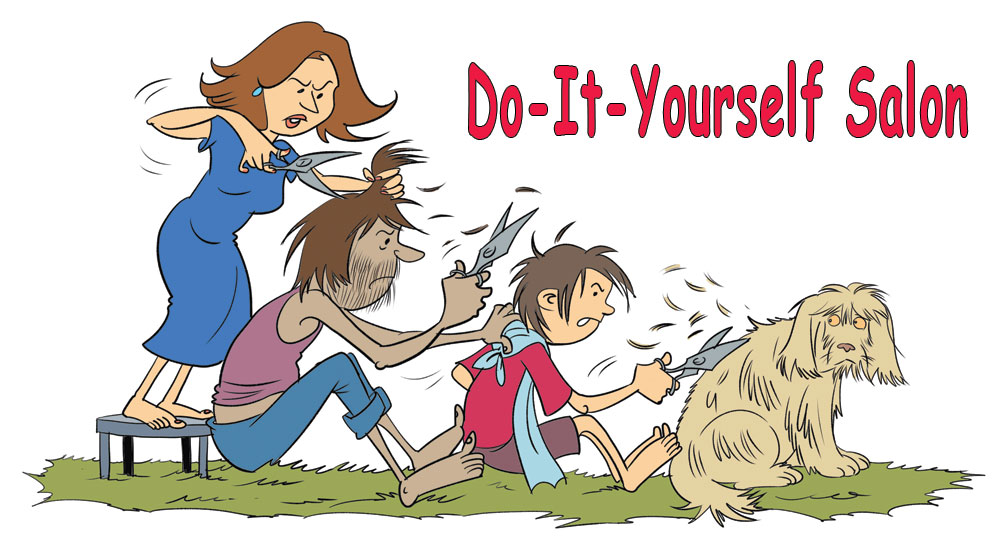 ---
---
The otherwise suave, stylish and clean-shaven Shayan Mitra Mustafi of CL Block has been so busy with chores during the lockdown he says his beard had got as long as Tagore's! DB Block's Sonali Basak has been washing dishes to the point that her manicured nails have chipped off. Sankalpa 2's Sinjini Das Chakraborty's hair grew so out of proportion that she asked her husband to chop it off.
This is the new normal as far as personal grooming is concerned. The lockdown has kept salons shut till recently and without domestic helps, most residents have been too exhausted to look after their looks.
"Such is the fatigue and frustration that people are heading straight from the kitchen to attend Zoom meetings on their laptop, sweating and with hair dishevelled. Even if some are donning a formal shirt they are too tired to change into trousers. They attend meetings in boxers!" says Swagata Paul, make-up artiste who lives in DC Block's The Residency. Swagata has since made videos to help her clients dress up for Zoom meetings quickly. (see box inside)
Hair-raising tales
Aura salon in BE Block has had to turn away a few customers since it opened last week but it has nothing to do with their body temperature. "Some people tried to cut their hair at home and made a mess. Now that we've opened, they're coming for damage control, but it's beyond help. We're asking them to go home, grow their hair somewhat and then return for a decent cut," says owner Pradip Das.
Jolly Chanda of FE Block's Satin Rose Salon and Spa says it's a comedy show everyday now watching people walk in with haircuts they tried on themselves. "Some have used trimmers and attempted "fader" haircuts but these are very tough. The salon is full of such men now, asking us to fix their hair," she says.
Others took advantage of the lockdown. "I always wanted bangs but the parlours said it wouldn't suit my hair. So I thought the lockdown would be the best time to get it. Even if it looked bad, my hair would grow back by the time the lockdown is lifted," says Sinjini, whose husband went through YouTube videos, including those on bangs disasters, before snipping.
Luckily for her, Sinjini is looking so cute now that she's appointed husband Sudip as her permanent stylist. "He cut our son's hair too, while I cut his," she says.
Meghna Rathi of CK Block has always sported funky hairdos — fader cuts with lines. "I was getting irritated as my hair grew long but luckily, my stylist had some work in Salt Lake and was cycling here one day. I called him over and asked him to chop my entire family's hair," she smiles happily.
Then there are those like John Sengupta, who have bought hairbands and are trying out new looks every day. "Side parting, middle parting, back brush, man bun…the lockdown is a time to reinvent yourself and I'm encouraging others to try the same," he says. No prizes for guessing that he's a fashion designer. John teaches at iNIFD Saltlake near City Centre.
Basak, whose DB Block ground floor is rented out to Styles & Smiles salon, had been counting the days till it opened. "It opened on Monday and I was their first customer," says the lady who got her hair coloured and eyebrows done.
Jolly of Satin Rose says many people tried to colour their hair at home and messed it up big time. "Customers don't know that the colours have to be mixed before using. Many are coming to us now with different shades along the length of their hair and on the roots," she shakes her head.
Bapi Store, a speciality cosmetics outlet near Kwality More, says the sale of cosmetics has gone down to five per cent of total sales. "Previously lipsticks and nail paint were top sellers but now people have no occasion to deck up," says owner Kartik Kumar Patra. "I'm bullish on sanitisers now."
Needs, another cosmetic store at Baisakhi, says the sale of lipsticks, nail polish and hair colour has picked up since the "Unlock 1.0" plan was announced. "Before that, we sold lots of hair bands, including metallic ones for men, hair and beard trimmers, eyebrow trimmers..." says owner Nitai Debnath.
Hands that toil
Some women tried to wax their legs and thread their eyebrows with painful results. "Some bought waxing kits but failed to pull the strip off off the skin properly. They are now coming to us with rashes," says Jolly. "Many swept the floor barefoot and have developed corns; many washed clothes and utensils with harsh detergents and their hands have got coarse. They are all coming now for pedicures and manicures. After weeks of slogging, they want to be pampered."
On public demand, Swagata released a video to teach women a simple method to do their own eyebrows during the lockdown.
Sayan, who is a bridal wear designer, likes his clean-shaven look but chores took such a toll that he had no time to shave. "Before I knew it, the beard was weeks old."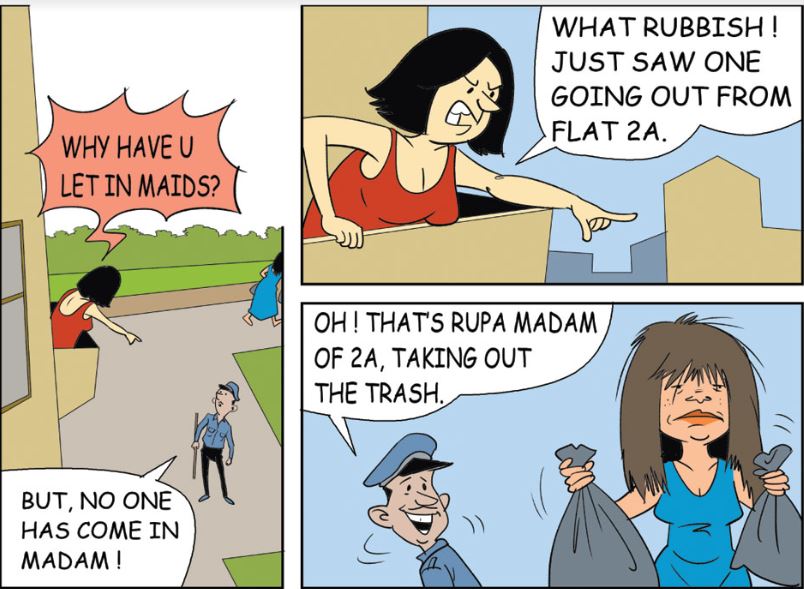 "I looked like Rabindranath!" he says. "It's best to get such a long beard shaved off by a professional but it's not safe visiting parlours now. Since I had some client visits last week I had to shave it off myself, at the cost of some nicks and cuts. Now that we are returning to public life, I've started oiling and conditioning my hair again too."
Skin and hair care routines like facials and hair spas have gone for a toss but those like Trina Kar Dutta are doing the best they can at home. "I'm making face packs out of leftovers — banana, papaya, curd... If done well, these can work better than facials. I've been applying moisturiser on my hands after doing the dishes and using loofah to exfoliate skin," says the CF Block resident.
Dress code
"Unless you're Katrina Kaif posting a video of yourself washing vessels, you wear regular clothes during lockdown," Sayan puts it quite simply.
Others agree. "I'm wearing regular clothes even to the market as they'll be dipped in antiseptic the moment I get back," says Trina, who had been nominated for a Facebook "sari challenge" in the early days of the lockdown. "It asked me to post a picture of myself in a sari but frankly, back then I had no energy to play along. When I got used to the lockdown after a few weeks I started donning new or nice clothes from my wardrobe for an hour and posting pictures. It made me feel positive."
Propa Chakravartty has no occasion to don fancy clothes anymore. "My mother's birthday was during the lockdown, my mother-law's birthday is approaching but we can't go over so there's no excitement to dress up. My clothes are gathering dust in the closet," says the BL Block resident.
Sinjini had gone to visit her in-laws in Barasat when the lockdown started. They are stuck there ever since. "We had brought four or five sets of clothes with us which we are wearing day in day out. On Jamai Sashthi, we saw a clothes shop open nearby and picked up something for ourselves. We wore them and showed my parents over video call," she says. "So much for celebration."
Sayan, who has resumed meeting clients, is donning the best of his formals but his issue is different. "I don't have an iron at home and it's not safe to send clothes to the laundry at this time so I'm unable to bring these clothes back into the wardrobe," he says.
But John has been wearing red, orange, green and similar "happy-coloured" outfits while holding online classes. "I've asked the students to dress sharply too. One has to look good all the time and the lockdown is no exception," says the designer who has rearranged the lighting at home so his face looks brighter on video calls.
Digital parties
John has in fact been holding "digital parties" with his friends where all meet and greet, dressed to the nines. "Many have also been seeking advice on dressing up for Zoom meetings so I ask them to send me snaps of a few tops, skirts, scarves, hair bands, jewellery so I can mix and match it for them," he says.
Swagata has also been swamped with requests to help people with make-up that will be visible and appropriate for video calls. "With free time at hand people are going all out making TikTok videos and the like. For these they have to look their best," she says. "As for corporate meetings over video call, at least comb your hair, apply eye liner, a light lipstick and change into a top that isn't faded. Before the meeting look at yourself in the mirror and make sure you feel good about what you see."
Do you face similar problems now? Write to saltlake@abpmail.com