Website launched to address issues of rights and responsibilities of artistes in India
M.F. Husain's lawyer Akhil Sibal pleads for artistic freedom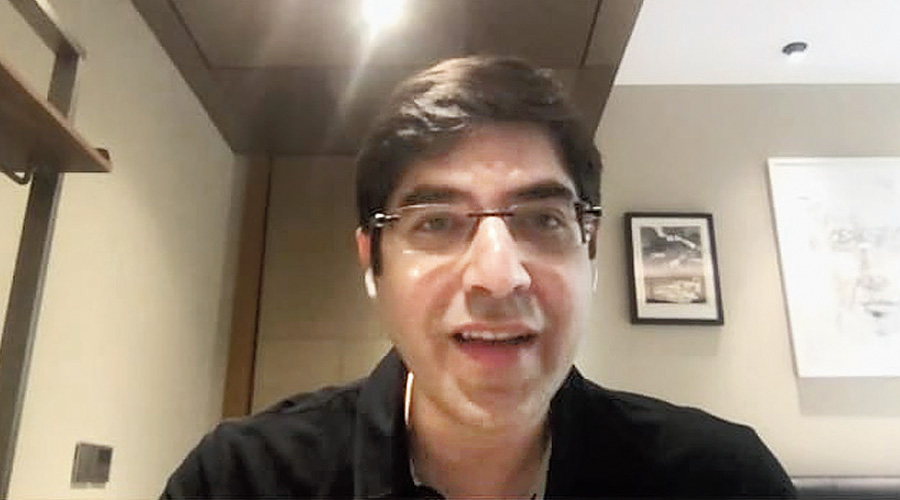 Akhil Sibal speaks at the virtual session
Telegraph picture
---
Calcutta
|
Published 13.08.21, 01:59 AM
|
---
A lawyer batted for the protection of artists' "right to offend" lest they started playing safe, at a programme to mark the launch of a website to safeguard the rights of artistes.
"The day the artistes decide to play it safe and sanitise their artistic expressions, we will be a society diminished. It is already happening," said Akhil Sibal, a senior advocate and one of the speakers at the virtual session on Wednesday.
"Artistes are meant to push boundaries, to challenge our prejudices, the status quo, the thoughts we assume are right. They are meant to provoke us. They can only do that if, to some extent, they have the right to offend. So, we need to preserve creativity," said Sibal, who had successfully defended painter M.F. Husain, battling charges of obscenity in his art.
Sibal, son of Congress veteran and lawyer Kapil Sibal, spoke on the harassment of artistes by an intolerant mindset.
"What concerns me is that we have for the past many years — and it is increasing — read about and witnessed the unwarranted harassment of artistes through the law, through an intolerant mindset. I worry that has had and continues to have a chilling effect on artistes," he said.
While puritanical censorship of artistes is not new in India, it has allegedly assumed an unprecedented scale under current rulers. The Narendra Modi-led BJP government at the Centre and the Right-wing ecosystem have been repeatedly accused of stifling freedom of expression and targeting artistes critical of them.
At the start of this year, stand-up comic Munawar Faruqui was arrested for alleged remarks made about Hindu deities and Union home minister Amit Shah even before his performance in Indore.
Closer home, a music video created by some of Bengal's young and accomplished artistes, in the run-up to the state elections, warned people against the Right-wing politics of hate. In the aftermath of the significant traction generated by the music video, the state BJP president, Dilip Ghosh, had allegedly threatened to "rough up (rogre debo)" artistes if they did not mend their ways.
"We need to preserve the creativity and that pushing of the envelope that artistic expression must continue to do. That's why a platform like this, which helps to provide artistes with access to their rights, to the boundaries as well that may exist, and to support that I believe would empower them to conquer that fear. The self-censorship is taking place because the artistes are saying 'I do not want to create controversy'. So, before they express themselves, they are already censoring themselves. That should not happen," he said.
The platform he was talking about was www.unmute.help, which went live on Thursday morning.
Spearheaded by Delhi-based arts scholar Arshiya Sethi, performer-arts manager Paramita Saha and dancer-lawyer-activist Somabha Bandopadhyay, a doctoral student at the West Bengal National University for Juridical Sciences, the website will address the issues of rights and responsibilities of artistes in India.
At the virtual session on Wednesday, the founders described the website as an online resource centre covering issues like sexual harassment, copyright and plagiarism and obscenity in arts.
The site's content resulted from a series of public discussions titled "Arts and the Law: What they don't teach you in Arts School", rolled out as online audio-visual documentation. It was co-produced by Kri Foundation and the Visual Arts Gallery, India Habitat Centre, New Delhi.
An English version in 2020 was followed by another in Bengali, "Shilpakala Ebam Ain", earlier this year, addressing the specific needs felt by the arts community of Bengal.
"Over the last many months, all the material that resulted out of the sessions has been quite a lot and very rich. People kept asking if they could have it in the form of a handbook, something easily accessible or readable. These questions were being constantly raised by our audiences. So, we thought the best way would be to have an online resource centre, which is exactly what the website plans to be. It is an online resource centre for performing artists to safeguard their rights," said Saha, a contemporary dancer, curator, and arts manager working out of Calcutta.