Many parts of Calcutta flooded as heavy rain lashes the city
Water inundated many homes in low-lying areas and also accumulated over reservoirs in a number of houses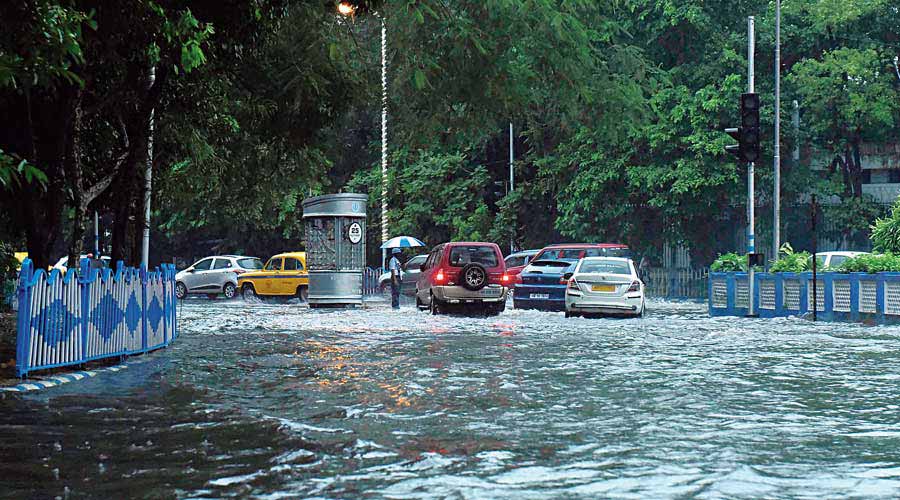 Vehicles negotiate a waterlogged stretch near Raj Bhavan on Wednesday.
Picture by Bishwarup Dutta
---
Calcutta
|
Published 08.07.21, 02:13 AM
|
---
Several parts of Calcutta went under water after heavy rain lashed the city on Wednesday afternoon.
The distribution of the showers was skewed as south Calcutta received more rain than the central and northern parts of the city, the officials said.
The Calcutta Municipal Corporation's drainage pumping stations at Jodhpur Park and Mominpore received 107mm and 100mm of rain between 3pm and 4pm. The stations at Kalighat, Ballygunge and Behala received 95mm, 80mm and 70mm of rain, respectively, during the period.
In the afternoon, the northern end of the Dhakuria bridge was under knee-deep water, causing a number of vehicles to break down. A police officer said six cars had to be towed away after they malfunctioned while crossing the waterlogged stretch.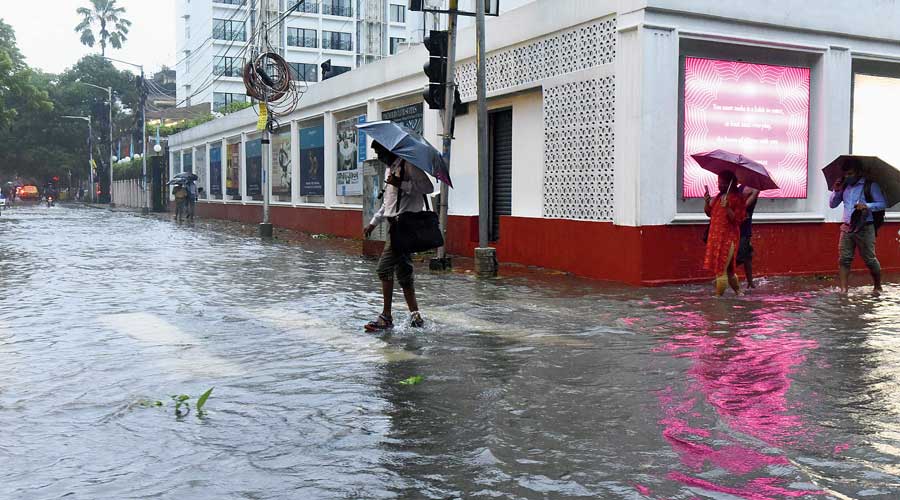 A few metres away, at the Golpark crossing, around one foot of water accumulated on the road. In Park Circus, Suhrawardy Avenue was under waist-deep water in front of Lady Brabourne College.
By late on Wednesday, water had receded to the shin level on many roads.
Water inundated many homes in low-lying areas and also accumulated over reservoirs in a number of houses.
"It is true that it rained heavily. But it did not rain intensely after 4pm. Yet the water did not recede by late on Wednesday," said a Kasba resident.
He complained that the civic body had desilted only the manholes on the main road but did not clear the muck from the gully pits.
"The civic body's main concern is to clear the main road so that traffic is not halted. So they did not bother to clean the drainage network inside neighbourhoods," the resident said.
Twigs and leaves were found floating in the water in large numbers, along with plastic. "The plastic bags clogged the mouth of many gully pits and delayed the draining out of the water from roads," a Dhakuria resident said.
Tarak Singh, a member of the CMC's board of administrators who is in charge of the drainage department, said water had receded from most places by the evening.
"The water level in the Hooghly was not very high when it rained on Wednesday. So we could keep the sluice gates open and this helped drain out water from many parts of the city fast. The pockets where roads were still waterlogged on Wednesday evening must be having some local blockage or other issues," he said.
Singh said 27 pumps were operational at the Chowbhaga pumping station, which drains out water from Jadavpur, Lake Gardens and Kasba.
"Places like Mominpore and Jodhpur Park received more than 100mm of rain in one hour. Draining out such a high volume of water takes some time," he said.
Officials said they were expecting water to recede from almost all places by Thursday morning if it did not rain at night.