Weather: 50-km-wide cloud mass triggers heavy downpour in the city
The Met office has predicted more rain in the next few days but the intensity of the showers is likely to be on the lower side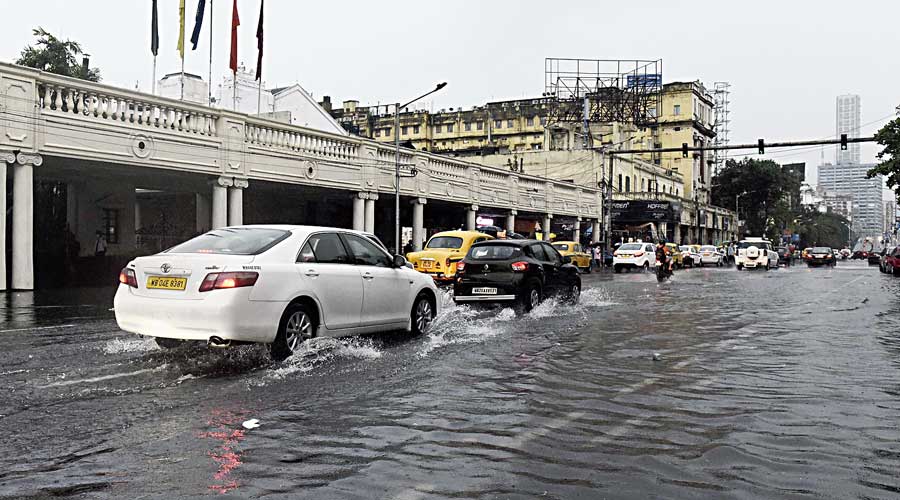 A flooded Chowringhee Road on Wednesday.
Picture by Sanat Kr Sinha
---
Calcutta
|
Published 08.07.21, 02:18 AM
|
---
An intense spell of thunderstorm hit the city on Wednesday afternoon, triggering heavy rain that flooded several areas.
The downpour continued from 2pm to 4pm. Before it started raining, darkness descended on the city and around 2.30pm, it looked like evening.
G.K. Das, the director of the India Meteorological Department, Calcutta, attributed the darkness to the density of the cloud mass. "The diameter of the cloud was around 50km and the thickness over 12km, at least a few kilometres thicker than a usual mass of cumulonimbus cloud," he said.
Parts of Calcutta received more than 100 mm of rainfall. Calcutta Municipal Corporation recorded 107 mm of rainfall at Jodhpur Park.
The Met office recorded around 97mm of rain in Alipore, 91mm in Dum Dum and 72mm in Salt Lake.
The Met office has predicted more rain in the next few days but the intensity of the showers is likely to be on the lower side.
"A trough of low pressure extends from Uttar Pradesh to the northeast Bay of Bengal, passing over Calcutta. The trough and the significant moisture accumulated in the atmosphere over the past few days led to the formation of a large and dense cloud mass…. That cloud emptied itself in the afternoon," said Das.
The trough of low pressure is the monsoon trough — in Met parlance, it is not called monsoon trough till it covers the farthest corner of the Indian heartland in the west — that was over the foothills of the Himalayas till a few days ago, triggering heavy rain in the northern districts of Bengal.
A nascent weather system over the Bay of Bengal that is expected to take the shape of a low-pressure area later this week has pulled the trough down, said a Met official.
The same density was also responsible for the relentless lightning that accompanied the rain, he said.
The lightning prompted many Calcuttans to unplug electronic appliances.
The intensity of the thunderstorm disrupted connectivity for a brief spell at several houses across the city.
"I did not have Wi-Fi connectivity for at least 40 minutes from 3.30pm," said Sayantan Mitra, a Thakurpukur resident.
Between June 16 night and June 17 morning, the city had received close to 150mm of rain which led to large-scale waterlogging.  But Wednesday's showers had more sting.
Raju Das, a driver, had taken an elderly couple to an eye clinic in Minto Park on Wednesday. He had parked the car behind the La Martiniere for Boys when the rain started.
"I had fallen asleep inside the car. I woke up to the rumblings of thunder. Within 30 minutes, the road was waterlogged and water started entering the car. I drove away and found another spot. It was scary, driving in the torrential rain," said Das.