New Town: WBHIDCO, NKDA and Bidhannagar police jointly conduct security awareness programme
Probe into the shootout at Sukhobrishti housing complex reveals gaps on both cops and residents' body's side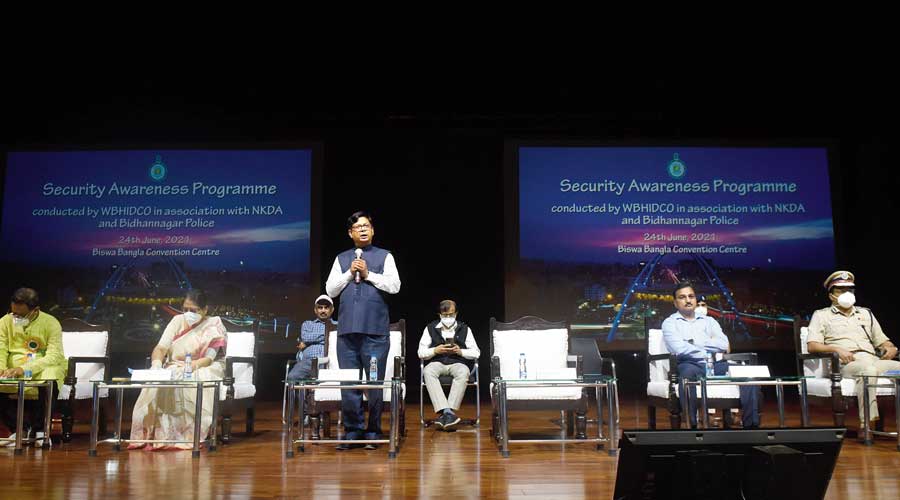 (From left) Rajarhat-New Town MLA Tapas Chatterjee; MP Kakoli Ghosh Dastidar; NKDA and Hidco chairman Debashis Sen; Vineet Goyal ADG (Bengal STF); and Bidhannagar police commissioner Supratim Sarkar at the meeting with representatives of New Town residents' welfare associations on Thursday.
Picture by Sanat Kr Sinha
---
New Town
|
Published 25.06.21, 02:18 AM
|
---
The Bidhannagar police chief said on Thursday a probe into the shootout at the Sukhobrishti housing complex 14 days ago, which led to the death of two gangsters, revealed "gaps on the part of the police as well as the residents' bodies".
Bidhannagar police commissioner Supratim Sarkar made the comment at a meeting with residents of New Town at Biswa Bangla Convention Centre.
"While reviewing security.., we have come across gaps on the part of the police as well as residents' body," Sarkar said.
"This meeting is meant to plug gaps. We have not called this meeting to blame anyone or to conduct a post-mortem of any event. Rather we want to plug these gaps to ensure that incidents like the one that happened on June 9 do not occur again."
The Bidhannagar commissionerate and the New Town Kolkata Development Authority jointly convened the meeting, which was attended by representatives of at least 35 residents' welfare associations (RWA) of the township.
A Bengal police team had gunned down two gangsters from Punjab — Jaipal Bhullar and Jaspreet Singh, alias Jassi Kharar — during a raid on a flat at Sukhobrishti on June 9.
According to Sarkar, a probe into the incident revealed that police stations in New Town in most cases did not have information about tenants.
"In most cases our police stations do not possess even basic information about tenants and how long a tenant is taking a property on rent. We don't get to know who is living with the said tenant and don't have their identity documents. This despite the fact that we have systems in place for house owners to visit police stations (to provide the information) or fill in the tenant verification form online," Sarkar said.
The commissionerate released a nine-point guideline for the RWAs. According to the guidelines, all RWAs should send a profile of their housing societies to the police mentioning details such as the number of flats, contact numbers of office-bearers, number of tenants and their contact details, position of CCTV cameras and details of the agencies hired for security and housekeeping.
The owners of flats who let out their properties have to fill in a tenant-and-landlord profile form containing details of the tenant and the number of persons expected to stay with the tenant. The police also asked the RWAs to consider issuing identity cards to the tenants.
The residents' associations have been asked to compile a list of brokers active in each society and make them fill in broker's identification forms issued by the commissionerate. The filled-in forms have to be handed over to the nearest police station.
"Brokers have become an integral part of the ecosystem and form a connect between the landlord and the tenant. It is imperative to know their antecedents as well," said Sarkar.
The additional director-general of police (Bengal STF), Vineet Goyal, who attended the meeting, stressed the need to create effective deterrence through neighbourhood watch and checks by the RWAs.
Goyal also urged the residents to take the help of technology to keep track of people entering or leaving a complex.
"Criminals look for safe shelters and they want to leave no footprint. Many complexes here have CCTV cameras and we know that several are using access-control apps like MyGate, which provide a ready database on cars as well as people entering and leaving. However, if the RWAs also check who has taken which flat on rent and if it is indeed them who are staying, then it goes a long way towards bolstering the security of a community," said Goyal.
NKDA chairman Debashis Sen urged the residents to co-operate and said that they were trying to set up more CCTV cameras. "We have more than 500 cameras and are planning to add 600 more," said Sen.
Residents of several housing societies who were present said the new guidelines would be helpful.
"We have regular checks and it is mandatory for the owners to submit tenant verification forms. However, we did not have the brokers' profile and will ensure that we have a list now," said Annapurna Sinha, the secretary of the NBCC Vibgyor residents welfare body.