Wajid Ali Shah's legacy that British couldn't eliminate
One of the most significant contributions of the king was the introduction of the classical dance forms, Kathak and Thumri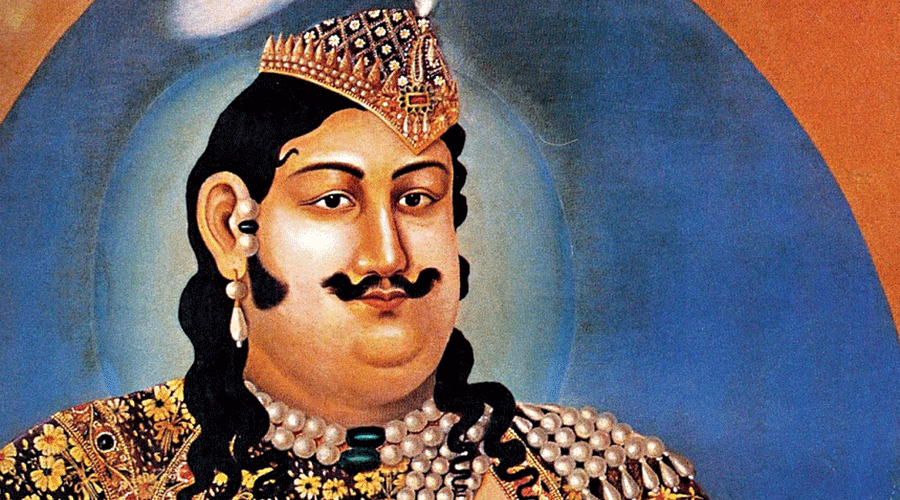 ---
---
It was a hot and humid day on May 13, 1856, when Wajid Ali Shah, the last king of Awadh, stepped on the gangway of the steamer McLeod as it moored at Bichali ghat at Metiabruz in Calcutta.
In his journey from Lucknow he stopped at Kanpur, Allahabad and Varanasi. It took him 18 days to reach here after the Maharaja of Varanasi, Ishwari Prasad Narayan Singh, offered a reverential salutation and bade him goodbye.
Little did he realise then that he would spend the next 31 years of his life in this culturally oriented city and never return to his native land of Awadh. The harsh reality struck him that he was no longer the ruler of Awadh as he proceeded with his entourage to stay at the imposing Grecian-looking Spence's Hotel, considered to be the finest hotel in Asia in those days.
Wajid Ali Shah had heard a lot about the British sense of justice and fair play and with that hope he travelled to Calcutta to meet the British governor-general. Still optimistic that he would be able to convince the new governor-general Canning that Awadh had been annexed on a false charge of maladministration and it should be returned to him.
Canning ordered a 21-gun salute from the ramparts of Fort William when Shah went to meet him. The deposed ruler soon realised that the shrewd governor-general was there to promote the company's interests and not him or his kingdom of Awadh. Despite this initial setback, he sent his mother, brother and son to England to place his case before Queen Victoria and British Parliament.
While negotiations were on in England, the 1857 uprising took place and all hopes of Awadh being restored to its deposed ruler were dashed as the English mustered all their resources and energies in quelling the movement.
Fearing that the "mutineers" could rally around Wajid Ali Shah and start a rebellion in Calcutta, the establishment put the deposed king under (nazarbandh) house arrest at Amherst House inside Fort William where he spent 26 months.
On his release, he decided to stay back in Calcutta choosing Metiabruz as his newly-adopted land. The area in those days had more than a 3-km stretch of stately homes, acres of garden, lush vegetation, spectacular view of trees of the Indian Botanic Garden across the river and the cool river breeze.
The presence of a fast-flowing Hooghly reminded him of his dear Gomti river in Lucknow. It also had a solitary, ancient watchtower of unbaked clay bricks, which guided the boats plying on the river. Metiabruz, in all probability, got its name because of this tower. In Urdu, metia/mitti is clay and burj is a tower.
When news spread that Wajid Ali Shah had decided to recreate the magic of Lucknow in this new suburb, hundreds of his loyal subjects joined their former ruler. The British were extremely shrewd administrators and seeing this got paranoid and tried at various levels to defame him. But he was a talented man who moved ahead with his plans and laid the foundation of a refined culture, which is still evident in this great metropolis.
The entry of the Urdu language in Calcutta started with the establishment of the Calcutta Madarsa in 1781 by Warren Hastings. In 1784 William Jones established the Asiatic Society, which helped in the advancement of many languages, including Urdu. These two institutions were joined by Fort William College in 1800, which tried to train British officials in Indian languages and, in the process, fostered the development of languages such as Bengali and Urdu.
But the real thrust in the spread of this language came when thousands of citizens of Awadh flocked to Metiabruz after it became evident that Shah would settle there. The settlers started speaking chaste Urdu and this sweet language spread gradually among the masses. Shah promoted and patronised writers and poets and events like mushairas (poetic symposiums), ghazals, marsiaya (the tragedy of Karbala recited in the lyrical form), and qawalis became very popular.
It gave rise to a new generation of talented poets, writers, singers, and narrators. As a result, the language spoken in this part of the city/state is considered to be superior to others. Traditional families in this part still use many words, expressions, and metaphors that have practically gone out of daily usage. It's a treat to hear them.
One of the most significant contributions of the king was the introduction of the classical dance forms, Kathak and Thumri. Kathak is a Hindu dance form but the secular and artistically inclined Shah's patronage in Lucknow saw the unique Lucknow gharana of Kathak evolve and reach great heights.
It was reintroduced in Metiabruz with full enthusiasm and made many accomplished singers, instrument players, lyricists and dancers flock to Calcutta from Lucknow, Varanasi, Allahabad and Kanpur.
The deposed Shah was their biggest benefactor. Awadhi's cultural loss added glory to this city's cultural efflorescence. The king in the true regal style held regular Kathak dance programmes in his parikhana or the abode of his young dancers. Talented artists of that era like Raja Sourindra Mohan Tagore of the Pathuriaghata Tagore family and Pandit Jadu Bhatta, who went on to teach music to Rabindranath Tagore, were among some of the local artists to benefit from this musical atmosphere of Metiabruz.
The babus of Bengal saw this for the first time and they built their jalsaghar (dancing halls) where programmes of Thumri or Kathak were regularly held. As the rich Bengalis started extending their patronage to artistes, the spin-off was the growth of hundreds of kothas of baijis not only in Metiabruz but all across the city.
The song 'Babul Mora Naihar Chuto Hi Jai' attributed to Wajid Ali Shah continues to remain the most popular bhairavi in the state even today with hardly any musician not singing it passionately.
In a short time, the influence of the Awadhi culture engulfed this area. Metiabruz morphed into a shahi mohalla replete with the trappings of royalty and nobility, especially pastimes such as flying kites, cock-fighting and poetry recitals.
Kite flying was an extremely popular pastime in Awadh and Shah introduced it in Calcutta. Like many new ideas, it soon became trendy and caught the imagination of rajas, maharajas and zamindars of the 19th-century Bengal, becoming the favourite pastime of all and sundry.
Competitions, with high prize money, were held regularly. This mass-based sport gave rise to a huge demand for kites and manjha (sharpened thread), which resulted in numerous shops mushrooming all over the city. Sadly, with the passage of time and boys finding new avenues for entertainment, flying kites has gone out of fashion. But there are still many units active in Metiabruz that produce thousands of kites. These are supplied to various parts of the country. In an area that is not industrially or commercially progressive, this cottage industry has come as a god-send opportunity to support 3,000 families. Many of the kite-makers are women.
The rulers and nobilities of Awadh were fashion-conscious and Shah brought with him the fine art of Lucknawi tailoring. To cater to their demand, many tailors from Awadh settled close to Metiabruz. They excelled in stitching achkhan, kurta-pyjama, sherwani, shahrara, gharara, and shalwar-kameez. One generation handed over the skills to the next and gradually a huge army of tailors cropped up. Hundreds of shops selling cloth materials and other accessories came to exist in the area.
Unofficially, it is now one of the biggest manufacturing centres for unbranded garments in Asia. The dresses manufactured here are supplied to expensive boutiques and big shops across the country and some are even exported. The existence of big buildings and high-end cars in this area is proof of the booming economy.
If there is one thing the people of this state remember and love Shah the most for is the delectable cuisine of biryani. How this magical dish from Lucknow came to Calcutta and how it evolved into the Calcutta biryani with its signature potato is an oft-told story.
It goes to the nawab's credit that he recreated a mini-Lucknow here, and in this, gastronomy was not left behind. Some of the talented chefs or khansamas accompanied him from Lucknow and they continued to prepare dishes like pulao, korma, biryani, zarda, roghni roti, sheermal, shahi tukra.
Shah died about 133 years ago but his legacy has become an important tangible and intangible part of Bengal's culture. In this aspect, the malevolent intentions of the British could not eliminate his contributions.
Shahanshah Mirza, the great great grandson of King Wajid Ali Shah, wrote this article to mark Shah's 198th birth anniversary that falls on July 30