Visiting PSU banks a nightmare for elderly customers
People, who just have a simple query or have come to collect a form, are not ready to wait for a long time and are jostling with others to get inside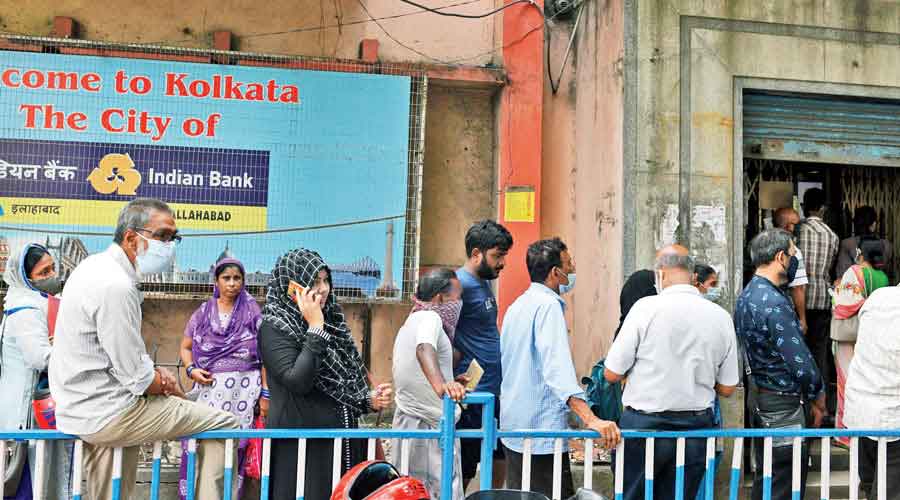 ---
|
Calcutta
|
Published 20.07.21, 01:54 AM
---
A visit to a nationalised bank has become a nightmare for many customers, especially senior citizens, in the wake of the Covid curbs and a series of mergers.
Thousands of elderly people — often with the simplest of business — are being made to wait for a long time in queues outside banks. On many occasions, only to be turned away from the gate. Ironically, the social distancing protocols are going for a toss in the queues. Many people, who just have a simple query or have come to collect a form, are not ready to wait for a long time and are jostling with others to get inside.
The Telegraph has reported about similar queues outside banks in September last year.
In a year threatened by disease and other constraints, trips to banks have become a necessity for many elders because issues that can be solved in one day are dragging on for an indefinite period.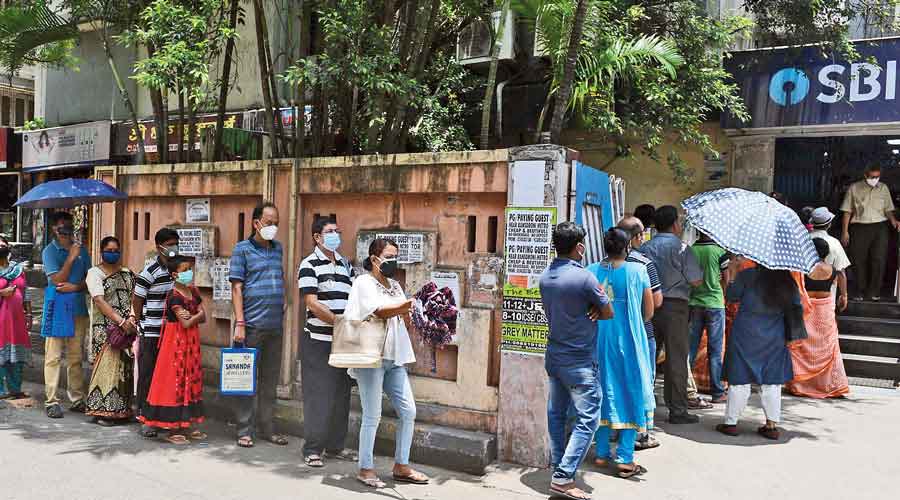 ⚫ Last week, an octogenarian waited close to an hour in a queue outside a nationalised bank on the northern fringes of Calcutta so he could get a new passbook. When his turn came, a man at the gate asked for the passbook and told the senior citizen the bank would call him when it was available. When the senior citizen asked for the person's identity or phone number for future reference, he was told: "Please take your passbook and go home. You don't have to get an update."
⚫ On Monday afternoon, a 60-year-old man had to wait in a queue for close to 75 minutes outside another nationalised bank in Bansdroni. All Ashis Mukherjee had to do — give his permission to renew a recurring deposit after maturity. Till now, the deposit was auto-renewed on maturity but not any more because of a "system change", he was told.
⚫ An 83-year-old woman waited for close to 40 minutes outside a nationalised bank in New Alipore. The bank has been recently merged with another bank. The woman had got a message saying that the old IFSC (Indian Financial System Code, needed to transfer funds online) had changed.
"I could not understand whether the message was an intimation or a prod to visit the branch and get a new chequebook. I thought it was best that I visited the branch," said Purnima Banerjee, a retired teacher.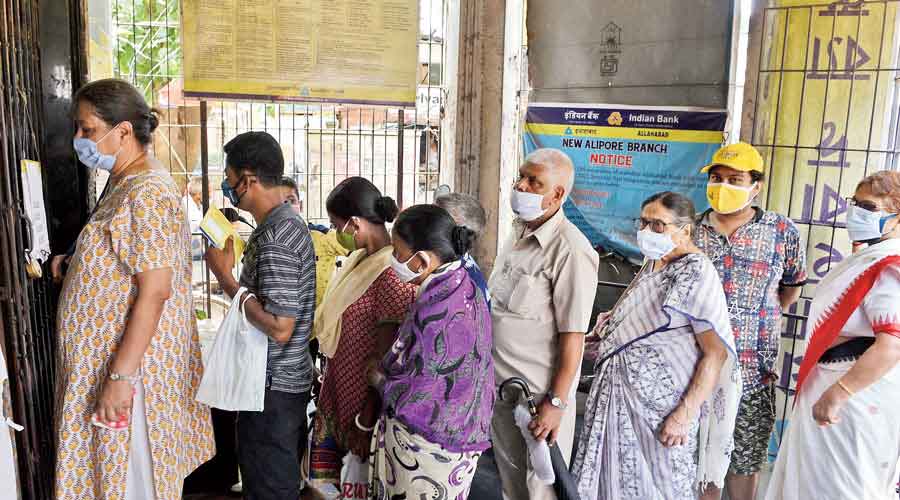 The Centre has amalgamated 10 public sector banks into four entities. Allahabad Bank and the United Bank of India — both used to be headquartered in Calcutta — have been merged with Indian Bank and Punjab National Bank, respectively.
Across the city, thousands of customers of these two banks are going through a torrid time.
A 72-year-old Behala resident, a customer of the erstwhile United Bank of India, received a message saying that she would be getting a new cheque book with a new MICR (Magnetic Ink Character Recognition technology, printed on cheques for faster identification of a bank and branch during electronic clearing of cheques) code. But the message also said she would have to get the cheque book "activated" through the branch.
The woman, a former employee of a PSU bank, went to the branch last week but was told to visit "after seven days".
"The whole idea of sending a cheque book to my home is to reduce the need for going to the bank. What is the point in going to the bank twice to use my own cheque book," asked the woman.
The branches with a large base of depositors had bigger queues. The Bansdroni branch of a PSU bank had over 50 people waiting in a queue around noon on Monday.
The sun was blazing, the mercury had touched 34 degrees, the RealFeel was 44 degrees and the humidity was close to 65 degrees.
One of the people waiting in the queue was Prabir Barik, 65. He has a fixed deposit with the branch. But there was an error in the spelling of the name of the nominee for the deposit.
"I came last month. I was told to come after a month. Here I am today, standing in the queue for over an hour but yet unsure if I will be able to get the work done," said Barik.
A helpdesk that was supposed to sort customers according to their needs at the gate was not seen at any of the 20-odd branches this newspaper visited on Monday.
A branch manager of a PSU bank in south Calcutta said the social distancing norms were being implemented according to the capacity of each branch. "A 3,000sq ft branch with 15 employees and eight counters can allow 12 to 15 people at a time. A 1,000sq ft branch with three counters cannot allow, say, more than three to six people at a time," said the official.
Many banks have been providing "limited services" — mainly cash deposit, withdrawal and implementation of government schemes — citing lack of personnel because of Covid.
A senior member of the State Level Bankers Committee in Bengal, which coordinates between the government and the banks, attributed the staff shortage to lack of transport options.
"Local trains are suspended. Buses and taxis are also limited. Many people who stay far away from the branches cannot come to work every day," he said.
A senior official of a PSU bank in Calcutta said it was unfortunate that people still had to wait hours for ancillary services like collection of forms and updation of KYC details.
"Leave aside digitisation and doorstep banking, there is no operational helpline for customers in most cases," he said.
Additional reporting by Pinak Ghosh