Plants for Sarat Abasan
Twenty-four saplings were planted in the inner perimeter of the park including species like Mango, Jaam, Lemon, Neem and Hibiscus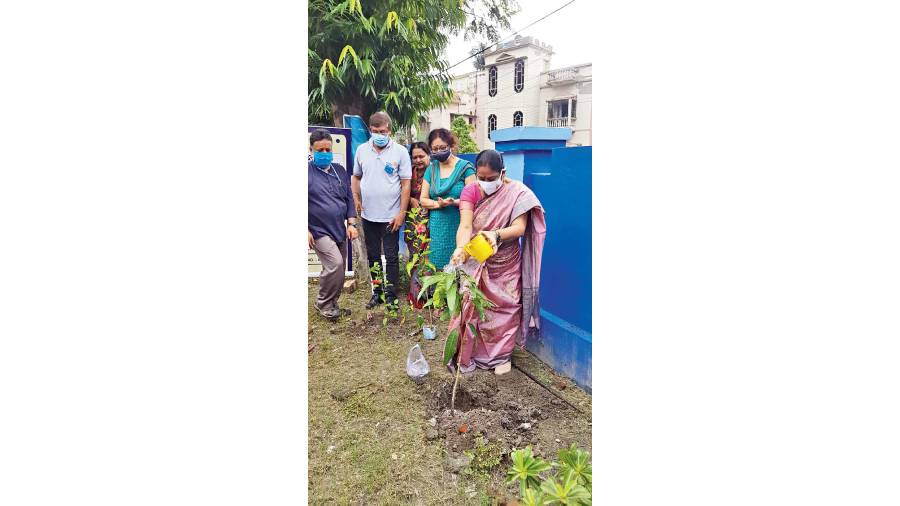 Krishna Chakraborty waters a Mango sapling after planting it at a park in Sarat Absan.
Brinda Sarkar
---
Salt Lake
|
Published 16.07.21, 12:06 AM
|
---
Residents of Sarat Abasan celebrated forest week by planting saplings of fruits and flowers in their pagoda park. The elongated block has three parks but Krishna Chakraborty, chairperson, board of administrators of the corporation, was invited to the park that has a stage shaped like a pagoda for the ceremony.
"Anyone entering Salt Lake can feel the difference in air quality thanks to the abundance of greenery here. The township has so many senior citizens with children living away. Wouldn't it be nice if everyone of them adopted a plant and brought it up like one's child?" suggested Chakraborty. 
But she also urged people to plant trees responsibly, such that their roots did not intertwine and damage pipes underground. Chakraborty went on to plant a Mango sapling that she herself had brought to gift the block.
Twenty four saplings were planted in the inner perimeter of the park including species like Mango, Jaam, Lemon, Neem and Hibiscus.
The project was executed jointly with Rotary Club of Bidhannagar and president Satyabrata Mukherjee said afforestation was an important issue for them. "We try to do something on this occasion every year. We plant trees and raise awareness among people to save plants," he said.
"While most blocks are built around a centrally located park, ours is like a rail line. This makes it difficult for residents of one end to meet and interact with those living on the other," said secretary of Sarat Abasan, Soumen Kumar Dutta. "We do have events like sports and Rabindrajayanti in the block, but thought of celebrating forest week as well, in a bid to bring neighbours closer."