Vacant plot selected to relocate shops and houses falling in the path of airport Metro line
These are creating a hurdle in the construction of the pillars that will support the elevated corridor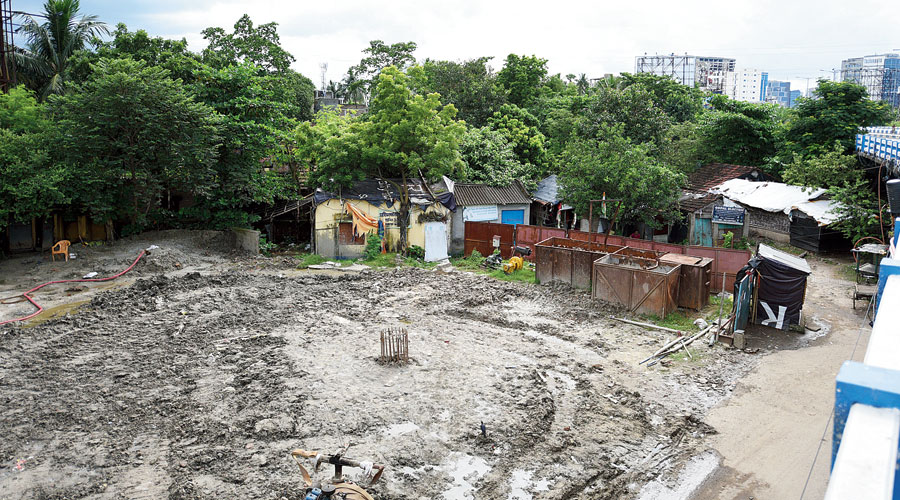 ---
---
A vacant plot in Sector V, behind the Technopolis building, has been selected to relocate more than 70 shops and houses that are in the path of the New Garia-airport Metro line in Mahishbathan, said a member of the committee set up to resolve the land issue.
The houses and the shops are creating a hurdle in the construction of the pillars that will support the elevated corridor of the Metro link.
The state government has formed a committee to facilitate removal of obstacles so land could be made available for the project. The committee is headed by Bidhannagar MLA Sujit Bose, who is also the state's fire and emergency services minister, and has representatives of Hidco, Nabadiganta Industrial Township Authority (NDITA), Bidhannagar Municipal Corporation, transport department and the Bidhannagar Police Commissionerate as members.
Bose said they had identified the buildings that needed to be razed to make room for the Metro corridor. "We are planning to relocate the shopkeepers and residents to a vacant plot in Sector V, behind Technopolis. We have written to the urban development department, which owns the plot," Bose said.
"We have conducted a survey and asked the residents to cooperate. They will be transferred to temporary houses (to be set up on the plot behind Technopolis) till we can relocate them properly."
Metro visited the area on Sunday afternoon and saw at least a dozen structures - some of which housing eateries, electrical fittings shops and shacks selling fritters — standing in the way of the proposed alignment.
NDITA chairman Debashis Sen said the structures on the plot - in Sector V's AQ block, opposite Positional Astronomy Centre - would be of bricks and would have asbestos roofs. "These will be simple sheds that can be built in a short time. We have to get permission from the urban development department before we start building the sheds," said Sen.
The Bidhannagar Municipal Corporation had in 2018 demolished four buildings under the flyover that connects Sector V with New Town to make way for the Metro project. Construction of the 1.45-km viaduct between Mahishbathan and New Town had been stalled for six years since the project was commissioned because of these buildings.
The demolition took place after the North 24-Parganas district administration issued notices saying the buildings would be pulled down and the owners compensated. Two of the razed buildings were private properties. One was Blue Orchid Hotel, identified in the civic records as the "White Building or OYO Hotels". The other building housed multiple shops and warehouses and was listed in the records as "AS Media Enterprise, Super Glass and New Mohini Sweets".
These buildings had fully or partially occupied government plots.The third structure demolished had housed Mohisgote Free Primary School, which had been shifted a year earlier.