Usha Ganguli passes away
A doctor declared she had died of cardio-respiratory failure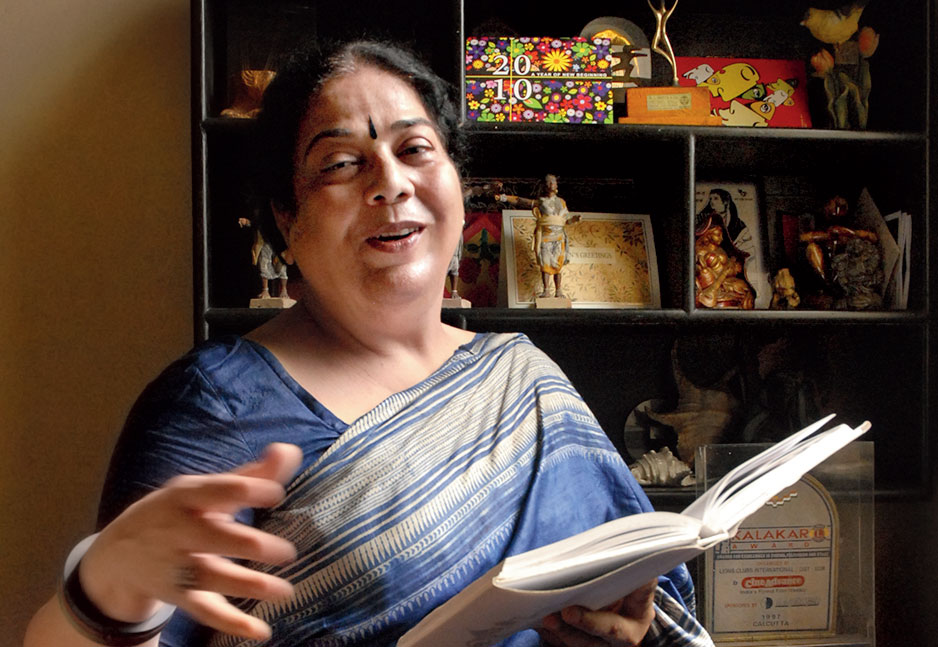 ---
|
Calcutta
|
Published 23.04.20, 10:59 PM
---
Theatre director and actor Usha Ganguli died on Thursday. She was 74.
Her help found her slumped in a chair at her south Calcutta home around 8am, family sources said. A doctor declared she had died of cardio-respiratory failure.
Ganguli is survived by her son Hirakendu. Her husband Kamalendu had died earlier and her younger brother, Rajesh Pandey, succumbed to cancer 11 days ago.
Ganguli's office secretary Anirudh Sarkar missed a call from her at 7.22am on Thursday, as did her son around the same time. "Both of us called her back soon after but did not get a response. Around 8.20am, the domestic help who stayed with her called to say that she was unresponsive."
"She was very depressed since that (Rajesh's death)," said close friend Sohag Sen.
Ganguli was born in Rajasthan's Jodhpur but grew up in Calcutta. In an interview after getting The Telegraph She Awards in 2018, she had said: "I started teaching at Ballygunge Sikhsha Sadan. There, a lady was looking for someone to do the role of Vasantasena in Mrichchakatikam. I did my first play — Mitti Ki Gari, based on Sudraka's Mrichchakatikam — after my marriage, in 1970."
Ganguli founded her group Rangakarmee in 1976. It is known for non-conformist productions like Mahabhoj, Rudali, Court Martial and Antaryatra. Initially, she invited stalwarts such as Tripti Mitra and Rudraprasad Sengupta to direct — the Tripti Mitra-directed Gudia Ghar, based on Henrik Ibsen's A Doll's House, won her a Best Actress award from the Bengal government — but later took up the mantle herself.
Theatre person Dolly Basu, who knew her from their dance school days as Usha Pandey and in the mid-90s acted in her play Khoj, picks Court Martial as her favourite Rangakarmee production. "It was very difficult to pull off a play with long dialogues and no scene change. Yet it was so taut!"
Ganguli is credited with making Hindi theatre mainstream in Bengal. "There were two-three Hindi theatre groups at that time. I realised that their audience was very limited…. My first aim was to create a new audience for Hindi theatre. Our first play was inside a railway auditorium in Sealdah," she had said in the 2018 interview.
"Ushadi did just a couple of plays in Bengali — Mukti and Manasi. And her Hindi plays often involved dialect, like in Rudali. Yet, she could reach out to a Bengal audience. That is no mean feat," pointed out Basu. Ganguli was awarded the Sangeet Natak Akademi Award for direction in 1998.
"In recent years, she had set up a studio theatre and invited people to experiment there," Sohag Sen added.
The artiste fraternity reacted with sadness at the news of her demise. "I can't believe she is no more," Aparna Sen said. "…I had worked with her in Paar and seen many of her productions in which she was unparalleled. My deepest condolences to the family. RIP," tweeted Shabana Azmi.
Chief minister Mamata Banerjee condoled her death.
Her last rites were performed at the Keoratala crematorium.