Upscale pockets sealed to stop violations
Many residents have been seen stepping out, at times without any valid reason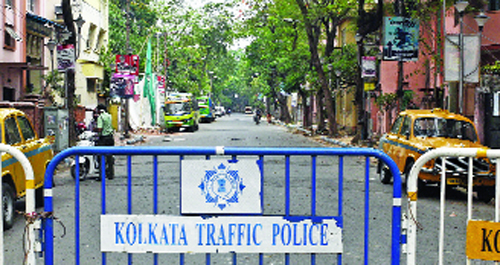 ---
|
Calcutta
|
Published 26.04.20, 12:19 AM
---
Police have blocked several pockets in Ballygunge and adjoining areas like Ritchie Road, Deodhar Street, Sayed Amir Ali Avenue and Panditiya Road.
The barricades are essentially meant to stop residents from stepping out of their homes. Many have been seen stepping out, at times without any valid reason, police said.
"We have been using loudhailers to tell people to remain indoors and to contact us if they needed anything. But many have violated the lockdown rules," an officer of Ballygunge police station said. "The barriers are more of a mental barricade, asking people to stay indoors."
Chief minister Mamata Banerjee had visited Ballygunge on Wednesday requesting people to stay indoors and seek police assistance instead of stepping out of homes.
Unlike the sealed roads of Tollygunge and Bhowanipore, some space has been left on either end of the barricades in these areas for emergency movement.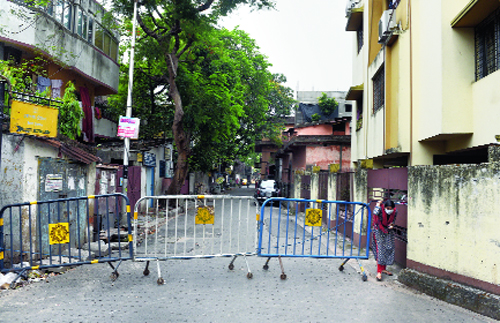 The barricades are meant to send a message to residents that roads can be totally sealed if they continue to violate the lockdown, an officer said.
"We regularly see people who are capable of going for online delivery or buying large quantity of supplies stepping out of their homes every day on the pretext of going to the market. They buy small quantities daily. This had to be stopped."
Officers in the adjoining Gariahat police station had recently spotted an elderly woman, dressed-up, with two bags. She told cops that she was headed to the market.
"We persuaded her to return home… we told her that going to market at her age was not a good idea. We shared some of the supplies we had at the police station with her and sent her back home," an officer of Gariahat police station said. "It was apparent she had no urgency but was bent on stepping out of home, tired of the lockdown."
The Gariahat market, like other markets in the city, remains open daily for a fixed time in the morning.
Several residents from the upscale neighbourhoods of Dover Road, Deodhar Street and Ritchie Road depend on online delivery of essential items from retails shops, which have been allowed to function during the lockdown.
Madan Kumar Mandal, who runs a medicine shop on Ritchie Road, said most people had been placing orders for home delivery.
"I cater to all houses and buildings within a radius of 2km. Most residents used to go for home delivery even under normal circumstances. I deliver medicines round the year but now much more."
An officer of the south east division said the police were ready to help — be it delivery of essential items or a medical emergency. "We just want people to stay at home and give us a call whenever they need anything. That's it."