Optional foreign travel rises
People are travelling to the US and the UK to visit family members, while tourists, traders and a few businessmen are travelling to places like Dubai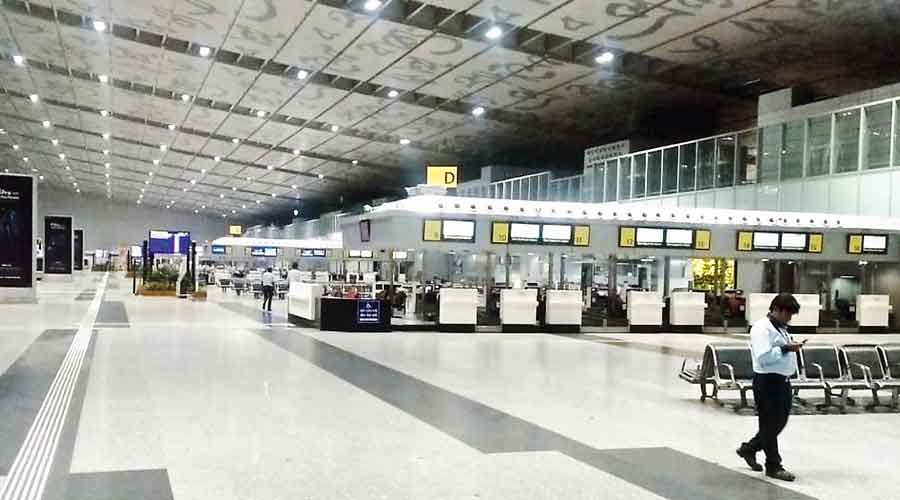 Calcutta airport
File picture
---
Calcutta
|
Published 07.12.20, 03:21 AM
|
---
Non-essential international travel from Calcutta has started picking up again, although slowly, airlines and tour operators said.
People are travelling to the US and the UK to visit family members, while tourists, traders and a few businessmen are travelling to places like Dubai. Destination weddings are taking place, too, and couples who will tie the knots soon are planning their honeymoon in foreign locations.
The Covid-19 pandemic had stalled air travel from the end of March to the end of May. Domestic flights resumed after that but international flights were initially not operating.
Officials at the Calcutta airport said evacuation flights under the Centre's Vande Bharat scheme started bringing back stranded passengers to the city in July, and in September resumed commercial flights under the air bubble transport scheme.
Airlines and tour operators said international travel from Calcutta was not significant when air bubble flights started. But now it is picking up, they said.
Jayanti Neogi, a resident of Ganesh Chandra Avenue, is flying on Monday to Boston in the US, via Delhi and Newark, on an Air India flight to visit her son. "She was supposed to visit her son in the summer of 2020 but could not because of the pandemic," said a family member.
Tour operators said they were even having chartered flights from Calcutta, which are having good bookings. On December 15, a chartered flight is scheduled to leave for the Maldives. A consortium of travel agents has hired the 183-seat aircraft from Vistara. One of the agents said the tickets had all sold out.
Businessman Shubham Bubna, who is getting married to Prarthana Gupta on December 11, has booked two seats on the flight for their honeymoon. "We had planned to defer our honeymoon till next year. But then I got this package to the Maldives. The rate is almost one third of what it was before the pandemic," said Bubna.
Tour operators said non-essential international travel had been picking up, slowly, since the end of October. "People are tired of staying at home for months and are desperate to travel. We have been getting queries since October and travel has now started," said Anil Punjabi, chairman, east, Travel Agents Federation of India.
Air India's once-a-week direct flight to London was not having a good response initially. The airline had to reduce the frequency from twice to once a week. The spokesperson for the airline said occupancy had started rising slowly.
Calcutta-based structural engineer Moin Bin Moksud recently travelled to the UK and Dubai for business purposes. He returned to the city on Friday.
"I have an office in Dubai. Throughout the lockdown and even after that, we were giving online presentations to clients. But now, since flights have resumed, I have travelled to the UK and Dubai," Moksud said.
Airport and airline officials said there were only a handful of business and corporate travellers among passengers going to international destinations. Most are travelling to visit family members and there are some leisure travellers, too.
"Quarantine rules are strict in certain countries. Only those people are travelling to those countries who have family members there," said Kaushik Bhattacharya, the director of the Calcutta airport. "Tourists are travelling to other countries."
"Our direct flights from Delhi to five destinations in the US and eight in the UK are doing well," said the Air India spokesperson. Airport officials said the twice-a-week Emirates flights between Calcutta and Dubai was having 80 per cent of its business and first class seats booked. The occupancy in the economy class seats is about 70 per cent on an average.
The demand for Dubai has also gone up because traders who used to shop from Thailand and Hong Kong are going there, said airlines. Flights to Bangkok and Hong Kong have not been restored