Calcutta Metro trains to go up, timings revised
Starting Monday the first trains will leave Dum Dum and Kavi Subhash (New Garia) at 7am, last trains will leave at 9.30pm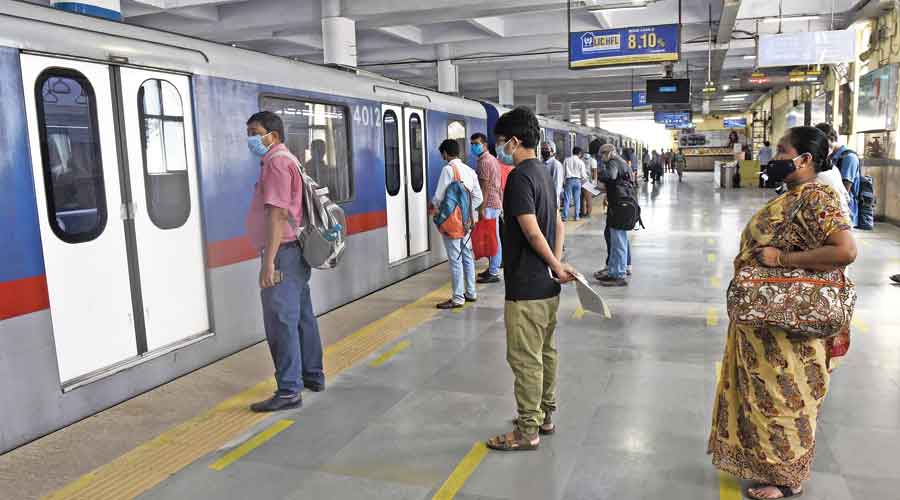 ---
|
Calcutta
|
Published 03.12.20, 01:59 AM
---
Metro Railway is inching towards its pre-pandemic timings.
Starting Monday, the first trains will leave the terminal stations at 7am, instead of 8am, the carrier said in a slew of announcements made on Wednesday.
The last trains will leave Dum Dum and Kavi Subhash (New Garia) at 9.30pm, instead of 9pm.
Before the service was suspended following the Covid-19 outbreak, the first and the last trains would start at 6.45am and 9.55pm, respectively.
The revised timings are for trains from Monday to Saturday.
The other announcements that came on Wednesday are:
⚫The number of trains from Monday to Saturday will go up to 204 from 190 from November 7, said a Metro official
⚫Also from Monday, commuters will not need an e-pass to enter a Metro station between 7am and 8.30am and after 8pm
⚫Women and children (up to 15 years) will not need an e-pass to enter a Metro station throughout the day. Now, women and children are exempt from producing an e-pass between 11am and 5pm. Senior citizens (60 years and above) can enter a station without an e-pass throughout the day
⚫The token system will remain suspended. Since services resumed on September 14, tokens are not being issued to prevent a possible spread of the Covid-19 virus
Metro officials said more trains and revised timings followed a jump in the footfall over the past few days.
Metro's passenger count breached the 1,00,000-mark on November 18, for the first time since the resumption of service on September 14 and a week into the resumption of suburban trains on November 11.
The usual weekday count is now above 1,10,000.
"The number of passengers till 8.30am and post-8pm is reasonably low. So, we want to open slots for more commuters," said a Metro official.
"We plan to open more slots for commuters without an e-pass. But in the rush hours, the e-pass system will be the key to crowd control," he added.
From Monday, the inter-val between two trains will be around seven minutes during rush hours and aro-und 15 minutes during the rest of the day's service period.
On Sundays, the number of trains will remain unchanged at 68. But on December 6, there will be 74 trains to facilitate the journey of candidates of the West Bengal Clerkship Examination (Part II). The first trains will leave Dum Dum and New Garia at 9am and 9pm, respectively. From Noapara, the first train will leave at 9.13am.