Underprivileged girls on Covid mission
Idea is to tell the neighbourhood residents, many of whom have become very relaxed in regard to the disease, that the pandemic is not over yet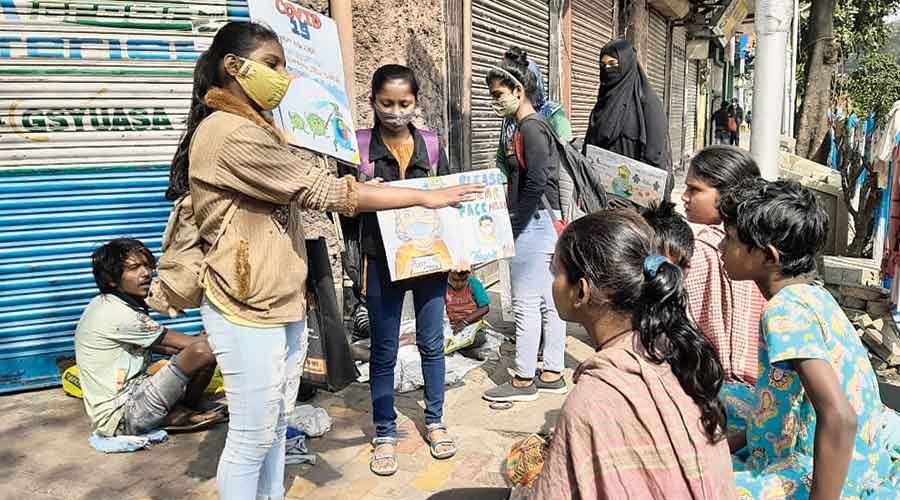 ---
|
Calcutta
|
Published 01.02.21, 04:59 AM
---
A number of underprivileged girls who live in closed, congested spaces are visiting their neighbourhoods and other places like theirs to talk to adults about the need to wear masks, wash hands and follow all other Covid-19 protocols.
The idea is to tell the residents, many of whom have become very relaxed in regard to the disease, that the pandemic is not over yet and one should not let their guard down.
The girls, led by an NGO, started the drive about a fortnight back and are visiting the neighbourhoods thrice a week.
They are talking to residents of 12 slum neighbourhoods in north Calcutta and along the Hooghly.
"Some of the girls approached us and said they would like to talk to adults in their area about the need to stay safe. They said people in their neighbourhoods would listen to them rather than outsiders. The target is to reach out to their own and immediate neighbourhoods," said Ananya Chatterjee, the school administrator of Calcutta Rescue, the NGO.
Chatterjee said training started in December for 10 of the girls who are between 16 and 17 years. The NGO has been educating the girls on Covid-19 and what needs to be done to stay safe since the beginning of the pandemic.
The girls made posters and audio clips, some of which they showed to the parents of some of the other children during online classes.
For most of the families, visiting them in person has a different impact than speaking to them online.
"We tell them that the need to stay safe is even more because we live in closed spaces where there is hardly any distance between two houses," said Saba Sabir, 17, who lives in the Mechua area.
It's not that they do not face "resistance" from people when they visit, but the girls take it in their stride.
"There are some who don't listen and walk away, but many do. We don't argue with them," said Samapika Dhali, 16.
Suchandra Chatterjee, a social worker and psychological counsellor at Calcutta Rescue who accompanied the girls said the first reaction was not always very welcoming.
"The attitude of many of the adults at times is that what would these students talk to them about. But because they are so thorough that when they start talking, the people do listen to them," said Chatterjee.
From next week the girls intend to make the talk more interactive by having a quiz and the NGO will give the participants masks and hand sanitisers as prizes.