Two friends who set pigeons at the Maidan
Saurabh Pandey and Tushar Ranjan Das buy the birds from New Market, where they are usually meant to be slaughtered for meat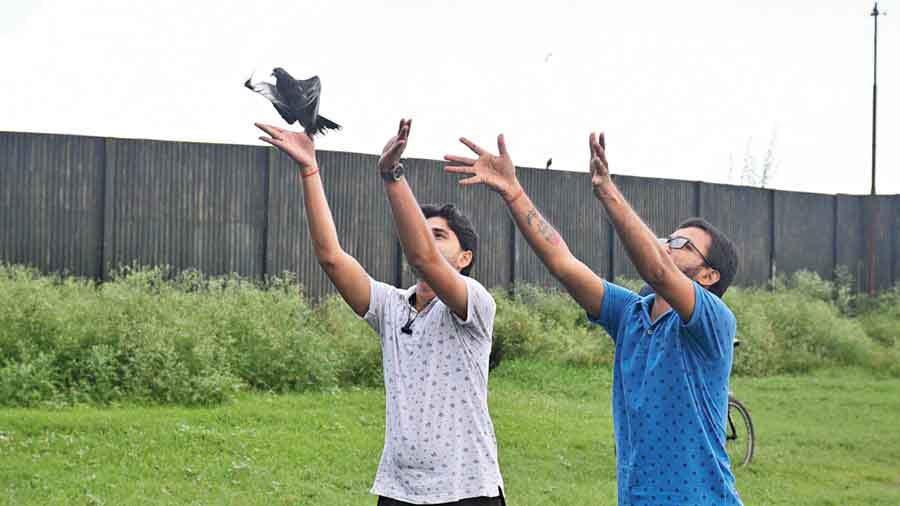 ---
Calcutta
|
Published 12.07.21, 02:11 AM
|
---
Two young men come to the Maidan on most Sundays to set dozens of pigeons free from a cage.
They buy the pigeons from New Market, where the birds are usually meant to be slaughtered for meat.
"We have been doing this for the past year. We have released close to 400 pigeons till now," said Tushar Ranjan Das, 30.
Das, along with his friend and neighbour Saurabh Pandey, had started freeing birds last summer.
"No one is meant to live in a cage or end up on a plate," said Das.
Das and Pandey, who live near Burrabazar police station, usually keep Sundays aside for freeing birds. The two drive to New Market in Pandey's car in the afternoon.
Last Sunday, they bought 18 pigeons at Rs 400 a pair. The birds had to be taken in a cage for which they had to deposit Rs 400 with the trader. The amount is refunded once the cage is returned.
Accompanied by Pandey's younger brother, they reached the Maidan around 3.40pm. The three released the birds, one by one. A couple of teenagers who had come to play at the Maidan looked in awe and cheered them as the birds took flight.
"When we started, we used to buy some smaller birds as well. But predators like eagles killed and devoured them, sometimes in front of our eyes. So, we restrict ourselves to pigeons. Pigeons usually survive," said Das.
The friends choose different spots on the Maidan on different days to release the birds.
Das, a commerce graduate, runs a tutorial for children of Classes I-XII in Mullick Street, behind Burrabazar police station.
Das used to earn "around Rs 30,000" from his tutorial before the fresh Covid curbs. His student pool has come down to 28 from 50 because of the curbs. "Many parents and their wards are not ready to pay the usual fee for online classes," he said.
The price of one pair of pigeons has gone up to Rs 400 from Rs 300 a few months ago. Pandey, who comes from a family of cloth merchants, also contributes to buying birds.
"The sight of the birds getting a taste of freedom is priceless," said Pandey.
"We had set ourselves a target of releasing over 50 birds every month. More often than not, we cannot match the target," said Das, who also runs a charity that works for the uplift of street children.