Twenty-five years of stories of triumph against odds
The Telegraph Education Foundation in a small way has changed people's lives by motivating them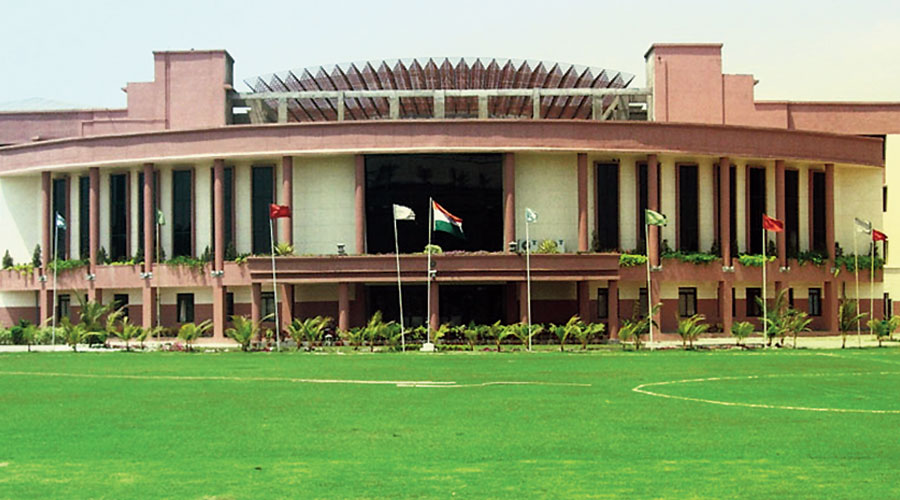 Delhi Public School Megacity, which received The Telegraph School of the Year
File picture
---
Published 13.12.20, 03:23 AM
|
---
A Hindu youth with a rare blood group travelled 450km from Ahmedabad to donate blood for a little Muslim girl. When asked whether he would like to meet her, the man replied: "She could be Hindu or Muslim or Sikh or Isai, I am just a human being."
Dhiren Pithiya, the youth, came to Calcutta to give away the courage awards at the inaugural edition in 1996. 
2020: A 17-year-old, the son of a farmer in a West Midnapore village, has since childhood been loading his father's broken cycle trolley with potatoes and travelling six miles, selling them and returning home before going to school. Santanu Dutta, who lives in a thatched house, scored 91.4 per cent in Madhyamik and received a scholarship on Saturday. 
Calcutta: IIHM presents The Telegraph School Awards for Excellence  2020, 25th Edition, in association with The Bhawanipur Education Society College has traversed 25 years and stories of triumph against odds and conviction against fate have kept emerging through the quarter of a century.  
Forced by the pandemic, the award ceremony moved from the stage to the virtual platform this year. Though one could not hear the thunderous applause online, there were many who sat through the show moist-eyed — not just in Calcutta but across the world. "Twenty-five years is a long time and today we would be celebrating and we would be looking back for strength, we could be looking back to draw from the past and look ahead for the next 25 years with confidence," said Barry O'Brien, a trustee of The Telegraph Education Foundation who hosted the 180-minute programme. 
"An extraordinary spectacle," was how Manmohan Singh described the ceremony when he came to give away the awards in 2003, a few months before becoming the Prime Minister.
At Saturday's event, Santanu Dutta received The Late Debaprasad Das Purkayastha Memorial Scholarship for carrying on despite financial hardship. 
Acharya Adhya of Abhinav Bharati High School, who got The Indu Basu & Pritish Chandra Basu Memorial Scholarship, has been fighting a physical challenge. Acharya was diagnosed with transverse myelitis — an inflammation of both sides of a section of the spinal cord — in childhood and remained paralysed for more than a year. 
His treatment expenses forced his mother to sell a kidney to make ends meet. Acharya fought his circumstances to top Class X from DPS Howrah and secure the third position in Class XII from Abhinav Bharati. He is now a medical student. 
Kalyan and Rupa Adhya, parents from Calcutta, received The Abhirup Bhadra Memorial "Thank You Baba-Ma" Award.
Sumit Kumar Lal, a Class XI student of National High School, Hazra Road campus, received The Surrendra Paul Memorial Award for Courage and The Chittajit De Memorial Scholarship for pursuing studies while working as a Rapido captain. 
"Working is a necessity for me, else I won't be able to continue my studies," said the Class XI student, whose father is a driver by profession. Sumit had to work even during the pandemic, delivering food, to fund his education.
The school awards honour not just students, who are the "VIPs", but also teachers, non-teaching staff and schools. 
"Magic Sir" Dipak Roy Chowdhury, who teaches mathematics and sciences at Niva Ananda Vidyalaya at Brahmapur through magic, received The Bhawanipur Education Society College Award for an Educationist. He has been using the technique even when classes are being held remotely during the pandemic.
Among the awardees over the years are "kiptey mastermoshai (miser teacher)" Ashutosh Sheet of Kakdwip Primary School, who lived frugally all his life and saved around Rs 10 lakh to build a primary school at his village; and Yaesin Pathan, a peon at Pathra post office in West Midnapore, who has made it "his mission to save six ancient terracotta Hindu temples from vandals and extinction". 
Pathan was a special guest of honour in the 2002 ceremony. The Telegraph School Awards for Excellence gave full monetary grant to him to compile and print his book, which led the Archaeological Survey of India to take note of his mission and sanction Rs 20 lakh to save the temples. On Saturday, Nilav Bose, a former student of Don Bosco School, Liluah, was among the winners of Balrampur Chini Mills Award for Outstanding Talent for photography. He has recently worked in Project Bismillah (helmed by BBC photojournalist Kounteya Sinha), documenting Chillai-Kalan, the 40-day period of harsh winter in Kashmir after the scrapping of its special status.
The Heritage School and Delhi Public School Megacity received The Telegraph School of the Year. Moner Unmesh, a 600sq ft school for first-generation learners in West Midnapore, was the winner of The Somak Dutta Endowment Award. The school, founded in 2017 by Aloke Kumar Das, will use the prize money to rebuild its 15x15sq ft classroom that was razed by Cyclone Amphan in May.
O'Brien said that The Telegraph Education Foundation in a small way changed people's lives by motivating them. "We actually have been doubly and greatly motivated and inspired by them since 1996," said O'Brien. 
It has indeed inspired many. Lakshmipat Singhania Academy, which has turned 25, has donated Rs 99,000 to The Telegraph Education Foundation. Eleven teachers of the school, who do not want to be named, have contributed another Rs 1,10,000 to the foundation.