TV and Internet cables pose risk to motorists, pedestrians in Salt Lake
The Telegraph has reported on several occasions how the mess of dangling wires pose a threat to commuters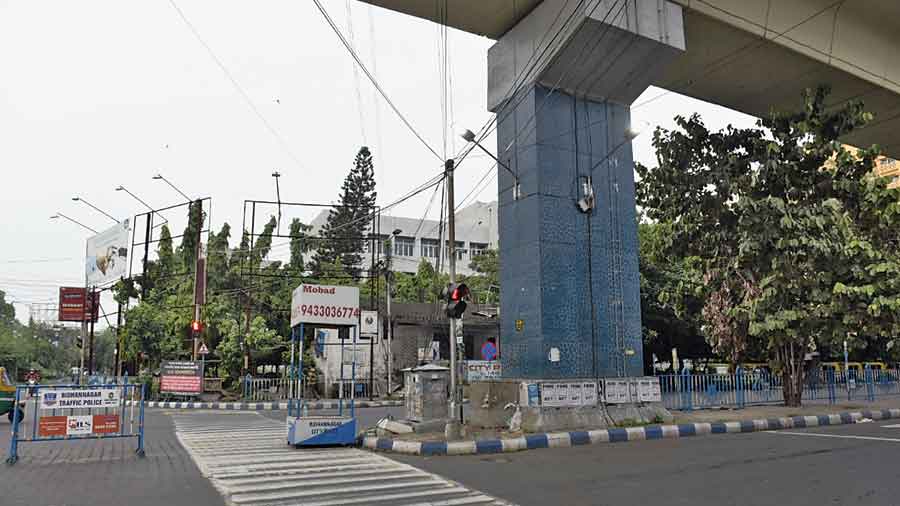 ---
Salt Lake
|
Published 03.07.21, 01:54 AM
|
---
Bundles of television and Internet cables strewn along several roads of Salt Lake pose a great risk to motorists and pedestrians alike.
The cables lie on pavements, along median dividers and even spill out on Broadway that connects Salt Lake to EM Bypass, in front of City Centre as well as the canal side  of the Eastern Drainage Canal that leads to Salt Lake from the Chingrighata crossing.
On Tuesday night, Priyam Majhi, 38, a resident of HC Block fell off his two-wheeler after the bike's front wheel got entangled with a dangling cable on an unlit stretch of the canal side road of the Eastern Drainage Canal in front of the Mahavir Vikas Housing Complex.
"I ride to my workplace near Kidderpore everyday. While I was returning home, the front wheel of my bike suddenly locked up and it skidded," said Majhi, who has received several cuts and bruises on his legs and arms.
The accident underscores the danger pedestrians, motorists and two-wheeler riders in Salt Lake face from the eyesore cable and broadband wires hanging from street lights, trees and traffic guardrails and even left lying on the road.
The Telegraph has reported on several occasions how the mess of dangling cables pose a threat to two-wheeler riders as well as pedestrians.
In January 2018, a biker was killed after his motorcycle handle got stuck in cables hanging loosely on the Park Circus No. 4 Bridge.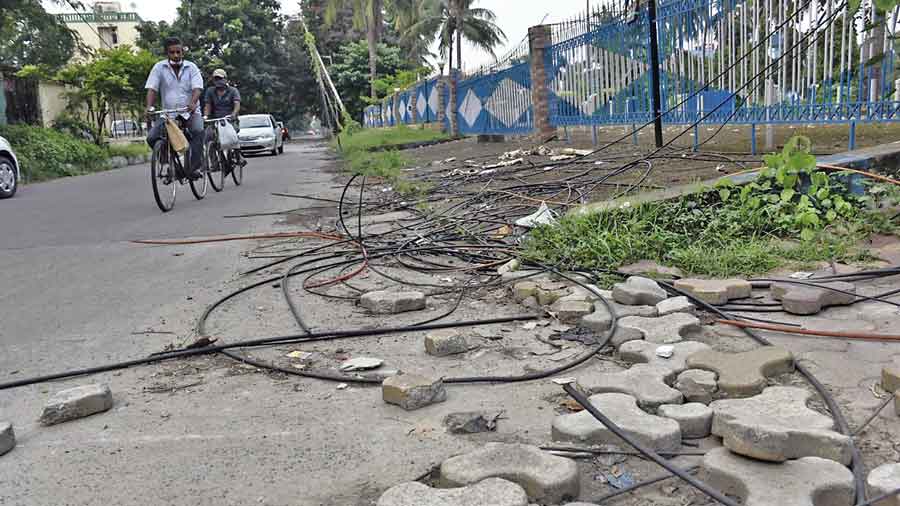 To add to the risk street lights along several arterial roads as well as inside the blocks have stopped working.
The Telegraph drove around various blocks in all three sectors of Salt Lake on Wednesday evening and found that most lanes and even some of the arteries had plunged into darkness.
The area in front of Mahavir Vikas Housing Complex in Salt Lake's Sector III had a web of cables strewn across the road in several places. Broken street lights made them nearly impossible to spot from a distance.
In FE Block, several roads were unlit because of dysfunctional street lights and had cables strewn on the pavements and road.
In HA Block, too, a resident said half the street lights had become defunct and the others were too dim to be of any use.
Rahul Jain, 52, a resident of the block said the few lights that were functional only produced long shadows, instead of illuminating the streets. "The street lights and the lights in the block's park that are damaged or have stopped working have not yet been repaired or replaced," Jain said.
Nearly all these places had a cobweb of wires wrapped around lamp posts and nearly all the posts serve as junctions for cables that are haphazardly gathered together and tied together at their bases.
Low hanging cables were also spotted at major intersections of the township, including City Centre and the Karunamoyee crossing.
Sector V, too, has hundreds of cables criss-crossing it's skyline, many of which hang dangerously close to the ground.
The Nabadiganta Industrial Township Authority (NDITA) had removed the cables from some stretches of the main road but a majority of the cables still remain.
An official of the Bidhannagar Municipal Corporation said they were in touch with the multi-system operators (MSO) in Salt Lake."We have called them and asked them to remove the snipped cables. We have also removed some low hanging cables in some places."
Another civic official said they had planned to follow the New Town model to construct underground cable ducts. But the plan could not be implemented till now as it was met with stiff opposition from the representatives of MSOs.