Tribute to Nazrul by Nazrul
Sudhanya Dasgupta Mukherjee had dressed like Nazrul Islam, replete with a paper cap resembling one the bard would wear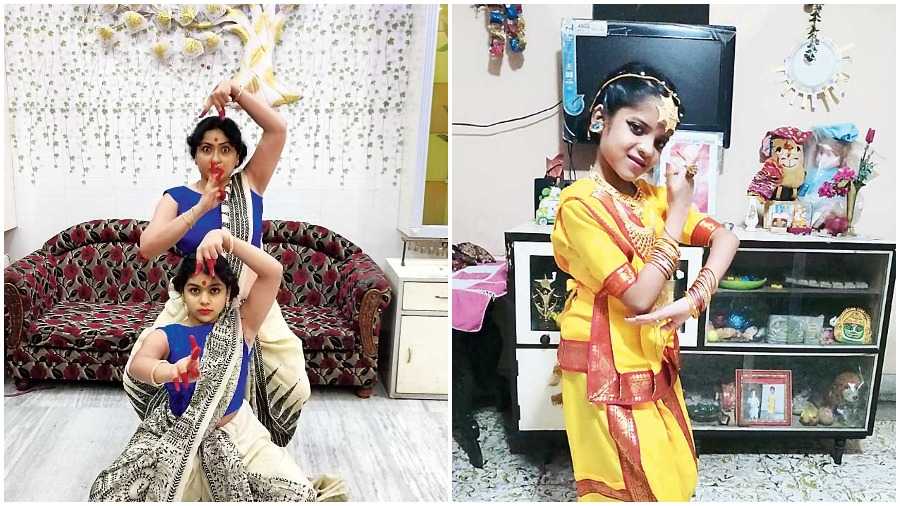 Mother-daughter duo Mousumi and Amisha Saha perform for Gulabi Gang. (Right) Sharanya Mitra dances to Kar monjir rinijhini baje
---
Salt Lake
|
Published 23.07.21, 12:18 AM
|
---
Not just song and dance, for their Nazruljayanti celebration, a member of DB Block's Gulabi Gang had herself dressed up as the bard.
Sudhanya Dasgupta Mukherjee had dressed like Nazrul Islam, replete with a paper cap resembling one the bard would wear. "I am happy to see you all celebrate my birthday," she said, personifying the poet.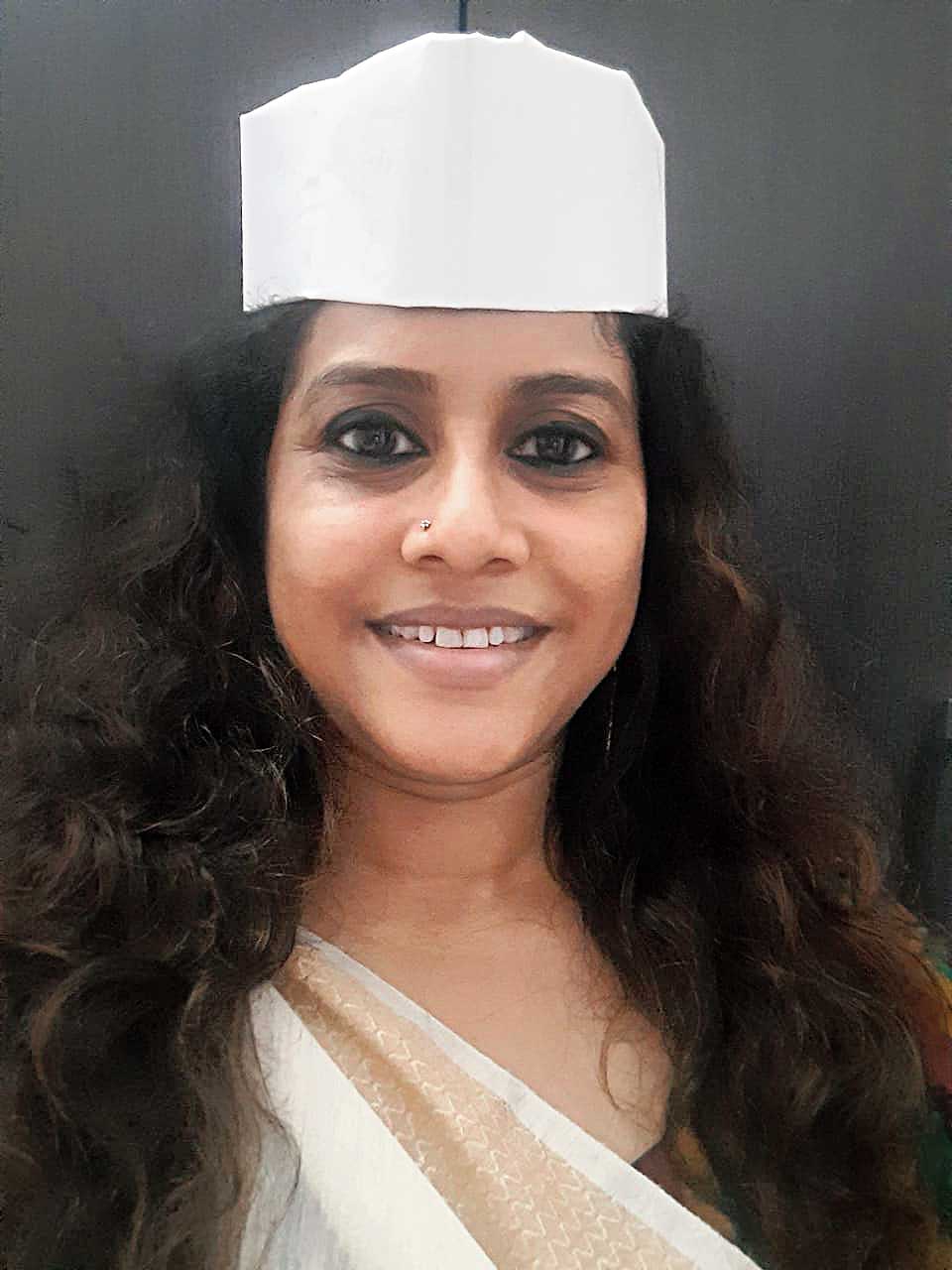 Viewers loved the appearance and Sonali Basak, the director of the programme, was delighted. "The idea had struck one of our members and I instantly knew it would have a great impact," she said.
Sudhanya was amused too. "Since I can't sing Nazrulgeeti I was wondering how I could contribute to this show. Then my husband said that since I have curly hair, like the poet, I might as well play him. It was a unique role and all the more special for me as my bedridden mother and my octogenarian father could watch my performance sitting at home," she said.
The show had other participants too. Mala Banerjee sang Antare tumi achho, Karabi Chowdhury sang the Shyamasangeet Bolre jaba bol and the youngest participant Sharanya Mitra danced to Kar manjir rinijhini baje.
Lakshmimoni Sen narrated an anecdote on Nazrul, Ananya Dasgupta spoke on his compositions on love and romance. Indrani Basak spoke on the poem Bidrohi, published in his first book Agnibina and Anjana Banerjee then recited Bidrohi for the virtual audience.
Upon request, Chandrani Mukherjee sang Dur dweepobashini. "I am a Rabindrasangeet singer and this was the first time I sang Nazrulgeeti. The event was a refreshing change from our daily online classes," said the lecturer. 
Mou Dubey narrated Nazrul's life, philosophy and awards, Mahua De Sarkar spoke on his love for nature and sang a related composition Projapati kothay pele bhai.
While Rama Mitra and Mou recited Lichuchor, Sonali and Kamalika Banerjee danced to Ami jar nupurer chhando. Mother-daughter Mousumi and Amisha Saha danced to Jago nari jago bonnhisikha too.
Somdutta Basak sang Paradeshi megh jaore phire and the last piece was Rakhi Mazumder's Sure o bani mala hoey.
Nature & rebel poet
Newtown Citizens Welfare Fraternity celebrated two occasions on a single day — a morning tableau for Environment Day and an online event in the evening clubbing the same with Nazruljayanti.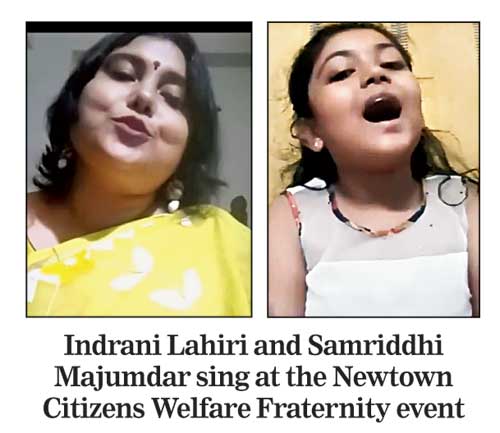 "We wanted to celebrate Nazruljayanti in May itself but the Covid situation was alarming then so we held it together with Environment Day later," said president of the forum Lutful Alam, who spoke on incidents in Nazrul's life that indicated that he was not just a revolutionary poet but was also against all sorts of inequality and communalism. Alam had placed a Nazrul portrait beside him which was taking up more screen space than him.
Secretary Samir Gupta garlanded the portrait of the bard and paid tribute. Cultural convenor Dipak Biswas reminded residents to abide by all they preached in the morning — about planting trees, avoiding plastic, conserving water…
Public health expert Kajal Krishna Banik had been invited to speak on the two topics. "Protecting the environment isn't simply planting trees. It means balancing the entire ecosystem. As for Nazrul, the poet opined that for peace we must eliminate inequality and corruption. He had even compared women with Mother Nature," he said.
"Even today, people are suffering due to lack of equal distribution of resources. Covid-19 has proved our total failure — this is evident in the vaccination figures in different countries of the world," Banik said.
The second phase of the programme was cultural performances by the residents of New Town. Chaiti Roy of DLF Newtown Heights, presented Nazrul's Shyamasangeet Aar lukabi kothay ma and by 10-year-old Arnish Mitra of AB Block sang Karar oi louho kopat.
Little Samriddhi Majumder was very expressive in her recitation of Nazrul's Rajbhikari.
Indrani Lahiri of CC Block recited Pichhudak from Nazrul's Dolonchapa, Sukla Dasgupta of CD Block sang Hey Gobindo rakho charane and CD Block resident Rita Basu recited a poem on Nazrul.
Oishik Ghosh of CE Block played Rum jhum jhum on the keyboard and Kakoli Majumder and Sabina Syed shared anecdotes from the poet's life. Sabina even read out a passionate letter written by Nazrul to Nargis, his first wife, on the occasion of her second marriage.
If you want to get a programme featured in this column, even a virtual one, write in to The Telegraph Salt Lake, 6, Prafulla Sarkar Street, Calcutta - 700001 or e-mail to saltlake@abp.in