Tribute to bards
At least 35 people joined the event with participants like Debasmita Mukherjee, Swati Ghosh and Arpita Banerjee singing and Tinku Chowhduiry dancing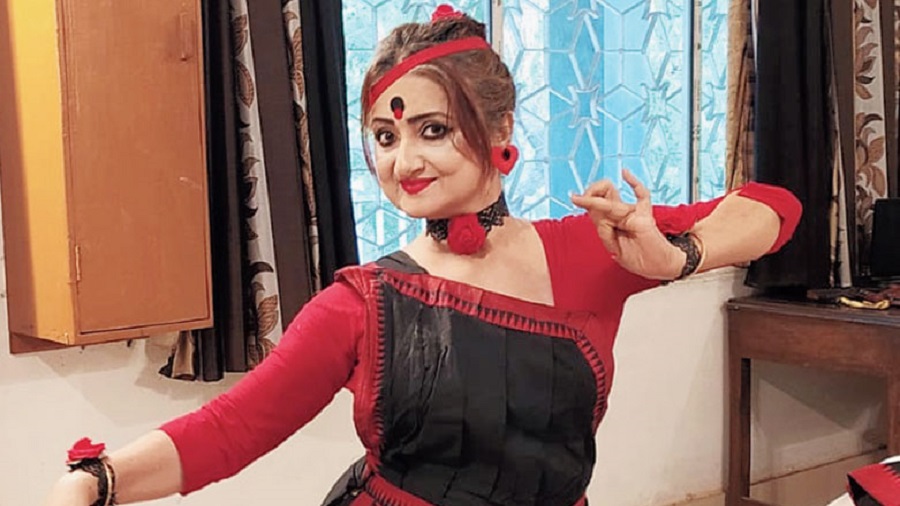 ---
---
Cholo Gaan Gai, BK Block
Cholo Gaan Gai, a WhatsApp group of BK Block music lovers, organised a Rabindrajayanti for themselves over a virtual platform.
At least 35 people joined the event with participants like Debasmita Mukherjee, Swati Ghosh and Arpita Banerjee singing and Tinku Chowhduiry dancing. Many kids took part — Sreshta Ghosh sang, Debasree Mukherjee played the keyboard and Titisha Roy danced.
"Sadly five or six senior citizens failed to log in," said Chandra Sekhar Bag, who is also the cultural secretary of BK Block. "We are planning a similar programme for Independence Day and have assured them assistance so they can join us."
Providing technological support was Tamashri Poddar, an IT sector employee and music lover, who herself sang Maharaj eki shaaje.
Watching — though not participating — were block president Sanjib Mazumder and Sreemoyee Ghoshal, an elderly lady at whose house music rehearsals used to take place. "Though Kakima no longer performs these days, no show in our block is complete without her," said Bag.
Bag himself sang Tomar shonge bedhechhi, dedicating the song to his wife Indrani, seated next to him. "Watching me attend webinars during lockdown, it was Indrani's idea to hold Rabindrajayanti online in the block," he said.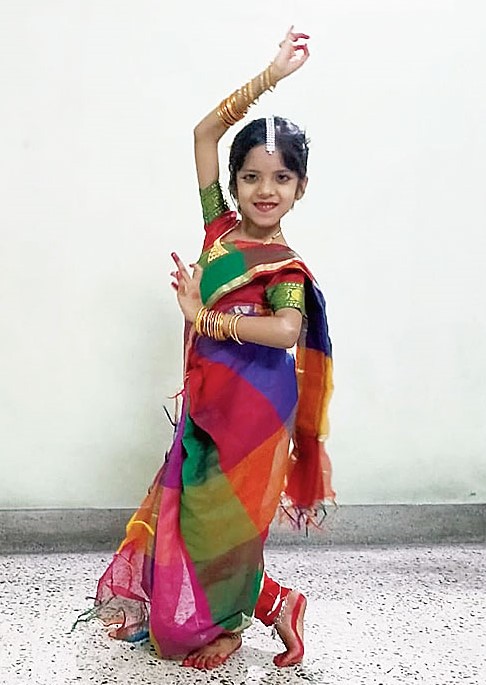 Gulabi Gang, DB Block
I shall not resist from singing a Nazrulgeeti today as I know that viewers cannot throw rotten eggs at me through this virtual medium," laughed Sonali Basak, a professional dancer who also loves singing.
Basak is a member of Gulabi Gang, a DB Block ladies' group, and was speaking at their Nazruljayanti meet, held over Skype, a video conferencing platform. Basak danced to the poem Srishti sukher ullashey, and hummed a few lines of a song too.
The session had begun with a dance Mor ghumo ghore ele monohar by six-year-old Sharanya Mitra. "Sharanya is missing her dance classes with the Mamata Shankar Ballet Troupe but she has been performing at these online shows during lockdown," said her mother Rama Mitra, a member of the group.
Mousumi Saha danced with her daughter Amisha and Priyanka Niyogi danced to Ami jabona Jamuna ghate while her father Dhurjati Sarkar recited Samyobadi.
The show saw participation from members stuck in other cities as well. Lakshmimoni Sen logged in from Bangalore to recite Nazrul Islam's Lichu Chor while Indrani Basak spoke on the bard's rebellious side, all the way from Gurgaon.
A collage of recitation and dance was presented by Panchojonyo, a group formed by Mou Dubey, Anjana Banerjee, Mahua De Sarkar, Chandrani Mukherjee and Basak. They showcased the life of Nazrul.
"The show was a refreshing change for us participants. Otherwise we are confined at home and busy with chores and office work," said Mahua De Sarkar, the moderator. Chandrani Mukherjee, the co-ordinator of the show, had worked hard to ensure its success. "Not everyone is tech-savvy so I experimented with different platforms to find the easiest one. We had to ensure maximum participation with minimum technical glitches," she said.
Bharati Kanjilal, AA Block
The virtual Nazruljayanti of AA Block was delayed by a good 15 minutes as the "host" of the Zoom meet, Anirban Mukherjee, was stuck in traffic.
"No one would be able to log in till I shared the link and I knew they were waiting eagerly. My own father was so excited!" said Mukherjee.
The wait proved to be worth it. "I have performed on numerous stages of the city, while acting and singing, and now we are getting accustomed to online acts," said Anupam Mukherjee, a retired banker who sang Saono raate jodi while playing the harmonium. The block had earlier celebrated Rabindrajayanti virtually too.
Gouri Chatterjee sang Phooler jalsay nirob keno and Saheli Bhattacharya danced to Mor ghumo ghore ele monohar. "I mustered the courage to recite for the first time today," said Avik Bhattacharya. "It was easier as I couldn't see the audience before me. I performed in a homely ambience".
Inspired by father Avik and mother Saheli's performances, their son Aarya recited Nazrul's poem Ami hobo.
"We had to conclude the show abruptly as time was running out. There was a lot of network problem too," said host Mukherjee. "Nonetheless we're glad it happened."
Bharati Kanjilal
If you want to get a programme featured in this column, write in to The Telegraph Salt Lake, 6, Prafulla Sarkar Street, Calcutta - 700001 or e-mail to saltlake@abpmail.com