Tribunal rap for Dhapa waste clearance pace
National Green Tribunal ordered the formation of a panel that would 'propose means to accelerate the pace of bio-remediation of legacy waste'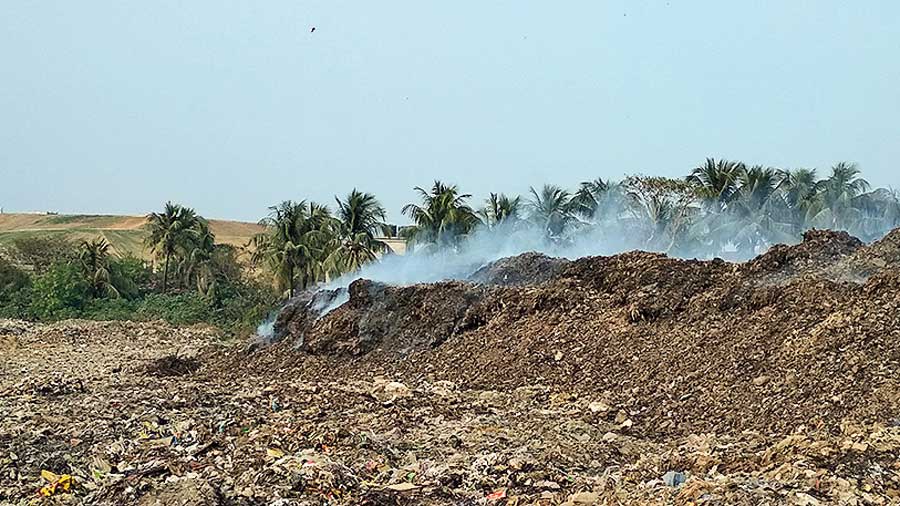 The Dhapa dumping ground
File picture
---
Calcutta
|
Published 03.10.20, 01:56 AM
|
---
The National Green Tribunal has termed the efforts to clear the legacy waste from the Dhapa dumping ground as "grossly inadequate" and ordered the formation of a committee that would "propose means to accelerate the pace of bio-remediation of legacy waste".
The observations were made on Thursday when the tribunal passed an order on the measures taken by the state to improve the air quality of Calcutta and Howrah. Natural burning of waste, triggered by stored methane gas, contributes to the worsening air quality, said environment activist Subhas Datta.
The Calcutta Municipal Corporation (CMC) has taken up a project to bio-mine or bio-remediate the Dhapa landfill site. This would help mine recyclable items like plastic, paper and construction waste and send them to recycling plants.
Biomining will lead to reduction of the volume of waste at Dhapa, as only the inert waste would be left at the site.
Years of dumping of waste at Dhapa, without recycling the recyclable materials, has created mounds that are as high as 10-storey buildings. CMC officials said the site would not be able to take the city's waste in another few years.
The tribunal has expressed dissatisfaction with the pace of the bio-mining work. "Considering the volume of legacy waste at Dhapa dumpsite, the use of only three trommels for bio-remediation would be grossly inadequate, which is likely to result in the quantum of waste to be bio-mined not being able to match the waste being dumped at the site daily. Ideally, quantum of bio-remediation should exceed the quantum of waste being dumped to ensure successful clearance of the site by bio-remediation within specified timelines," reads the tribunal order.
A trommel is the machine that segregates recyclable waste from other kinds of waste.
The Solid Waste Management Rules 2016 say biomining should be done at legacy dumping sites like Dhapa. But it was only earlier this year that the CMC started the project, and that too on a small scale.
Calcutta produces about 4,500 tonnes of waste every day. The CMC is using one trommel, which will reduce 300 tonnes of waste per day. Two more trommels of equal capacity will be engaged soon, officials said. But even after that, 3,600 tonnes of waste would add to the existing mound of garbage at the site.
In a report to the tribunal, the state government has said that it had floated a tender for biomining the 40 lakh tonnes of waste lying at Dhapa.